Three Activists to Watch in Charlotte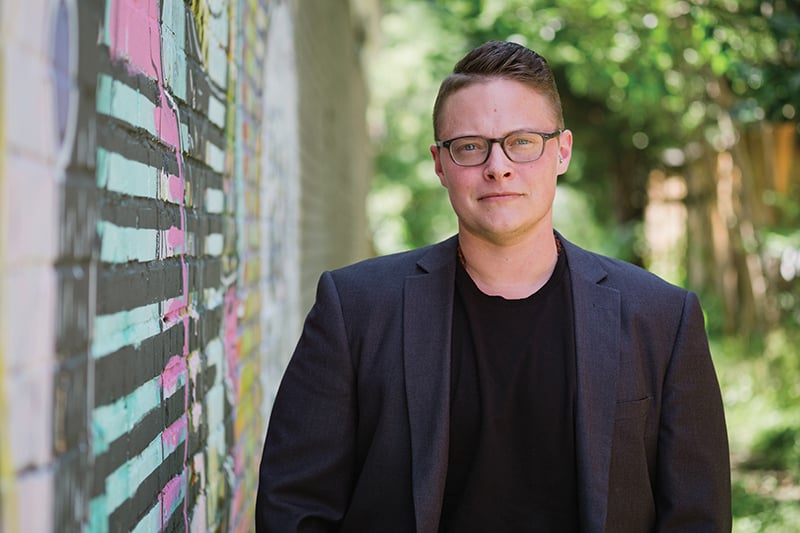 AFTER THE NORTH CAROLINA LEGISLATURE passed House Bill 2 in March, Charlie Comero printed new business cards. He handed them out to women in restrooms to explain why a transgender man from Charlotte was in there with them. The controversial law requires people to use the bathroom that matches the sex on their birth certificates. "This is likely uncomfortable for both of us," the cards say. "Please contact your legislature and tell them you oppose HB2."
Comero is one of several local activists who have made headlines this year. Meet three of them here.
---
Charlie Comero, 35
Work: Founder of the local nonprofit 41 Percent, which offers peer mentoring for transgender people and their loved ones (41 percent of all trans people attempt suicide).
Neighborhood: Oakhurst
Areas of activism: Gender liberation, feminism, transgender rights, racial justice
Proud activist moment: Comero recently spoke at a town hall meeting hosted by Equality NC and the Human Rights Campaign. He drew attention to transgender women of color, who face an even more difficult struggle than the one posed by HB2. They have a one in eight chance of being murdered, according to the nonprofit Trans Student Educational Resources. "We keep talking about bathrooms, but that was just one section of a bill that largely discriminates against people of color," Comero says.
Goals for the future: Comero wants to shift the conversation away from transgender rights to what he calls "gender liberation."
"Gender identity and the sex we were assigned at birth are very different things," says Comero, who lived most of his life as a woman before transitioning to his current identity. "The truth is, it's not binary."
---
Ashley Williams, 23
Work: Graduate student, studying ethics and applied philosophy at UNC Charlotte
Neighborhood: University
Area of activism: Racial and LGBTQ justice
Event that spurred you to take political action: The killing of Mike Brown and Trayvon Martin and the acquittal of George Zimmerman. "I started to realize that not only do these things happen and that they are systemic, but it's state-sanctioned," Williams says. "That made me realize we had to do something; we all have to do something."
Proud activist moment: Disrupting a private Hillary Clinton fundraiser in South Carolina in February to demand Clinton apologize to black people for mass incarceration. As president, Bill Clinton pushed for a 1994 crime bill that funded more federal prisons and encouraged states to pass harsher sentencing laws. Hillary Clinton campaigned for the 1994 bill. "I was proud that I was able to go in and do something like that and hold someone responsible who may very well be the next president of the United States," Williams says.
Goal for the future: Help get HB2 repealed
---
Kevin Poirier, 25
Work: Science teacher at LIFT Academy, an alternative program at West Charlotte High School
Neighborhood: Paw Creek
Areas of activism: Educational equity and immigration reform
On discussing politics in school: Poirier says he regularly uses the last 10 minutes of class to discuss current events with his students. "A classroom setting allows for [a] controlled, structured setting, and it kind of eliminates the noise."
Proud activist moment: In January, Poirier was thrown out of a Donald Trump rally in Rock Hill, after protesting Trump's stance on deportation.
"After I got thrown out of the Trump rally, I was talking to people as they came out, and at first they wanted to say, 'You're an asshole' and, 'You've got a lot of nerve to interrupt him,'" Poirier says. "I was really gracious and I said, 'I'm a high school science teacher and Trump is advocating that millions of students be deported, and I just can't stand by and watch that happen.' And it was amazing, because most of the people I apologized to for saying that just said, 'Oh, yeah, that makes sense.' "
Goals for the future: Staying at West Charlotte for a fifth year. That's where he thinks he has the greatest opportunity to create change: "As much fun as interrupting a Trump rally is, it doesn't really get much done."
---
This article appears in the July 2016 issue of Charlotte Magazine
Did you like what you read here? Subscribe to Charlotte Magazine »
---