Three Events Offer a Hint of Spring
If warm weather seems too far away, orchids and produce and gardening prep may tide you over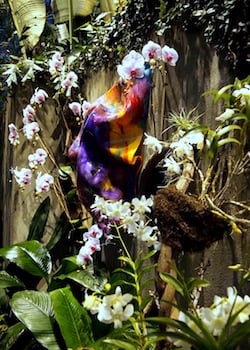 We reach a point every winter when our home-canned tomatoes are running low, our peach preserve jars are empty, our daffodils have yet to pop from the ground, and our bodies crave a wave of warmth. It hits about mid-February. About now.
If you're aching for April, here are three events to get you through until the weather breaks.
1. Art and Orchids, Daniel Stowe Botanical Garden, Belmont
Located about 30 minutes west of Charlotte, Daniel Stowe Botanical Garden offers 380 acres of beauty. In 2008, the Orchid Conservatory opened its doors, and the garden now has about 6,000 orchids, which bloom quite well during the winter months in their controlled climate. For the Art and Orchids event, the garden staff created orchid displays to accompany sculptures by Charlotte artist Rick Lazes. The exhibit includes large, unusual shapes made of wood and metal from Lazes' "The World is Bending" series and colorful, acrylic sculptures that Lazes melted into shapes for his "Liquid Art" series. The Art and Orchid exhibit is free with garden admission — free for garden members, $12 for adults, $11 for seniors, $6 for children ages 4 to 12. The garden is open seven days a week, 9 a.m. to 5 p.m. This event runs until March 23.
2. Matthews Community Farmers' Market, North Trade Street, Matthews
On Saturday morning, for two hours only, you'll find local farmers in downtown Matthews with a variety of winter-hardy produce. Arugula, collards, kale, turnips, and carrots are the stars this time of year. Other year-round goods, such as beef, poultry, eggs, and honey are also for sale, as well as prepared foods, such as breads, quiches, and pastries. All of the products at the market are grown or made within 50 miles of Matthews, which means you won't find yellow squash or butter beans or strawberries in February. But you might be surprised at the variety winter brings. If you're unfamiliar with the ingredients you find, the market's website offers tips and recipes to help you prepare your purchase. Winter hours (Saturdays, 8 a.m.-10 a.m.) run through March.
3. Sustainable Living Series: Spring Into Gardening, Mecklenburg County Cooperative Extension, Charlotte
When spring does arrive, we need to have our gardens ready. This Tuesday, Feb. 11, the Mecklenburg County Cooperative Extension will offer a demonstration about gardening basics. Tips include soil preparation, seed propagation, planting dates, and harvesting techniques. Master Gardeners will teach the class. Spring Into Gardening is the first event in the Sustainable Living Series, a collaboration between Mecklenburg Family and Consumer Sciences and Mecklenburg Extension Masters Gardeners. The year-long series of classes and demonstrations is designed to educate citizens about incorporating sustainable-living practices into their daily routines. Spring Into Gardening is a free event, but some classes require a fee. All classes take place at the Mecklenburg Cooperative Extension Training Facility at 1418 Armory Drive, Charlotte, NC 28204. Tuesday's class is from noon to 1:30 p.m. To register for the class and see a list of future classes, click here.