Three Sweet Potato Recipes for Your Holiday Dinner
Delicious Sweet Potato Side Dish Recipes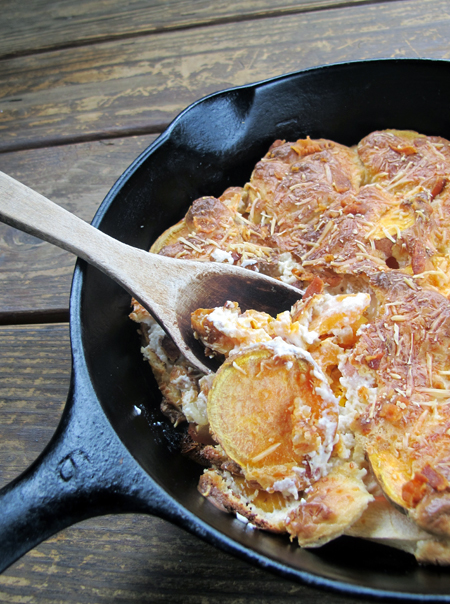 With Thanksgiving around the corner, meal planning is in high gear. And what could be better than including our state vegetable: the sweet potato! Thanks to the North Carolina Sweet Potato Commission I was able to try some new fun, unique recipes. Below are three side dish recipes perfect for next week's dinner.
1. Sweet Potato Gratin
modified from the NC Sweet Potato Commission
2 large sweet potato, sliced thin
1 crisp apple sliced thin
4 strips of cooked bacon chopped
1 pkg. cream cheese
1 tbs. Worcestershire sauce
1 tbs. hot sauce
3 tbs. heavy cream
1 large onion, sliced
4 oz. sliced Gouda (or cheese of choice)
Instructions
Layer seasoned sweet potatoes in baking dish. Combine cream cheese, Worcestershire, heavy cream and hot sauce and Microwave mixture for 30 seconds. Pour half of mixture over potatoes. Layer onions, bacon, apples and cheese. Repeat and finish with a top layer of seasoned sweet potatoes.
Bake covered at 375° for 45 minutes or until potatoes are fork tender.
2. Spicy Sweet Potato Salad
from the NC Sweet Potato Commission
1 large sweet potato
4 tablespoons olive oil, divided
1/2 teaspoon salt, divided
1 teaspoon chile powder
2 tablespoons lime juice
1 teaspoon honey
1/4 teaspoon black pepper
4 cups baby salad greens
1/4 cup cotija or feta cheese
Instructions
Preheat oven to 400°F. Peel the sweet potato and cut into 1-inch cubes. Arrange on a baking sheet and drizzle with 1 tablespoon of the oil; sprinkle with 1/4-teaspoon of the salt. Bake until golden brown, about 30 minutes, turning halfway through. Remove from oven, sprinkle with chile powder; allow to cool. In a small bowl, whisk the remaining oil, the lime juice, honey salt and the pepper. Place greens in a large bowl. Add cheese, pepitas, avocado and roasted sweet potato cubes. Pour the dressing over the salad, toss to coat. Serve immediately.
3. Sweet Potato Biscuits
from the NC Sweet Potato Commission
1-1/4 cups all-purpose flour
1 tablespoon baking powder
1/2 teaspoon salt
3 tablespoons shortening
1 cup mashed cooked sweet potatoes
1/4 teaspoon ground cinnamon
1/8 teaspoon ground nutmeg
1/4 cup milk
Instructions
Preheat oven to 450 F. Into large mixing bowl, sift together flour, baking powder and salt. Using pastry blender or two knives, cut shortening into flour mixture until it resembles coarse meal. Blend in sweet potatoes and spices. Add milk and stir with fork until mixture comes together. On lightly floured board, knead 10 times. Roll out to 1/2 inch thickness. Cut with biscuit cutter dipped in flour. Arrange on ungreased baking sheet. Bake in oven for 12 minutes or until golden and puffed.