Three Zesty Lemon Recipes
When life gives you lemons, you can make so much more than lemonade. Here, Julia Fain, who blogs about design, recipes, and DIY at TagandTibby.com, makes lemon the star of a meal with three dishes inspired by the citrus.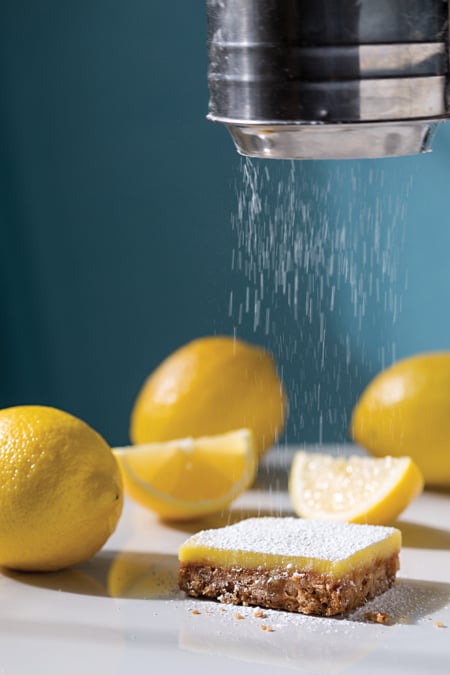 Lemon Curd Bars
Makes 4 servings
* Shortbread
8 tablespoons unsalted butter
½ cup powdered sugar
1 ½ cups bleached all-purpose flour
Heat oven to 325 degrees.
Line 8-inch square baking dish with parchment paper. Lightly grease uncovered edges. Beat butter with sugar until fluffy. Mix in flour until incorporated; it will have a crumbly consistency. Press dough into baking dish. Thoroughly prick dough with fork. Bake 30-40 minutes until top is a pale golden color. Remove and lower oven temperature to 300 degrees. While baking, prepare lemon curd.
* Lemon Curd
Zest of 3 lemons
1 ¼ cups sugar
¼ pound salted butter, room temperature
5 large eggs
½ cup lemon juice
Zest three lemons. Mix lemon zest with sugar in food processor; pulse until finely minced.
Cream butter using an electric or stand mixer, and beat in the sugar and lemon mixture. Add eggs, one at a time, and then add lemon juice. Mix until combined.
Pour into a saucepan, and cook over low to medium-low heat, stirring constantly. Remove curd from heat when thickened at 160-170 degrees. Do not boil. Strain, removing any clumps from the curd.
Pour lemon curd over shortbread and bake for 10 minutes at 300 degrees. Cool completely and refrigerate at least 30 minutes. Dust with powdered sugar.
---
Fried Catfish in Browned Lemon Butter Sauce
Makes 4 servings
4 5-6 oz. catfish fillets
1 cup whole or 2 percent milk
½ cup yellow cornmeal
½ cup unbleached flour
Salt, pepper, garlic, crushed red pepper to taste
1 stick salted butter, cut into tablespoons
4 tablespoons olive oil
2 tablespoons lemon juice
4 thin lemon slices, optional
Soak catfish in milk 10 minutes. Mix cornmeal, flour, and seasonings, and put on large plate. Dredge both sides of fish in cornmeal/flour mixture.
In cast iron skillet, heat 2 tablespoons butter and 2 tablespoons olive oil over medium heat. Cook two fish fillets at a time, 3-4 minutes per side, turning once. Transfer fish to plates. Wipe out skillet, and repeat with 2 tablespoons butter, 2 tablespoons olive oil, and remaining fish fillets. Wipe out skillet.
Over medium heat, cook 3 tablespoons butter until light brown. Remove from heat and add 2 tablespoons lemon juice. Fry sliced lemons in brown butter sauce; use as garnish. Spoon sauce over fish. Serve immediately.
---
Baked Ricotta with Lemon and Garlic
Makes 6-8 servings
¼ cup cream cheese, softened
16 oz. whole-milk ricotta
1 tablespoon whole milk
1 teaspoon lemon zest
1 teaspoon lemon juice
2 garlic cloves, minced
Toasted baguette
Sea salt, ground black pepper,
olive oil to taste
Chives, optional
Heat oven to 375 degrees.
Using an electric mixer with whisk attachment, beat cream cheese until smooth. Add ricotta and milk. Beat 4-5 minutes until mixture is fluffy. Fold in garlic, lemon zest, and lemon juice. Transfer to small baking dish. Sprinkle top with sea salt, black pepper and drizzle with olive oil.
Bake for 15-20 minutes. Serve warm with toasted baguette. Top with chives.