Thrive Distributes Millions to Arts Groups (Plus: This Weekend in Charlotte)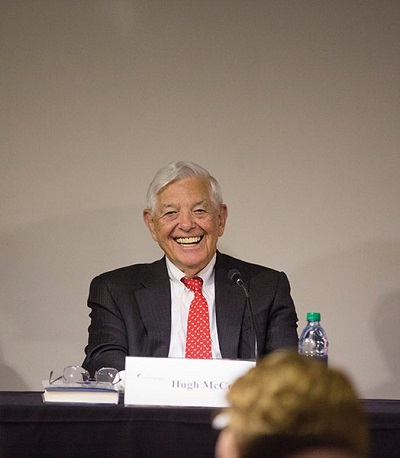 THRIVE, AN ARTS effort we covered extensively in this November 2014 piece, has announced how its first round of grants will be distributed. The fund is administered by Foundation for the Carolinas, and some of the $3.1 million in grants will be given out over time. Here's a breakdown by organization, including the original target of the fund, Charlotte Symphony:
* $2 million: Charlotte Symphony Orchestra
* $369,100 (a three-year grant): Charlotte Ballet
* $275,000 (a two-year grant): The Mint Museum
* $215,000 (a two-year grant): Harvey B. Gantt Center for African-American Arts + Culture
* $200,000 (a three-year grant): Children's Theatre of Charlotte
* $53,380: Bechtler Museum of Modern Art
* $25,000: Opera Carolina
* $15,000: McColl Center for Art + Innovation
From "Split Tickets" in Charlotte magazine:
"Hugh McColl has been leading a silent campaign to raise money for the arts. Originally a gift intended for just the Charlotte Symphony, McColl's Thrive campaign has secured millions for Charlotte's high-profile arts institutions.
Part of Thrive's mission is to help arts groups develop independent fundraising tools and infrastructure. Even with a $45 million Thrive campaign, there's clearly more work to do. 'There will continue to be a period of uncertainty. But all of the right conversations are happening,' Scott Provancher says."
Overall, THRIVE is sitting at $39 million in total campaign fundraising. The group's next grant cycle comes in 2016.
Below, check out what some arts groups are doing this weekend, including one that benefits from the above announcement.
***
FRIDAY
HEROESCON
This annual comic convention is one of the biggest independent events of its kind in the state. The three-day event is known for both its family focus and slant toward comic book creators, while many others cons now focus on cinematic adaptations.
SCIENCE ON THE ROCKS: WORLD TOUR
Discovery Place has science-tinged parties for adults once a month, with changing themes. This week's theme revolves around rock, with karaoke, an air band contest, and a performance from local act Miami Dice.
18TH ANNUAL JUNETEENTH FESTIVAL OF THE CAROLINAS
The classic festival triumvirate of food, music, and art makes up this Independence Park celebration, but the event is rooted in the Juneteenth Independence Day, which was the day that the abolition of slavery was announced. "The major intent of the festival is to examine the cultural heritage of slaves and their descendants through the art, education, and research," the event page says.
STONECREST SUMMER CONCERT SERIES
This Friday/Saturday program has two stages for the Saturday portion: the Fountain Stage and the Plaza Stage. Both Brubakers and Greg Lilley Band tackle multiple dates throughout the series.
BLAKENEY CONCERT SERIES
Taking place between Encore and Brixx, hit the fountain stage for bands each Friday and Saturday. Heroes At Last, Loafers, Natty Boh, and DJ Chuck are among the acts who add some music to the Blakeney experience each week.
SATURDAY
THE WEEPIES
The phrase "folk-pop duo" will either make you smile or cringe. Smilers keep reading: You may have heard The Weepies on shows like Gossip Girl, Scrubs, or Grey's Anatomy. See why the pair's music is so often licensed at the NoDa venue.
DIRTY DANCING
This is one of those screen-to-stage no-brainers. All of the energy, dancing, and '60s rock-fueled fun hits the Blumenthal Performing Arts Center.
QUEEN CITY JAZZ FESTIVAL
An evening of contemporary jazz includes Will Downing, Karen Briggs, Mike Phillips, and Brian Culbertson. The backdrop? NC Music Factory's Uptown Amphitheatre, out in the open air of Charlotte. The show will take place rain or shine.
SIX STRING SATURDAYS
This Discovery Place series, occurring every Saturday, promise music from "jazz, pop, rock, sitar, Celtic, country, bluegrass, and folk." Charlotte's School of Rock kids play three of the dates. You don't have to pay to get into the museum for this series..
RIVER JAM
On Thursday and Saturday, River Jam adds bands to the outdoorsman vibe of the U.S. National Whitewater Center. Check out the center's wide selection of food and beer to go along with the tunes, from bands like Mingo Fishtrap and Jamie McLean Band.
SUNDAY
CHARLOTTE SYMPHONY: SUMMER POPS
The symphony's Sunday concert series returns, with the energetic Albert-George Schram returning to conduct each week. Events include Tchaikovsky Spectacular, A Night at the Movies (which is this week's theme), and the culminating concert, Celebrate America.
COUGAR: THE MUSICAL
Three women, dubbing themselves "cougars," enjoy nights of fun and romance around town. The musical was developed by playwright Donna Moore.