Throwback Hotspot: Ten at Park Lanes
A South Park institution gets a striking update—complete with craft brews and moonshine on tap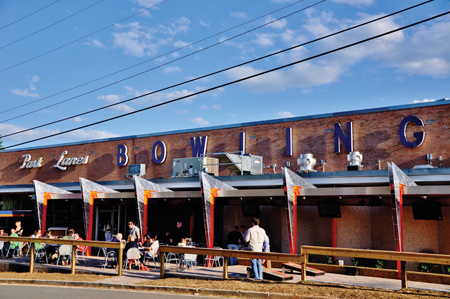 What's old is new again: the freshly renovated Ten at Park Lanes adds a fun, retro vibe to SouthPark's vibrant Montford Drive. The space has a modern look, with chrome accents and details that hark back to the Charlotte institution's 1960s beginnings.
But this isn't your typical bowling alley. Sure, there are plenty of lanes, but there are also thirty TVs, three outdoor patios, and four sets of cornhole boards, with Ping-Pong tables and a bocce ball court to come. A retro chic lounge and bar area offers a short wine list developed in partnership with Petit Philippe (every wine can also be found in the Selwyn Avenue shop), plus a dozen varieties of moonshine on tap and a cocktail menu featuring custom moonshine cocktails, beer bombs, and specialty martinis. Outside, the beer garden offers twenty-four mostly craft brews on tap.
Then there's the Ten at Park Lanes restaurant, which serves up Southern comfort food like house-smoked barbecue, burgers, flatbreads, salads, and sandwiches, plus a selection of Mason Jar Signature Stacks ($9), featuring layers of Southern favorites like pulled pork, baked beans, mac and cheese, and slaw stacked in the famous jar.
A convenient SouthPark location and a playful atmosphere mean there's something for everyone here—and the varied crowd, from families in the early evening to young professionals into late night, is proof. If you have your heart set on bowling, call beforehand and make a reservation, especially on Retro Nights, when games cost just 79 cents each from 9 p.m. to midnight (plus a $7 cover charge that includes shoe rental).