Thursday With Noncommittal Thom Tillis
Plus Barber background and a Charlotte woman's encounter with cop and gun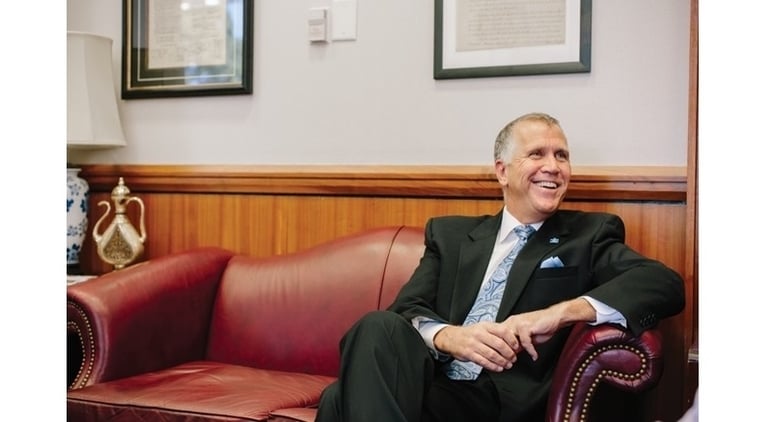 Plucking a few choice pieces of debris from this week's news tornado:
If you're somehow not intimately familiar with the Rev. William Barber, his work with North Carolina's NAACP, and the importance of his resignation to lead a national campaign on behalf of the nation's poor, let me direct you to two landmark stories by friends and colleagues of mine: this recent Esquire profile by Charlotte's Tommy Tomlinson and this Mother Jones story from 2014 by Lisa Rab, a former Charlotte associate editor. You don't need much more to get a sense of the man and his movement, and why they matter. (A look at this completes the picture.)
Until my eyes began to cross, I spent 40 minutes Thursday watching and listening to Cornelius resident Thom Tillis, the junior U.S. Senator from North Carolina, conduct a live Q&A event on Facebook. The man is practiced at the art of "on one hand, but on the other." You have to give him that. Tillis, selecting questions from his laptop, spoke of many things: troop levels in Afghanistan; medical marijuana; the virtues of bipartisanship; border security. I wanted to hear Tillis on two issues that eclipse everything: health care and a special prosecutor on the Russia investigation.
I needn't have bothered. Here's Tillis on health care: The Senate needs to come up with a plan that makes sense and provides a realistic option for people who aren't covered by Medicare, Medicaid, or employer-sponsored plans. (I thought Congress passed that in 2010.) He does not support a single-payer health insurance system because, he said, "big government solutions tend to create more problems than they solve." Here's Tillis on a special prosecutor: The Senate Intelligence Committee, chaired by the senior Senator from North Carolina, has it covered. "I'm not fundamentally opposed" to a special prosecutor, Tillis said, "but I'm not in support of it."
These non-answers did not please the assembled masses. "Slow golf clap skippy try harder," commented one user. "Mr. Catfish, hiding in his pond," offered another. Facebook Live is not scientific. But by minute 40, a steady stream of angry emoticons flowed across the screen from right to left like spiderlings floating free of an egg sac. Tillis will not be up for re-election until 2020.
A Charlotte-Mecklenburg Police officer and local Fraternal Order of Police member brought up the so-called "Ferguson effect" during a City Council public hearing Monday on the budget. The officer, Travis Cook, said officers don't feel supported by the public or council members. One of Cook's bosses had something to say about that during a press briefing at CMPD headquarters Tuesday.
"For all the talk about the Ferguson effect … there are some officers here in Charlotte-Mecklenburg doing some extremely good work," said Deputy Chief Jeff Estes. "It's an individualistic-type thing. It's a thing where an officer may feel one way or the other personally. It's very difficult to extrapolate that among the several thousand employees we have here. Can I say that no officer feels 'the Ferguson effect'? No … (But) I think the public in general is supportive. I think the council in general is supportive."
Estes was there mainly to review CMPD's first-quarter crime numbers, which weren't pretty—a 14.4 percent rise in violent crime and 2.6 percent increase in property crime over the same period last year—but seem to defy the theory that police are backing away from enforcing the law because of the Keith Scott unrest last fall. "People settle disputes with guns these days," Estes said. While Charlotte's homicide rate spike has slowed in the last month or so, we're still at 30 for the year, compared to just 16 at this time in 2016.
On some level, the core issue is lack of trust—between citizens and police, between citizens and each other. A friend and former colleague of mine, Tonya Jameson, drove from Charlotte to Morristown, Tennessee, last week to pick up an Isuzu SUV she'd bought the week before. Tonya brought her North Carolina license plate with her, and tools to switch it out. She was in the seller's driveway, screwing the North Carolina tag on, when a man who turned out to be an off-duty Knoxville police officer walked up behind her, gun raised, and said, "Hands up." You can read the entire story on Tonya's blog.
The local sheriff told Tonya the matter was closed. She's still waiting to hear from Knoxville P.D.'s Internal Affairs on whether the officer will be disciplined for pulling a gun on a citizen and holding it on her for the crime of purchasing a car. "I always leaned more toward the cop perspective," she told me Thursday, "especially since I covered cops for a chunk of my journalism career."
Tonya is African-American. She was shaken and livid. Imagine the effect an incident like that might have on someone, especially a person of color, who's not already inclined to assume good intentions from law enforcement.