Tickets now on sale for Salud Beer Shop's "Release the Funk 2: Electric Funkaloo"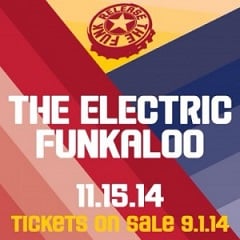 It's time to start thinking about getting funked up again.
Salud Beer Shop, in partnership with New Belgium Brewing, is putting on "Release the Funk 2: Electric Funkaloo" Nov. 15 from 1 to 5 p.m. at Neighborhood Theatre. Tickets are on sale beginning today (September 1) at Salud's (new, more on that in a moment) Web site.
Salud owner Jason Glunt has always been a champion for sour and wild beers, and decided Charlotte needed a festival devoted to such, given the style's growing popularity. And the inaugural Release the Funk was a success, with 25 breweries pouring sour, wild and "funky" beers.
The final list of breweries for this year is still being finalized, but Jason has already announced several on Salud's Instagram site. Already scheduled for Electric Funkaloo are NoDa Brewing, Bell's Brewery (which is bringing Kal Haven Brett Rye Ale), Fullsteam Brewery, Wicked Weed Brewing, Fonta Flora Brewery and Natty Greene's Brewing Company, with more to come.
Tickets for the festival are $60, which includes a commemorative tasting glass (there will also be food for sale at Neighborhood Theatre, and I imagine complementary antacids, as was the case last year).
When you go to Salud's new Web site, www.saludbeershop.com, to purchase tickets, you'll also see a new and improved layout. This site will include updates on the shop's nanobrewery (which I wrote about last month), links to social media accounts and a thorough updated list of drafts and bottles at the shop.
For more information on the festival, contact Salud at (704) 900-7767.