Tiki Hideaway: An Island Escape
Spot brings Pacific Rim flavors to Charlotte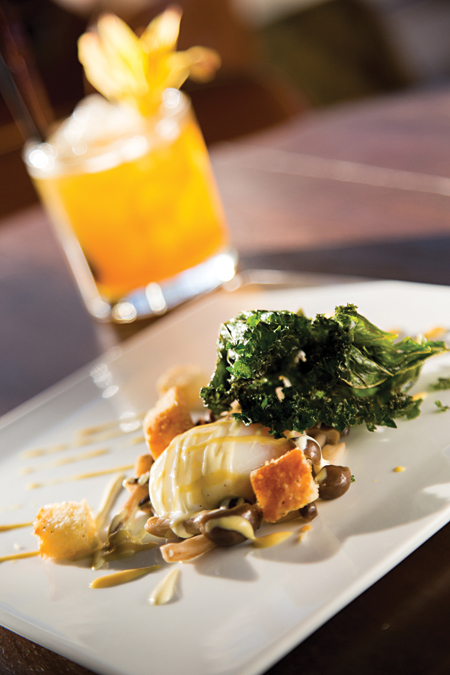 OPENING NIGHT for Tiki Hideaway wasn't the easiest. A cabinetmaker was still working on the back bar hours before the restaurant was scheduled to open. Owner Mike Barrea had arrived at 9 a.m., spending most of the day neatening up for his first customers with the staff. Just before the 5 p.m. grand opening, an elderly couple walked in and handed him a menu from a Trader Vic's, the popular tiki chain, in New York City that closed in the 1980s. The couple had traveled to many of the chain's locations, but never to a Polynesian restaurant in their hometown of Charlotte.
Set in a small corner space on the lowest level of ParkTowne Village at Woodlawn and Park roads, Tiki Hideaway's interior seats 60, with additional patio seating that doubles capacity when weather permits. Designer Brent Baronofsky, who also created the looks for Cowfish, Good Food on Montford, and Customshop, managed to embrace tiki but steer clear of kitschy, with a thatched roof overhang covering the bar and walls made of carved wood and bamboo accents.
But tiki wasn't always the plan. Nearly three years ago, Barrea hung up his suit and tie after 30 years of contract sales and got a job pouring wine. As he gained experience in the field, he hatched a plan to open a wine bar and restaurant. When he and Baronofsky saw this space, the plan changed: The secluded location seemed like a place where you could escape the city, and Tiki Hideaway was born.
Part of that escape includes a menu of flavors from the Pacific Rim created by chef Allen Evans, formerly of Global in Ballantyne.
The taro and plantain chips served with smoked pineapple salsa, creamed chard and hearts of palm, and spicy cilantro relish ($8) presents a variety of island tastes and a texture for every type of dipper. For vegetarians, the slow-cooked egg, baby kale, and roasted mushrooms ($9) has layers of flavors, from the sweet and spicy mustard to the earthy mushrooms, completed with a crunch of crispy kale.
The grilled chicken thigh ($9)—a piece of dark meat set on hash browns—takes on a tiki twist with a topping of banana guacamole. Local Loaf provides the restaurant with Hawaiian rolls ($4), and the sweet side item gets even sweeter with a macadamia nut butter.
The Wagyu beef tataki ($12), seared in the kitchen with a torch, is served with a hot broth to finish cooking the meat to your taste, adding more interaction to the table's shared meal. You'll also want to double-dip the beignets ($8), a cinnamon-sugar-coated dessert that strays from the traditional, in a "donut milk" made with ground doughnuts.
The drink menu is a lesson in American history, collecting classic cocktails, some dating back to pre-Prohibition, as well as worldwide classics such as Trader Vic's Mai Tai and the Virgin Islands' painkiller.
For a taste of something more exotic, sample the Corn N' Oil or Planter's Punch, both created with homemade falernum, an island concoction of lime, cloves, sugar, and ginger.
Those homemade syrups and house-squeezed juices mixed with name-brand liquor—Barrea says they only use what the original recipes called for—make for drinks that average $12 to $14. For $65, a group of four can order a Scorpion Bowl: 32 ounces of rums, gin, vodka, and tropical juices, served in a shared bowl with long straws.
It's all just enough to give diners the feeling of leaving the city, if only for a few hours, even if they can't be on a plane bound for palm trees.
"There are a lot of people that are looking for some sort of outlet, some sort of alter ego to escape to," Barrea says.