Tillis, Brawley and ALEC
A primer on a pair of Mecklenburg lawmakers and the powerful organization they serve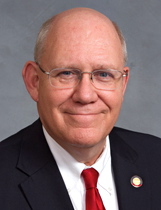 Behind the sound and flurry last week of the motorcycle vagina law, the Keep the Wrong People From Voting Act and, this week, the McCrory Cookie Incident was a quiet back-scratch from one Mecklenburg County legislator to another, as the Observer's Jim Morrill reported:
Rep. Bill Brawley was named a co-chair of the influential House Finance Committee.
House Speaker Thom Tillis named the Matthews Republican to the vacant post on Friday.
It capped a busy session for Brawley. He was a House sponsor of bills to help the Carolina Panthers and to create an authority for Charlotte Douglas International Airport, a bill passed and then repealed late last week. He also shepherded Gov. Pat McCrory's transportation overhaul to passage through the House and Senate.
"(Brawley) has become a very effective legislator in just his second term," Tillis said in a statement. "He handles complex issues in truthful and honorable ways, and his ability to build consensus around legislation is continually impressive."
Said Brawley: "I'm honored. I think it's an expression of confidence in my ability to get good legislation done."
This is a good opportunity to pass on some specific information about the organization that's behind much of the radical stuff that came out of the legislature this year: the American Legislative Exchange Council, or ALEC.
It's technically an educational nonprofit, founded 40 years ago in Chicago, that connects members of state legislatures throughout the nation with conservative and business leaders. In reality, it's a corporate bill mill and unofficial lobbying firm that pushes corporate-backed model legislation through the states. Some of their causes — school vouchers, tax breaks for corporations and gutting of environmental protections among them — are certainly familiar to North Carolinians after this year's session.
ALEC's educational nonprofit status allows it to skirt disclosure laws that would outline specific legislators' connections to the organization. But the Madison, Wisc.-based Center for Media and Democracy has compiled an admirable amount of information on ALEC and legislators throughout the country; among the N.C. lawmakers with documented ALEC ties are, quelle surprise, Thom Tillis and Bill Brawley.
The N&O's John Frank wrote a fairly comprehensive story about ALEC in May, and Bill Moyers' Moyers & Company website has a page set aside for ALEC information, including a link to the show's excellent episode in September (since updated) on the "United States of ALEC."
If you haven't familiarized yourself with ALEC yet, the information from these sources will help put this past legislative session in much clearer focus. It especially illustrates the hypocrisy behind NCGA Republicans' campaign condemnations of "pay-to-play" politics; it should be obvious by now that there is no other kind, and the current batch of legislators practically have auto-pay and direct deposit setups to make the transactions that much more efficient.