Tillis the Extreme
Does Tillis have better in him? Does it matter?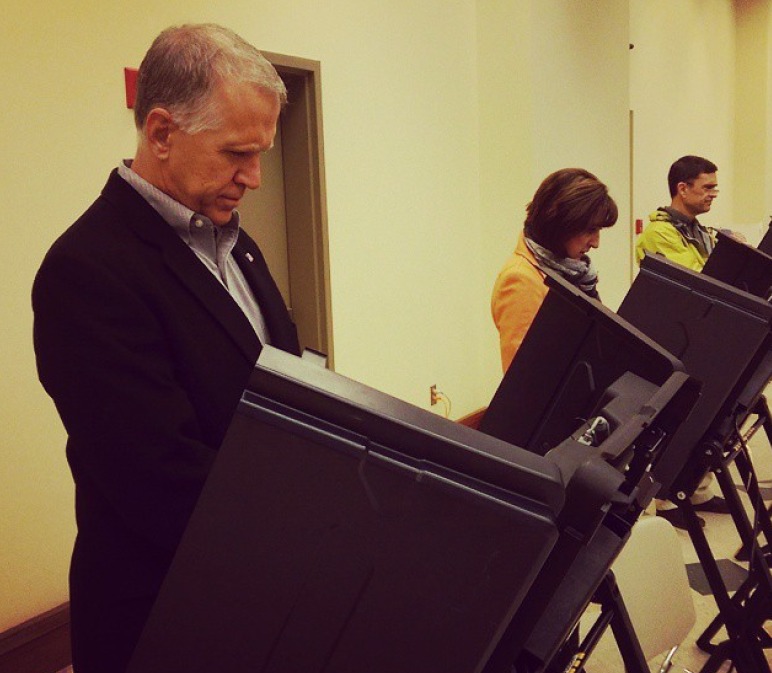 This is one of the more poignant newspaper columns I've read in a while, by John Railey, the Winston-Salem Journal's editorial page editor:
I believe there's something better in Thom Tillis, our newest U.S. senator.
After just two months on the job, the Republican is being justly criticized from many corners. There's his partisan objection to the confirmation of Loretta Lynch, a Greensboro native and widely respected Justice Department prosecutor, to become our country's next attorney general. And there were his comments a few weeks ago on restaurant employee hand-washing, the ones in which he suggested that the law requiring hand-washing after bathroom visits might be over-regulation.
Yeah, he was way wrong in both those instances.
So was his leadership, as state House speaker, in voter suppression laws and barring gays from the right to legal marriage. But even as he was doing that and other harsh measures in the legislature, he got one big thing right: He finally brought to fruition compensation for victims of North Carolina's forced sterilization program, which from 1929 through 1974 sterilized more than 7,600 of North Carolina's most vulnerable citizens, playing God by calling them mentally or physically unfit to reproduce.
Along with several of the victims, former Democratic Rep. Larry Womble and I had been fighting for years to get that compensation passed. Tillis, with the backing of Gov. Pat McCrory and state Senate leader Phil Berger, finally brought it home. Democrats created the program and Democrats failed in compensation attempts, but Tillis succeeded …
A cynic would say there's more campaign money to be raised by doing what's wrong, or at least incendiary. And some of Tillis' actions since taking office have strongly suggested that he's courting the far right more than his conscience.
I don't think a cynic would say that. I think a realist would. You do not accept, directly or otherwise, millions of dollars from the Koch Brothers and Karl Rove, then turn around and govern as a moderate. (Yes, Tillis was one of the 47 Senators who signed this. Then again, so was Richard Burr.)
There may or may not be something better in Thom Tillis, but there's nothing better in the people who bought his election to the Senate, and that's all that matters. Get used to it.