Tiny Banking
Microloans could give a big boost to small business in Charlotte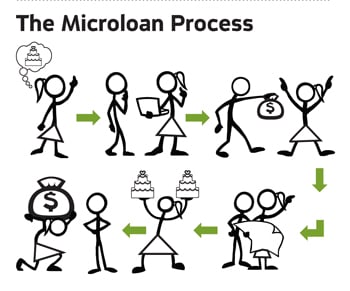 A new bank is coming to Charlotte. But don't expect this one to take over an uptown high-rise or put its logo on the side of any stadiums. Grameen Bank will move into a modest office on one of the city's poorest streets (think North Tryon) and most of its business will be done in the living rooms of its clients.
But the most interesting fact about this bank isn't its location or size—it's who will receive its loans. "The only requirement is you have to be poor," says former mayoral candidate John Lassiter, the co-chair of the campaign to bring Grameen to Charlotte.
Grameen, which is a nonprofit based in Bangladesh, has been giving small loans to individuals attempting to start businesses in impoverished nations for decades. In 2008 it opened its first U.S. branch in New York and was hugely successful. People—mostly women—with little income and no credit who were interested in opening small businesses, such as bakers who needed a commercial-sized cake mixer or hairstylists who needed a salon chair for their home, had the opportunity to take out loans. With roughly 20,000 people in Charlotte living under the poverty line, Lassiter thought Grameen seemed like a good fit.
"The only requirement is that you have to be poor."
"The concept catches on very well with people," says Joe Mynatt, a managing director at Wells Fargo who is also part of the campaign. "They understand there is a need and that it's not a handout."
The one-year loans are small—at a maximum of $1,500—and have a relatively high interest rate of 15 percent. However, with this model, the bank vets each borrower's business plan. Then the borrowers meet weekly to pay back their loans, confer with other borrowers, and discuss their progress. "These are individuals who have no banking experience," says Lassiter. "The value of the 15 percent interest is that it's affordable on a weekly repayment, plus it helps put cash back into the bank that can be reloaned to other qualified borrowers."
Ninety-nine percent of Grameen's loans are repaid, and each branch becomes fully sustainable within four and a half years of opening. Starting a branch requires about $2.5 million for the loan pool and operating expenses. This can be acquired through a variety of methods, including donations and investments. Charlotte got an initial boost when Wells Fargo donated $500,000, which has been followed by other donations and grants. Last fall, City Council voted to provide $200,000 as well as $30,000 worth of business license taxes so that borrowers can avoid those fees. The campaign hopes to reach its goal and open Charlotte's Grameen branch by August.
Launching Grameen, which has branches in New York and Omaha and is opening in five other cities, has been a different process each time. In Omaha, Warren Buffett's daughter Susan donated the entire $2.5 million. Charlotte has been raising the money as a community. "I think this is a good thing," says Sara Garces, a local entrepreneur who cochairs the campaign. "Not only is the community financially behind it, but they've expressed a true interest in actually helping the entrepreneurs."