Tipping Point
Four short years ago, UNCC had one of the best basketball teams in the country. Now, it's fighting to stay relevant in Charlotte. What happened?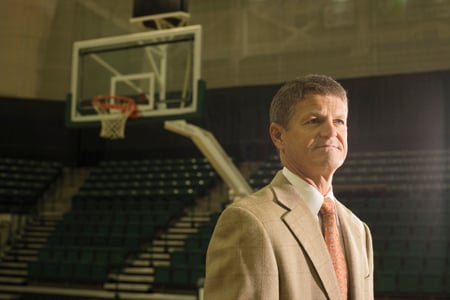 CONFETTI FLUTTERED from the ceiling, a big, rowdy crowd roared, and Bobby Lutz had tears in his eyes as he blew a kiss to his wife in the stands. Lutz's Charlotte 49ers had just beaten their rivals from the University of Cincinnati in a basketball game at a sold-out Halton Arena on the school's campus up at University City. This was February 2005. This was not that long ago.
His team didn't lose that month. Not once. The 49ers had the league player of the year in Eddie Basden, another first-team all-league player in Curtis Withers, and one of the league's best three-point shooters in Brendan Plavich.
They were 21-4 going into March. They were on their way to the school's fifth berth in the NCAA tournament in seven years and maybe their best tourney seed ever. They went into March ranked eighteenth in the country. A story in the Observer compared the team to the school's Final Four team from 1977. The 49ers, a story in Creative Loafing said, were "on the cusp."
They didn't win again.
The team that didn't lose in February didn't win in March. Lost in front of 20,000 plus at the University of Louisville. Lost at the University of South Florida in Tampa. Lost to lower-seeded Memphis in Memphis in the first round of the Conference USA tournament. Lost to lower-seeded North Carolina State in Massachusetts in the first round of the NCAA tournament. And that was the end of the season. It was also the end of ten years in Conference USA.
Now: year five in the Atlantic 10 Conference.
The 49ers have not been back to the NCAAs. Two NITs and that's it. And last year ended in the first round of the league tournament and with an 11-20 record. Lutz said he was "embarrassed."
Where did the confetti go?
What happened?
1. The Atlantic Coast Conference.
2. Football.
3. Dalonte Hill.
The ACC. (Or: in which the athletics director says, "I think we didn't read the tea leaves.")
The ACC started in 1953. The University of North Carolina at Charlotte was seven years old. The school began with evening classes for World War II veterans held at Central High School. The university didn't start playing sports until 1970. The ACC was not an option.
In North Carolina, obviously, when it comes to college sports, especially college basketball, you're either the ACC or you're not. That's true for UNC-Asheville and UNC-Wilmington and UNC-Pembroke, and UNC-Charlotte, too.
They're all not UNC, as in UNC-Chapel Hill, as in the ACC.
Here's something Lutz told reporters before that last game in the NCAAs, in March 2005, against North Carolina State, of the ACC: "We tend to find that our perception outside of the state is better than it is inside the state. We recruit out-of-state kids because it's a lot easier, to be honest. I'm not bitter about it. It's just reality."
Here's what he told me this summer on the phone: "The reality is that Charlotte has always been an ACC town. I'm not upset about that. But that's a real situation that you have to confront."
Recruiting analyst Dave Telep, who follows the sport as closely as anyone and lives near Raleigh, calls UNC-Charlotte "almost a victim of geography."
The biggest institution of higher education in the biggest city in the state wants to be seen as that—big. The shot callers at UNC-Charlotte want people around the country to see the 49ers as big time, not some satellite subsidiary, and they want people in the Queen City to see them as the home team. That's seldom been the case, and it's less the case now than it was five years ago. And in a basketball city, in a basketball state, UNCC can't afford to be bad at basketball. At UNC, bad means bad; at UNC-Charlotte, bad means irrelevant.
"It would be frustrating, perhaps," Lutz told me, "if I hadn't grown up in this area."
He's a basketball man, and smart, grew up in Catawba, was the valedictorian at Bandys High School, went to UNC-Charlotte on an academic scholarship, tried to walk on to the basketball team but didn't make it, and graduated with degrees in economics and psychology. He has master's degrees from Clemson and Winthrop. He is now going into his twelfth year at UNCC, and has the most wins of any coach in school history. Because of his background, in the area and with the school, he has a connection to his campus and community that most college coaches don't.
It's not just a paycheck.
He told the Observer something his grandfather, a high school principal, once told him: "Be who you is, not what you ain't."
The ACC, though, makes it hard.
And then the ACC made it even harder.
UNC-Charlotte athletics director Judy Rose started hearing the rumors in the spring of 2003. She heard the ACC, with nine schools, was going to invite Virginia Tech to join the league, and if they were going to do that, she reasoned, they weren't going to stop at ten schools. They were going to add two more. With twelve schools you can have a football championship game, and that means more money.
"You get wind of what's going to happen," Rose told me this summer. "I was like, 'Oh my gosh.' "
What she thought was going to happen is what did happen: the ACC triggered a chain reaction that altered the makeup of the most powerful, most lucrative tier of college sports. The ACC took from the Big East Conference Virginia Tech, Boston College, and the University of Miami. The Big East, having to replenish, turned to Conference USA.
A note here about Conference USA, and the Charlotte 49ers: the sports teams from UNCC played in the Sun Belt Conference from 1976 to 1991. They played in the Metro Conference from 1991 to 1995. In 1995, though, Conference USA was formed, a sprawling, basketball-driven league with schools in cool cities around the country, Memphis, St. Louis, Cincinnati, Louisville, Marquette in Milwaukee, DePaul in Chicago. When Charlotte got its invite, it was a huge, huge deal.
Rose told the Observer then: "It's very obvious to the leaders of Charlotte how important it is for UNCC to be in a major athletic conference." A major athletic conference means a better TV deal, which means better money and better exposure, which means better recruiting, which means better players … which means big time. Home team.
In 2003, though, the ACC took its three new schools from the Big East, and that made the Big East look for replacements. The Big East looked to Conference USA. "I quickly began lobbying," Rose said.
The Big East took Cincinnati and Louisville and the University of South Florida. All those schools had football programs that were big and getting bigger. Then they added Marquette and DePaul. Those schools didn't have football, but they did have basketball traditions, plus religious affiliations, so the league figured they'd fit in with schools like Georgetown and St. John's. UNC-Charlotte had a great basketball tradition, the '77 Final Four, a beautiful new building, Halton, built in '96, and the second-best winning percentage in the life of Conference USA to that point, behind only Cincinnati—Rose felt like yelling: ahead of Marquette! ahead of Memphis! ahead of Louisville!—but UNC-Charlotte didn't have football, and UNC-Charlotte didn't have God. "When they took Marquette and DePaul," Rose said, "that was kind of the straw that broke the camel's back for us."
What was left of Conference USA became a football-centric conference—UNCC did not fit. Plan B was the Atlantic 10.
The A-10 is an excellent basketball league, but it's Northeast-centric, and not the fit that Conference USA was for UNC-Charlotte.
"That perception has affected our attendance," Rose said this summer, "and it has affected our recruiting. When we announced and made the change, we had no idea the impact it would have on our recruits."
In the two years after the transition, Rose said, UNC-Charlotte's first-choice recruits said no. In some cases, she said, the second-choice recruits said no.
"If that happens in every position," she said, "that can drastically change how you look as a team."
"Let's be honest," Lutz said this summer. "Our move to the A-10 coincided with us not being quite as good."
"We weren't prepared," Rose said. "I think we didn't read the tea leaves."
Football. (Or: in which the athletics director says, "There's not another sport that can create that excitement.")
"When I look back," Rose told me this summer, "if we had had football, we might not be hearing these complaints—because we might be in the Big East."
It is the siren song of college sports.
It's expensive to have a team, let alone start one, all those players, all that equipment, plane tickets, hotel rooms. Most schools, even Division I schools, don't make money playing football, but some schools do—those in conferences like the ACC, or the Big East, or the Southeastern Conference. A few mint money. Florida. Texas. Ohio State.
UNC-Charlotte has an enrollment of 24,000 students. That makes it the fourth-largest school in the North Carolina system. It could have as many as 40,000 students by 2020.
"We would be," Rose said this summer, "the largest public institution I've ever heard of without football."
People at UNC-Charlotte, at least some people, have wanted football for decades. It was discussed in the '80s. It was discussed in the '90s. It was discussed in the early part of this decade.
A new chancellor came in three years ago—Philip Dubois—and a feasibility committee was created. The committee suggested the school move ahead with looking into it. In September 2008 Dubois recommended to the trustees that the school try it. He talked to them about "ownership."
"Appalachian State knocks off Michigan and everyone in North Carolina owns App State," he told them. "Davidson advances in the NCAA tournament and Davidson is North Carolina's team. But when has Charlotte really 'owned' UNC-Charlotte? Be truthful, and you'll probably admit it was our run to the 1977 Final Four."
The trustees came back two months later: let's do it.
"This is a transforming moment," Dubois told the Associated Press at the time. "We really need this community's support, so we hope they'll be there when we need them."
Charlotte's a fickle sports town. Folks loved the Hornets, for a while, when they were new, and then they didn't, and then the Hornets went to New Orleans. The Panthers are popular, when they're winning. And the new NBA team, the Bobcats? Hardly anybody cares.
UNC-Charlotte's fan base is small, too—the school has about 2,500 basketball season-ticket holders, not a big number for a school its size and with some 70,000 living alums, many of whom live in the state and even the immediate area. Halton Arena, a lovely facility, with just over 9,000 seats, is seldom full, and wasn't even in the halcyon Conference USA days.
And in between September and November 2008—when UNC-Charlotte decided to get football going—was the two-month stretch that plunged the country into the worst recession since the Great Depression. Charlotte, the country's second-largest banking center, was hit hard.
The initial goals: sell 5,000 permanent seat licenses, raise $45 million, build a football stadium, start playing in 2013.
Those goals were adjusted considerably last spring: still sell 5,000 permanent seat licenses (PSLs), but raise $20 million, maybe put up bleachers around the track and play there to start.
This past May, 1,600 seat licenses had been sold; in June, 1,700; in July, 1,800.
"Full steam ahead," Rose said in August.
By September, 2,500 PSLs had been sold, and Dubois announced a new $25 million proposal for an on-campus stadium that Rose hoped would juice sales.
There are reasons for that stubbornness.
Here's one: "There's not another sport that can create that excitement," Rose told me. "It's a happening. It's an affair. It's come back to campus, spend the weekend, bring the family. It is pride. It really does tie people. It's not two hours on a Tuesday or a Wednesday night. I think football is the one thing that can bring people back and connect them to campus."
But here's another: "There will be a time," Rose explained, "when conference affiliations shift again. It'll happen. If we do have football, it provides us with options. It makes us more marketable."
It gets them out of the A-10.
Dalonte Hill. Or: in which the athletics director says, "It's hard not to put all your eggs in one basket.")
Dalonte Hill grew up in rough northeast Washington, D.C., and came to UNC-Charlotte in 1997, a big but not particularly quick point guard. He played not a lot as a freshman, then got hurt as a sophomore, then got hurt again as a junior, at which point he transferred closer to home to Bowie State in Maryland, where he got hurt a third and final time and dropped out. He ended up going down to Atlanta, part of the posse of DerMarr Johnson, a player with the NBA's Hawks and one of Hill's friends from home. That got old after a while and Hill went back to D.C.—still on Johnson's payroll—to be an assistant coach for the high-profile, adidas-sponsored club-basketball program called the D.C. Assault.
This is when he met a kid named Michael Beasley.
At the time, Beasley was a kid with big feet, long arms, and huge hands. There was nothing ordinary about his high school experience, starting with the fact that he went to six high schools in five years, going from Maryland to North Carolina to Florida to Virginia and finally to Massachusetts, along the way earning a reputation as a goofball and a troublemaker—he got kicked out of one school for writing his name on the headmaster's car—but also as a prodigious talent. By the time he was ready to do a year in college on the way to the NBA—and that's all it was going to be—he was one of the best teenage basketball players in America.
Dalonte Hill and Michael Beasley?
Like brothers.
Lutz had called Hill in 2001 and offered him the chance to come back to UNCC to finish his degree—for free—and Hill did that. In 2003, Lutz called him again, this time to offer him a job as an assistant coach. Hill is an engaging guy. He knows the game. More than that, though, Hill had connections because of his work with the Assault—one connection in particular.
Hill was hired in the summer of 2003, right when the ACC-triggered dominoes were starting to fall.
Three weeks later Beasley said he was coming to UNC-Charlotte. He was fifteen. He was going to help with the transition from Conference USA to the A-10. And if he came to school for only one year?
"If you can get a guy, and he's eligible," Lutz told me this summer, "I don't think I'm in a position to turn away a guy like that." In March 2006, though, Bob Huggins was hired at Kansas State—a little more than a year after Lutz and the 49ers beat Huggins and his Cincinnati Bearcats in Halton, prompting all that confetti. Huggins wanted Hill, because Huggins wanted Beasley, because who wouldn't?
Hill told Lutz he was leaving in a voice mail.
Beasley, of course, ended up at Kansas State, too.
There Beasley did what he probably would have done here, at UNCC, in Charlotte. He drove around campus in his Chevy Tahoe, he watched cartoons and played Wii Bowling in his room, and he led the team to the 2008 NCAA tournament and was a first-team All-American. And then he entered the NBA draft and was picked second overall by the Miami Heat.
"How do you plan for that? He had committed to us," Rose said this summer. "It's hard not to put all your eggs in one basket when you're talking about a talent of that caliber."
"We would've won twenty-five with him, at least," Lutz said. "But that's hypothetical. People don't really want to read about that. But let's be honest: not only would we have won more games, but the fans would've come to see him, even for one year."
"What it would have done probably," Rose said, "is it would've enhanced the recruitment. You have a really good kid like that, other folks want to be a part of that. It would have carried over for the next few years."
Hill, meanwhile, is the highest-paid assistant coach in college basketball. He makes $420,000 a year. He didn't want to talk for this story. But here's what he told The Kansas City Star in 2007: "I think I did the best thing for me."
"You get accustomed to some things," Lutz told the Winston-Salem Journal back in February 2005, before the Cincinnati game in Halton, "and this has been a very enjoyable and successful period of time for me personally and for the program."
The four seasons so far in the A-10: 19 wins, 14 wins, 20 wins, 11 wins.
Rose has called this season "critical."
Last year's top scorer and top rebounder are gone. Lutz is optimistic. Shamari Spears, a six-foot-six forward, is a transfer from Boston College who is eligible, and could be one of the better players in the A-10 and one of the better transfers in the country. Lutz has high hopes for Shamarr Bowden, a six-foot-three guard who missed all of last year with a broken kneecap, and Chris Braswell, a well-regarded rookie power forward, and K. J. Sherrill, a six-foot-seven forward from nearby West Rowan High School who some recruiting analysts think was a steal for the 49ers.
"I think we're going to show a better product this year," Rose said. "Having seen some pickup games and things, I think our fans are going to be pleased, and I think our opposition might be surprised."
It's hard, though, not to think back to what was.
After that last game against Cincinnati, Lutz and his 49ers ran back into the locker room, according to Scott Fowler, the Observer sports columnist.
"From the bottom to the top!" Lutz yelled at his players. "Where do you like it better?"
All his players yelled back.
"The top!"
"Celebrate on three!" the coach said. "One two three!"
"Celebrate!"
You can almost still hear it.
Michael Kruse, a staff writer for the St. Petersburg Times, profiled Stephen Curry for this magazine last November.