Tips for Choosing Your Veil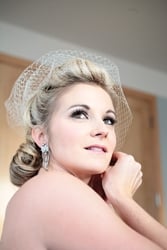 While not all brides wear the traditionally American, white wedding veil, most will choose to wear one for at least the ceremony. If you think you will be donning a veil on your big day, there are some things to consider before you make the purchase. First is length.
Birdcage
Also known as a blusher, these short and sophisticated veils have a vintage feel to them.
Shoulder Length
Hitting just above or below the shoulder, these veils look great with almost any style gown.
Elbow Length
Generally paired with gowns that do not have a train, this veil will show off any detailing around the waist of your wedding dress.
Cathedral Length
Floor length veils usually worn in formal weddings, the cathedral style veil is perfect for the dramatic look you are going for.
In addition to length, a bride must decide on how many layers the veil should have (one layer feels more relaxed, two layers seems more formal) and also what color the veil should be (usually the same color as your dress). Here are some tips to help you choose between your favorite veils.
1. Take into consideration the detailing of your dress. Don't pick a veil that will cover up or steal attention from the focal point of your dress.
2. A cathedral length veil should only be worn with a cathedral or chapel length gown. Don't forget that this length might make it difficult for you to move around.
3. Your hairstyle will affect the way your veil looks, so work closely with your hairstylist to make sure your veil falls exactly where you want it to.
4. Your height matters! If you are shorter than 5'4" then a shorter veil looks best. Of course this depends on your personal taste, just keep in mind that the wrong length veil could make you look really tall or really short.