To Have And To Hold
What to put inside your wedding clutch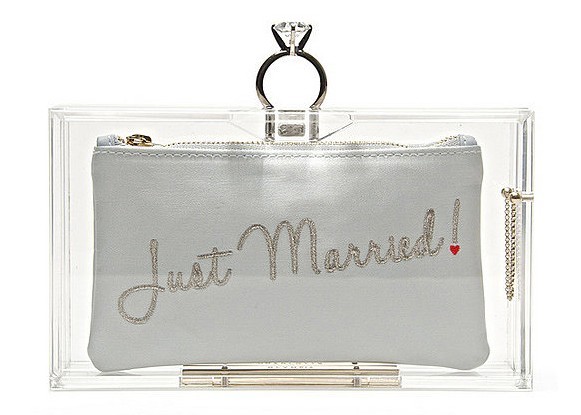 Accessories afficionada or not, one should never underestimate the importance of an elegant clutch to complete your bridal ensemble. Aside from the basic piece of iconography it represents and its aesthetic appeal (hello, photo opp!), a bridal minaudière will house all your wedding day essentials. Even if you enlish your MOH to attend to its whereabouts throughout the night, an evening bag for the bride is an absolute must. So what to stow away within the satin lining? Read on for all the necessary accouterments. When it comes to being prepared on the day, it's in the bag!
top photo: Charlotte Olympia "Marry Me" Pandora clutch
1. Pucker Up. Once you've had your trial makeup appointment, buy a tube of the lipstick you'll be wearing on the day. Since your hair and makeup stylist will likely leave pre-reception, having the color for post-dinner (or glass clinking-induced kisses) reapplication is always important.
2. Mint Condition. It's always good to have a few mints on hand. Whether it's for the groom with beer breath, a bridesmaid in need or yourself, they'll go to good use and be much appreciated.
3. Important Access. With bridesmaids or your planner likely handling to delivery of gifts and cake leftovers to your hotel room, it's probably a good idea to have a spare room key in your bag. Let this be your key that no one else uses to come in and out of the suite during the reception. Then simply have your planner or bridesmaid drop the key used with the front desk.
4. Paper Goods. Just the thought of having to stuff all the necessary face compacts and brushes into one's bridal clutch is stressful enough. Plus space is limited in an evening bag. Don't forget, the point of a pro applying makeup is to make it last. So the only face product you'll need is some blotting tissue. From the craziness of the day to an evening of dancing, oil-absorbing sheets are a quick bathroom fix to keeping you photo-ready for the evening's duration.
5. Put a pin on it. Stash a few additional bobby pins for fly-aways or falling updos.
6. Scent of a Woman. Pick up a rollerball of the signature scent you'll be wearing on the day. Reapply pre-dancing to keep the romantic scent fresh throughout all the hugs and slow dances with your groom, family and friends.
7. Dry Your Eyes. Possibly #1 on the list: travel tissues. Enough said!