To Market, To Market
Uptown's newest Irish pub is serving inexpensive small plates with a large side of nightlife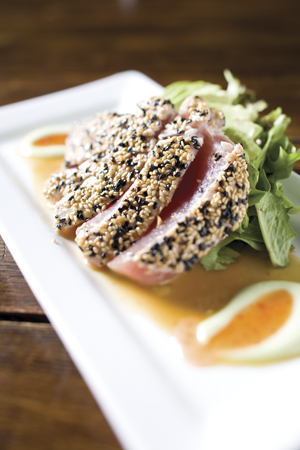 In 1999 Tommy Timmins opened his first pub, Tyber Creek, in Charlotte's South End neighborhood. A few years later Timmins partnered with Kevin Devin and Maynard Goble to open three more pubs that quickly became some of uptown's favorite nightlife destinations: Madison's, Connolly's, and The Attic. In January, the three guys with funny names and savvy business sense opened Dandelion Market. With its weekend lines and much-talked- about menu, it looks like this one may be their most popular spot yet. The name for the restaurant and pub comes from a Dublin market that was famous in the early 1970s. It's located in the old Latorre's venue uptown, which puts it on a block with one restaurant charging $16 for a plate of pad thai (Basil Thai) and another serving a $14 cheeseburger (Nix Burger & Brew). These prices could be why Dandelion Market, with its small plates ranging from $3 to $16, has quickly become a trendy dining destination.
In addition to its reasonable food prices, the pub offers a drink list that features twenty-four beers on tap as well as twenty-five bottles of wine priced at $25. And don't worry if you can't finish the bottle, diners can have their leftover wine packaged up to take with them when they leave.
Not that you'll want to leave early. The inviting two-story restaurant features rustic brick walls, iron accents, rubbed black hardwoods, exposed beam ceilings, and flickering candlelight, perfect for a cozy meal of shared small plates. However, around 10 p.m. — and even earlier on the weekends — the cozy rooms become crowded with those there for drinks and the upstairs DJ. There are bars on both floors, and as the evening goes on, both are packed with a young, professional crowd.
If it's food you're interested in, go before the music is turned up and plan on sharing. The menu has several highlights, including lightly fried oysters with a creamy Tabasco tartar sauce ($10) and prosciutto crustinis: crisp bread smeared with goat cheese and fig preserves, topped with caramelized onions and prosciutto, and drizzled in balsamic reduction ($6). Order the pomme frites just to try the house-made ketchup, which is a slightly spicy blend of basil, cayenne pepper, and Guinness. Or, if you can't decide what sounds best, for $225 you can order one of everything on the menu.
If you're hoping to avoid the nighttime crowd entirely, the restaurant also serves lunch on weekdays and weekend brunch. The lunch selection includes salads, sand- wiches, and flatbreads — with nothing on the menu for more than $10. Brunch offers options like pancakes and fritattas as well as sandwiches and salads. And it's only appropriate that at a place where its busiest hours are after midnight you'll find a brunch selection dubbed Hangover Hash ($14). This hearty breakfast of potatoes, eggs, and sausage comes with your choice of a Bloody Mary or mimosa and the promise you'll be ready for another night at the pub soon.