Toasting a Hero
Others can commemorate the Civil War, America's ugliest and bloodiest episode, all they want. I'm going to celebrate my hero Shelby Foote—the man who wrote its story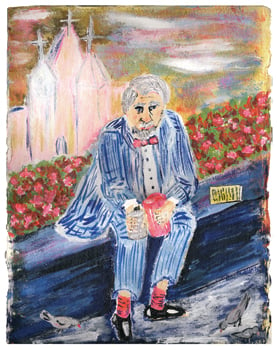 "Celebrate" is too strong a verb for what we are doing this spring for the 150th anniversary of the war that began here in the Carolinas. World War II may have been our "good war," but the Civil War was our bloodiest. It left more than 600,000 dead and a million more injured. More Americans were killed in a single day at Shiloh than in the Revolutionary War and War of 1812 combined.
And still there will always be folks in hoopskirts and Confederate costumes down in Charleston hopping around like toads celebrating anything remotely to do with the Civil War—even firing the opening cannon volley on other Americans.
For good or bad, nothing defines America more than that conflict. Our culture, our politics, our religion, our very notion of justice—racial and economic—can be traced to the conflicts that brought about the war, and even to the battles themselves.
It was a previous anniversary—the 100th—that prompted an author with Carolina connections to hand-write its definitive history: the 2,093-page, three-volume The Civil War: A Narrative. The Civil War is America's Iliad and its Odyssey, and the University of North Carolina's most illustrious dropout, Shelby Foote, is our Homer.
In the decidedly shrinking purse of perks for journalists is a singular pleasure: to meet your hero. Often, it's a two-edged saber. If you do manage to get beyond the celebrity glare of the klieg lights and strip away the protective cocoon of press agents, handlers, and airbrush artists, sometimes your hero is nothing but a scrawny, small-minded, mean-spirited son of a bitch.
I had the chance to meet, talk, and drink whiskey with my hero on several occasions. Foote was the antithesis of a shallow celeb. He was a classic Southern character who shook your hand with his two and genuinely wanted to know, "Where's your family from?" and, "What did your mother and father do?" But he was not one of those Southern characters: you were never nervous when he approached a national podium to speak about the Civil War or anything else. You knew that when that hound-dog-eye-lidded, silky-voiced raconteur opened his mouth, the words would flow witty and wise.
My first and most memorable experience with him was in New Orleans. That's when he told me how as a teenager he met one of his heroes and how that helped lead him to his life's work. It was the late 1990s and I was a finalist in some insignificant short-story contest. Foote was going to present the awards. On the night before the ceremony, the world premiere of an opera honoring Foote's childhood friend and UNC roommate, future National Book Award winner Walker Percy, was being held at the majestic Cathedral of St. Louis in Andrew Jackson Square.
I had been wearing the same blue seersucker suit for three days straight. Steam-heated in that Cajun miasma, it and I were beginning to smell as gamey as a day-old crawfish boil—which was just the down-at-the-heels, failed-poet, borderline-alcoholic look I was seeking.
The church doors were locked—story of my life. I checked my watch and found I was an hour early.
"I guess we're on the same time schedule: I'm nearly always an hour off, but it's usually later." I turned and there was Foote, dressed in a similar—though fresher—seersucker suit. He wore his with decidedly more élan, accented with a pale blue handkerchief in the pocket, powdered white buckskin oxfords with—what else from a full-blown Southern eccentric?—white silk socks. He recognized me from the writers' conference and asked if he could buy me a drink. As we walked down Poydras Avenue, I joked that anyone seeing an older and younger man dressed identically and walking in the shadows of the Vieux Carré with go-cups of neon-colored daiquiris would likely think we were out for more than a stroll.
Foote told me about once visiting 
Tennessee Williams' salon, which he had kept nearby.
"Tennessee nearly always had some younger, simple-minded man on his arm. And I asked him why he chose such intellectually inferior mates. And he said in that St. Louis drawl of his: 'When I awake to see who is sharing my bed pillow, I much prefer 'one of those boys' instead of 'one of those hand grenades.' "
We got back to the cathedral and sat on a bench that faced Pirates' Alley. Inevitably, we started talking about the war, and I told him about a Civil War novel I was writing and my recent visit to Antietam National Battlefield and Bloody Lane—the deadliest day in American history.
He knew everything about the battle. There was so much rifle fire that every stalk of corn in the farmer's field was mown down. He then told me that one of his first visits to a battlefield was in Corinth, Mississippi, when he was nineteen years old. He and Walker Percy were driving from their hometown of Greenville, Mississippi, to the University of the South in Sewannee, Tennessee. They decided to take a detour and go through Oxford to meet William Faulkner. When they got to Rowan Oak, Faulkner's spartan horse-farm home, Percy was too embarrassed to get out of the car to meet the future Nobel Prize laureate. Foote was not so inhibited. Faulkner—shirtless, barefoot, and possibly drunk—met Shelby by the fence and they talked for nearly two hours.
"Faulkner had a reputation as a recluse, but I found him to be anything but," Foote said. "I told him about Walker and his Uncle Will Percy, who had won a Pulitzer for his book Lanterns on the Levee and how Will had practically raised both of us. He was quite generous with a teenage wannabe writer."
The upstart Foote also told the old man Faulkner:
"You know, I have every right to be a better writer than you. Your literary idols were Joseph Conrad and Sherwood Anderson. Mine are Marcel Proust and you. My writers are better than yours."
In Foote's Memphis home he had two photographs of the writers in his bedroom. "The one of Faulkner I refer to as God; the one of Proust as God Almighty."
On that day in Oxford, Faulkner was in the doghouse with his wife and couldn't leave the farm, but he invited them back. On a subsequent meeting on a Sunday morning, Faulkner instructed Shelby to go into Oxford to a livery stable and tell the bootlegger that Mr. Faulkner needed some "walking whiskey." Thusly armed, the two drove to nearby Corinth, where the Battle of Shiloh was fought.
"We drank and we walked through those killing fields," Foote told me. "Faulkner was no academic but was exceptionally well read, and had an uncanny grasp of the war, particularly Shiloh," said Foote, whose great-grandfather had fought at Shiloh. ("His horse had his tail shot off, and after the battle he just rode home.") He said Faulkner remained steady throughout the battlefield foray, that the whiskey was just strong enough to "stir the tongue but not tangle the limbs."
"Faulkner had this wonderful voice and for us on that day, he made that war come back to life."
Nearly two decades later, in 1954—
after Foote had written a novel, Shiloh—the legendary editor Bennett Cerf of Random House contacted him to write a single-volume history of the Civil War for its upcoming 100th anniversary. That assignment evolved and multiplied and was eventually completed in 1974 as a three-volume, 2,093-page colossus. Foote wrote the 1.6 million words with a steel nubbin or dip pen. He showed it to me that night in New Orleans.
In the mid-1980s, Foote was a distinguished historian whose work was critically acclaimed but largely unread by the general public. And then he received the call—prompted by a recommendation from Robert Penn Warren—from PBS documentarian extraordinaire Ken Burns. In the subsequent eleven-hour opus, Foote appeared an incredible eighty-nine times, for a total of almost an hour of primetime. He told Civil War stories like he was Moses, looking like a bearded mix of Sigmund Freud and Robert E. Lee. He made the cover of Newsweek. Sales of Foote's book more than doubled in less than a year, and he became what he had long avoided—a literary celebrity chronicled by People magazine.
Foote died at eighty-eight on June 27, 2005. I will "celebrate" the sixth anniversary of his death with a shot of his favorite indoor whiskey, Johnny Walker Black (he drank Jack Daniels outdoors). It's the same toast we once drank in Columbia, South Carolina, to commemorate the first anniversary of the death of his best friend, Walker Percy.
Foote was no apologist for the transgressions of the racist South. His UNC fraternity brothers kicked him out when they learned his grandfather was Jewish. Yet Foote did what few other scions of the South have ever done—he brought the war dogs of America's most terrible conflict back to life. And he did so not for chivalry or some twisted nostalgia for the Lost Cause, but because he wanted us to never forget that most all wars "were absurd," he told me, particularly the one we call Civil. And no cause is just when brother kills brother.
Here's a dram of whiskey to you, Shelby: you were once my book hero, but, hell, you've become my life hero.
Dan Huntley is a writer in York, South Carolina.