Together. Separate. Together Again.
For nearly 30 years, Charlotte-Mecklenburg Schools successfully broke down many of the racial and class barriers that separated its students. For the 20 years after, it was forced to undo that work. Now it's trying to build its future with a tool from the deep past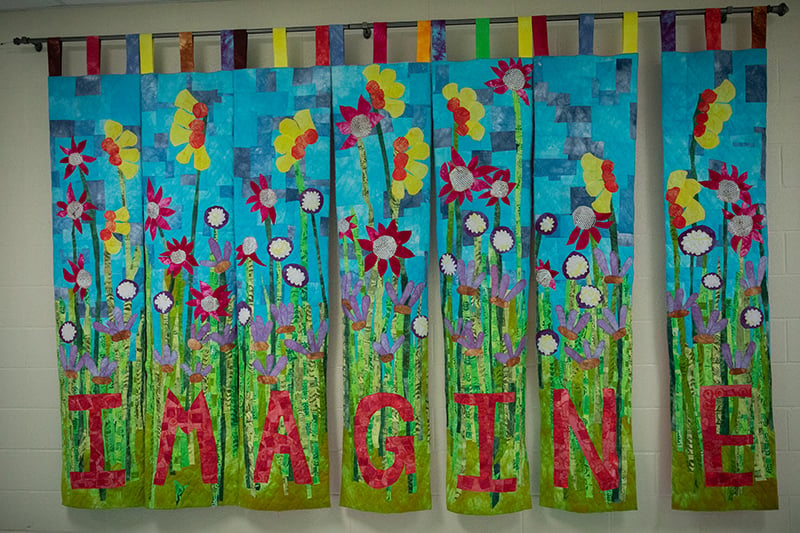 SUSAN KING THOUGHT about retiring a couple of years ago. She's in her 60s and has spent the last 40 years teaching first and second grade in the same school district, on the same side of town, in schools two miles apart and just off the same road. She'd built up more than enough time to retire with full benefits.
But she decided to stay. On a Friday in March, King stands in the doorway of her second-grade classroom at Billingsville Elementary and beams as she talks about the 18 six- and seven-year-olds behind her, typing on Chromebooks at their desks. A couple of gray curls hang just above her wire-rimmed glasses. She turns back to face the students and gently says, "You guys are doing great, OK?"
When I visit with King, Billingsville is about eight months into the 2018-19 school year, the first in Charlotte-Mecklenburg Schools' most aggressive attempt in two decades to reverse the effective resegregation of its schools. It's a big reason King chose not to retire: "We really wanted to make this work."
Billingsville is in Grier Heights, a historically black neighborhood three miles southeast of the city center. A block before Leroy Street dead-ends, you come across a brick building with white trim and tall windows. Built in 1927 as one of the Rosenwald schools for black children, the original Billingsville School is now the Grier Heights Community Center, which backs up to the current Billingsville Elementary, a building roughly 10 times its size. During the 2017-18 school year, it was half-empty, with a majority-black, high-poverty student body.
Two miles down Randolph Road, another elementary school was Billingsville's opposite. Cotswold Elementary was relatively affluent by comparison—the state Department of Education classified 34 percent of Cotswold as "economically disadvantaged," compared to 82 percent at Billingsville—and was overcrowded, in part because of its status as a prestigious International Baccalaureate "world" school.
In the 2018-19 school year, CMS began trying to solve the imbalance through a rare and in some cases problematic method called "pairing."
Here's how it worked: The school district blended the student bodies, then assigned kindergarten through second grade to Billingsville and third through fifth grade to Cotswold. A 20-year-old federal court order prohibits CMS from assigning students to particular schools on the basis of race. But the district can assign them according to "socioeconomic status," or SES—which means it can break up concentrations of poor students at one school by mixing them with more affluent ones from another. In 2018-19, at both Billingsville and Cotswold—and two other pairs of elementary schools, Dilworth and Sedgefield, and Nathaniel Alexander and Morehead STEM—affluent and poor kids sat next to each other in class.
Pairing is one of the most comprehensive methods a public school system can use to try to undo the segregation of poor students from the well-off. It also looks a lot like some of the methods CMS began using after 1971, when the U.S. Supreme Court upheld a lower court order to unify its racially segregated student body.
It looks, in other words, a lot like the environment in which Susan King began her teaching career four decades ago.
For her first couple of years out of college, King worked as a teacher assistant and substitute before she accepted a full-time position teaching first-graders at Billingsville in 1984. Later that decade, the district paired Billingsville and Cotswold, and King was shuffled to Cotswold to stay with the first-graders. "I didn't want to move," she remembers, "because it was going from the known to the unknown. But once I got there, I loved it."
King remained at Cotswold for 30 years, even after the 1999 court order ended race-based desegregation and her classrooms grew whiter and wealthier—until 2018, when CMS decided to put them back together. Cotswold and Billingsville—or, as the paired schools are called now, Billingsville-Cotswold—are a small piece of a massive district of 175 schools and 148,000 students. But they represent CMS' efforts to solve the problems of the present with the tools of the past.
From 1971 to 2002, CMS was a model of desegregation, and its leaders want to get back what it lost. Pairing represents one way to answer a question that school systems throughout the country have struggled to answer for the better part of a century: How do we ensure that color and class are not barriers to quality education?
As King talks, I notice the heather-gray T-shirt she's wearing. It's a Friday, so teachers are allowed to dress in spirit wear. Inside an imprint of Disney's Cinderella castle is the name "Billingsville-Cotswold." Around it are two phrases: "Imagine Endless Possibilities," one says, and underneath it, "Our Story is Yet Untold."
***
THE LAST 50 YEARS of public education in Charlotte has been shaped by two federal court decisions: the 1969 judge's ruling that began to unite our segregated schools; and the 1999 ruling that began to unravel that progress.
The Supreme Court's 1971 decision in Swann v. Charlotte-Mecklenburg Board of Education upheld the U.S. District Court mandate two years earlier that CMS implement an assignment plan to desegregate its schools. This decision came 17 years after the Supreme Court's landmark ruling in Brown v. Board of Education, which established that racially segregated schools are unconstitutional.
For 30 years, CMS' student assignment plan paired elementary schools and bused students throughout the city, with rides that lasted anywhere from five minutes to more than an hour. Given CMS' large geographic size compared to other urban school districts, parents who opposed the plan were given a tough choice—enroll your children in private school or adjust.
At first, angry Charlotteans chose a third option: protest. There were bomb threats and fights in schools. But the city never saw the same levels of violence that Northern cities like Boston did. Eventually, the city adapted, and its desegregated schools became a source of pride and an example for school districts around the country. No school system has ever achieved total racial parity, but CMS progressed further than most. "Long known as the Queen City," Newsweek wrote, in a 2018 article that recounted the city's history of desegregation, "Charlotte had an enviable new nickname: 'The city that made desegregation work.'"
In 1984, President Ronald Reagan visited Charlotte on a reelection campaign tour. During the rally, onlookers fell silent as Reagan criticized Charlotte's busing program, saying it had "failed" and that schoolchildren were "pawns in a social experiment that nobody wants." His words were an early signal of the Republican Party's support for what's come to be known as "school choice." But at the time, The Charlotte Observer had another word for it: wrong.
"Charlotte-Mecklenburg's proudest achievement of the past 20 years is not the city's impressive new skyline or its strong, growing economy," said an editorial in the paper the next day. "Its proudest achievement is its fully integrated school system."
As more skyscrapers sprang from uptown plots—One Wells Fargo Center in 1988, Bank of America Corporate Center in 1992, Fifth Third Center in 1997—transplants from the West and Northeast moved to Charlotte in search of work. As more newcomers arrived, many of them unaccustomed to a school system as desegregated as Charlotte's, popular support for the system faded.
CMS added magnet programs to a third of the district's schools in an attempt to appease newcomers. But once the quotas at these schools were filled, some parents grew frustrated over the assignment plan. William Capacchione, a white man, was one of them. When CMS denied his six-year-old daughter a magnet seat in 1997 because of her race, he sued the district, arguing that the denial constituted racial discrimination.
Two years later, U.S. District Judge Robert Potter ruled on Capacchione v. Charlotte-Mecklenburg Schools by reversing Swann, saying CMS had successfully overcome racial desegregation and no longer needed a plan to fix it. Students would no longer be bused to achieve desegregation; most would attend neighborhood schools, just like they did before 1971.
Over the next 17 years, it became clear that the post-Swann desegregation plan hadn't solved the segregation problem. Like a dam, the plan had merely kept it at bay. Without it, the district resegregated. Today, CMS is the most racially segregated district in the state, according to a 2018 report by the North Carolina Justice Center, a progressive advocacy organization. Charlotte ranked last on a list of 50 U.S. cities in a now-infamous 2014 Harvard study of upward mobility. The Leading on Opportunity Task Force, a group of civic leaders formed in response, calls segregation—by both race and income—a "cross-cutting factor" that affects everything: where you live, where your kids go to school, your access (or lack of it) to opportunity, what food will wind up on your dinner table tonight.
That's what drove CMS' decision to combine the three pairs of elementary schools. If it works, the district might expand the program, along with other efforts to desegregate schools based on socioeconomic status.
"Generational poverty, economic mobility—all of that starts in schools," says Alicia Hash, principal of Billingsville-Cotswold Elementary. "When you're in a school all day long and you only see people who look like you, who live in your neighborhood …" Her speech quickens into a staccato rhythm. "I don't care who you are and what neighborhood that is and what school that is, that's not going to help you grow as a global citizen."
***
IN APRIL 2017, then-Superintendent Ann Clark hosted a question-and-answer session on Facebook Live to explain CMS' proposed school assignment changes. A flurry of real-time comments appeared as she spoke: "I'm worried that parent involvement and funding will be split with the Dilworth spilt (sic) to the point that both schools will not thrive," one posted on the thread. Another commenter said, "Reading between the lines: 'We don't care if high SES people care or not, cuz (sic) they can just go to private school and we still get their tax dollars.'"
Parents and community members raised concerns over hours of public board hearings on the student assignment plan that May. The proposal for paired schools went through anyway, with the 2018-19 school year as its pilot.
Nationwide, many districts are struggling to undo their own resegregation. Though not a new concept, school pairing has rarely been used since the early 2000s. I found only a handful of instances—in Iowa City and Richmond, for example—in which the school board even considered it. None implemented it.
Pairing creates unavoidable complications. If parents decide that the challenges and inconveniences—like the logistics of shifting the school's schedule earlier—are too great, they can send their children to charter schools, which didn't exist in the 1970s, or private schools. For school pairing to work, parents have to choose it. Lauren Chemplavil, the white mother of a Billingsville-Cotswold student and a member of the School Leadership Team, sums it up: "The schools are going to be successful when people opt in."
Not all parents stayed at Billingsville-Cotswold after the pairing—about 20 families left, which Hash says is normal attrition—but most did. Hash credits the school's IB program, which emphasizes tolerance and global awareness. "If that's why you chose this program," Hash asks, "why wouldn't you embrace it?" In planning for the pairing's first year, the Cotswold Parent-Teacher Association had one request: that Hash, Cotswold's principal at the time, remain principal of the combined schools. "It was a big, big ask," says Jody Para, then the PTA president. The school board approved.
Hash knew it was important for the larger, more affluent Cotswold not to overshadow Billingsville. "It can just become one-sided," she says. The campuses kept their names—unlike Dilworth and Sedgefield, which became Dilworth Elementary with Sedgefield and Latta campuses. Billingsville adopted Cotswold's mascot, the cougar, and Cotswold adopted Billingsville's uniforms and school colors. In the morning, students do both the Cotswold pledge and the Billingsville chant.
The pairing raised another, more delicate issue. Potter's order barred CMS from taking race into account in student assignment. But high-poverty schools tend to be in neighborhoods where racial minorities live. Before the pairing, Billingsville was 81 percent black, and Cotswold was 54 percent white. (Dilworth was 70 percent white, and Sedgefield was 74 percent black; both Nathaniel Alexander and Morehead STEM were majority-black.) Combining the student bodies raised the prospect of renewed racial tensions. But Hash, a black woman, has tried to quash false perceptions when she can.
In May, a gun found at Cotswold escalated some parents' fears of an increase in school fights and "disciplinary incidents." Chemplavil recalls a School Leadership Team meeting a month before when Hash addressed this notion: The number of disciplinary incidents had actually dropped.
Even small additions have made a difference in the transition. Chemplavil and her husband, James, tell me about a time when a teacher requested crayons that would represent the skin color of all the students in her classroom. "It never even occurred to me," James says. "But it's absolutely true there's lots of different shades that you can use to color. It was a small thing that was illuminating."
***
"I DON'T REMEMBER looking around and thinking, 'Wow, this is a really integrated school,'" Tracy Russ tells me at the Charlotte-Mecklenburg Education Center. "It just was that way."
Russ, a Charlotte native, graduated from Myers Park High School in 1986. His was one of the first CMS classes to attend school entirely under Swann's court-ordered desegregation. Most recently, he served as the district's chief communications officer, where he promoted CMS' push for schools to return to that era. (Russ stepped down in August.) "It isn't just good for students of a lower socioeconomic status, it's actually good for all students," he says. School populations that reflect the diversity of Charlotte and the world, Russ adds, "better prepare (students) to collaborate, … to achieve forward movement in whatever field they may choose, to build a sense of empathy and understand across lines of difference."
Diverse schools boost test scores, graduation rates, and other academic outcomes, says Roslyn Arlin Mickelson, a sociology professor at UNC Charlotte whose two children attended paired elementary schools in the '80s. "The evidence is pretty clear and pretty unimpeachable that diverse schools are superior for children's academic outcomes. All kids, irrespective of their race and social class."
Mickelson co-edited Yesterday, Today and Tomorrow: School Desegregation and Resegregation in Charlotte (2015, Harvard Education Press), in which she presents empirical evidence and points readers to an online database she created called the Diversity in Education Archive, which stores hundreds and hundreds of synopses of scholarly social-science literature. Desegregation, she adds, "is the single educational reform that we know will transform schools in a positive way for all kids, and yet we resist it."
The pairings are an overdue step in the right direction for CMS, Mickelson says. It's been 50 years since mandatory busing to achieve desegregation started, more than 15 years since it ended, and five years since the Harvard economic mobility study. The district has experimented with other ways to improve equity, even in a resegregated school district. In 2011, CMS launched Project LIFT (Leadership and Investment for Transformation), which aimed to improve academic outcomes at West Charlotte High and its eight feeder schools. The program saw some success—higher pay for effective teachers and a spike in the high school's graduation rate—but ultimately fell short of its goals. After eight years, less than half the students tested at grade level.
It was time to try something new—or, rather, old. Measuring the success of the three pairs is difficult after only one year; it's not something anyone can gauge from just a year's worth of end-of-grade test scores. (Both Cotswold and Billingsville saw slightly lower performance grades in 2018-19.) The district will also weigh parental support and involvement. "One of the most successful aspects of the pairings, frankly, has been the commitment of the parents in the community to make these schools work in a different way," Russ says. The real results, he says, won't be evident for years.
Mickelson says the parents who've fought for the pairs to work "are pretty gutsy and brave and really pioneering something." School pride is another clue of success—like the yard signs in Dilworth and Sedgefield that say, "Proud supporters of the new Dilworth Elementary."
***
JUST STEPS from the main entrance to Cotswold, Jody Para clicks the remote to her red Chevy Suburban and opens the car door. "This is where I park," she says with a chuckle, "because I'm lazy."
She starts the car, and Hits1 on XM Satellite radio blares for a moment before she turns down the volume and rolls down the windows. The drive between Cotswold and Billingsville takes five minutes. As PTA president of both schools, she takes this route multiple times a day.
The mother of three moved to Charlotte from Atlanta seven years ago, when her husband landed a job here. Para and her husband bought a house in Cotswold because the neighborhood was close to uptown, affordable, and fed into good schools. Instead of working a corporate job like she did in Atlanta, she decided to stay home and get involved in the PTA at her kids' school, Cotswold Elementary.
When CMS announced the student reassignment plan, Para's kids were at Cotswold. "I had just been going through the nomination process the year before (to become PTA president) when they announced it." She laughs. "I was like, 'What did I sign up for?'" Now, her only regret is that it didn't happen soon enough for her oldest son to experience.
Para taps the brakes and stops for a red light at Randolph and Wendover roads. A crownlike cluster of skyscrapers peeks above the tree canopy, with Bank of America Corporate Center at its central tip.
"The city is changing, and we weren't going to be able to fight it even if we wanted to," she says, "which wasn't, you know, which I'm sure there are people…" She's choosing each word delicately, a byproduct of the complex issues—race, class, history—that surround public education. But her actions, and those of parents like the Chemplavils, who opted in; committed principals like Alicia Hash; and teachers like Susan King, who stay long past retirement age, speak clearly. Para lands on what she's been struggling to say: "We embraced it."
EMMA WAY is editor of this magazine.
---
A Closer Look at Two Historic Cases
Swann v. Charlotte-Mecklenburg Board of Education
Ten years after Brown v. Board of Education, schools were still largely segregated in Charlotte. Darius and Vera Swann wanted to enroll their son at one of the city's few integrated schools. They were denied, so in 1965, the NAACP sued the school board in on behalf of the Swanns and nine other families. The first trial swung in favor of the school board, but on appeal in 1969, U.S. District Judge James McMillan ordered the board to create a student assignment plan to desegregate schools. In 1971, the Supreme Court upheld McMillan's ruling.
Why it matters: The Supreme Court decision gave lower courts the power to oversee desegregation cases. By the end of 1971, 40 judges nationwide had ordered student assignment plans.
Capacchione v. Charlotte-Mecklenburg Schools
William Capacchione had recently moved to Charlotte from California when he applied for a magnet seat for his daughter. She was denied entrance based on her race, and Capacchione sued in 1997. U.S. District Judge Robert Potter ruled two years later that Charlotte had met the previous mandate of desegregation and lifted Swann's court order.
Why it matters: From 1971 to 1999, Charlotte was considered a model of desegregation. Potter's decision undid those measures, laying the legal groundwork for an effective resegregation of Charlotte's schools and other public school systems nationwide.