Tompkins Hall Adds Pizza, Sushi, Grilled Cheese to Tenant Lineup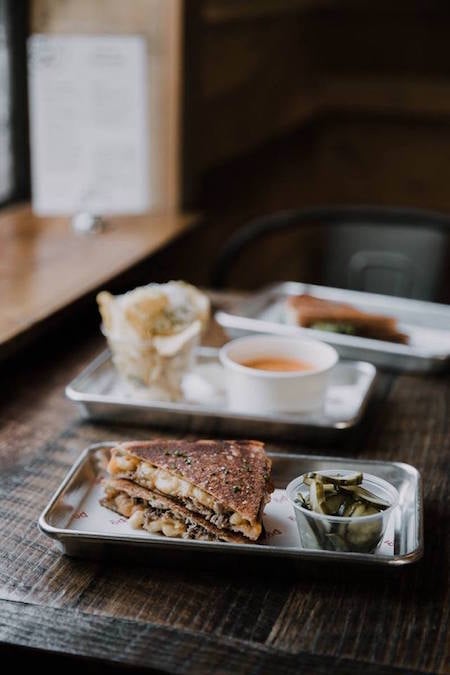 Tompkins Hall, the 146,000-square-foot old gingham mill undergoing a major facelift, has just announced three more enticing tenants to expect in the food hall. The massive, mixed-use space off of Parkwood Avenue will feature office and retail spaces in addition to the grub, creating what the owners say in a press release is a "thoughtfully curated experience."
A few of Tompkins Hall's food tenants have already been announced: Undercurrent Coffee will have a post in the redeveloped Optimist Park project, as well as a steamed bun concept from Good Food on Montford's chef, Larry Schreiber. Fonta Flora Brewing and a rotisserie chicken concept from the Aix en Provence team also join the lineup.
And now, three more food destinations make the Tompkins Hall roster, with one of them being a Charlotte favorite.
Expect to see Papi Queso's famous grilled cheeses, a pizza spot called Ava, and Zukku Sushi on the list as the development's tenants begin to open on a rolling basis towards the end of 2018. Zukku Sushi will offer sushi rolls, poke bowls, sushi burritos, and customizable meals for the trend-loving foodie folk, and food truck fanatics will love sinking their teeth into Papi Queso's cheesy creations made famous on The Food Network's Diners, Drive-Ins, and Dives. Ava will serve Neapolitan-pizza (see our favorite pizzas in the city here) and familiar Italian fare, and it's hyped to be delicious—the Tampa, Florida, location received high marks from the food critic at Tampa Bay Times.
Tompkins Hall is slated to be fully open by the first quarter of 2019, and it is located near a stop on the new LYNX Blue Line extension.