TOMS Shoes Does Weddings!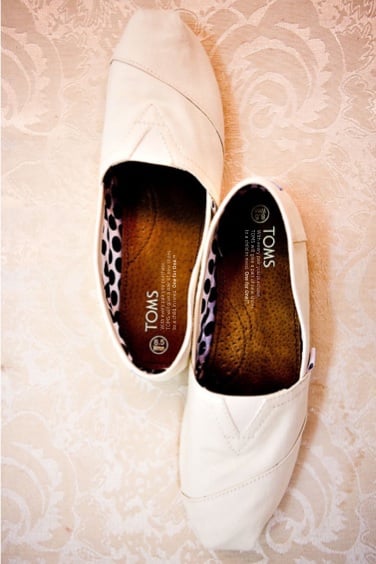 I scored a pair of TOMS for Christmas. (And actually left them in my trunk and forgot about them until today!?) Comfy TOMS feel good on your feet and make you feel good about life. The bonus: for every pair purchased, the company gives a pair to a child in need. Well that's just good stuff.
And now, TOMS does weddings. And it's really cool the program it's come up with! Whether for your bridesmaids or grooms and groomsmen (um, why not everyone?) there's a style and color for every fete. Glitter for the glamour girls in gold, silver, or pink, (blue for the bride's something blue, too) or high top for the hipsters and even styles for the wee ones in your wedding party, too.
Toms too casual for your attire? Okay, fair enough—it has a few ideas for how you can still incorporate its shoes. Download the wedding toolkit for invitation inserts, place cards, and favor cards that explain the TOMS mission and how you're helping someone by wearing TOMS on your day.
For more info, weddings@toms.com.