Too Lazy to Put Up Christmas Lights? This Company Will Do It for You
They claim to be a completely "turn-key" service.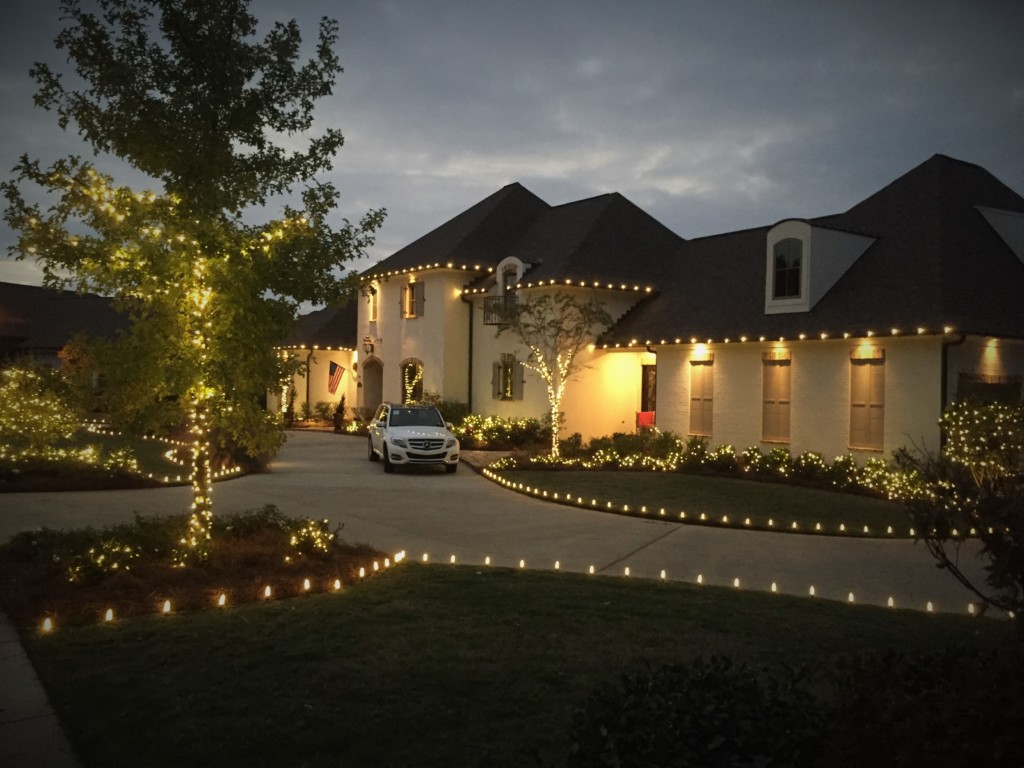 'Tis the season for hoisting your husband onto the roof and hoping he can latch some lights to the gutters without crippling himself.
That is, at least, if he's willing to do it. Many people nowadays are finding it tough to take to new heights to decorate for the holidays, and who can blame them? It's dangerous up there. Decorating with Christmas lights is not for the weak. And if you've got any sort of medical issues barring you from physically completing the task, you've probably already accepted the fact that your home won't be a festive destination for visitors pulling into the driveway.
However, there's reason to rejoice this holiday season.
Whether you're too lazy, busy, or just down-right incapable of decorating your home with twinkling lights, there is a professional holiday decorating company in North Charlotte that'll do it for you. It's called Christmas Decor, and the company provides a safer, easier option than hoisting said husband onto the roof. They describe themselves as a turn-key service, which means they will handle everything from the installation to maintenance to take-down.
Sounds great, right? The only question you need to ask yourself is how much alleviating holiday stress and eliminating possible injury are worth to you. Christmas Decor prices their services based on the measurements of the house, but as a general estimation, a home around 2,000 square feet would cost you about $1,200-$1,500 for the outdoor Christmas lighting consultation, assembly, take-down, and storage.
For the design consultation process, one of Christmas Decor's decorators will come to your house and discuss exactly what you'd like the display to look like. Then, they're able to Photoshop the lights onto your home before you sign off on the design. And, once the lights are up, if any bulbs are out, the company will come and replace them.
Holiday Lighting Trends for 2017
As for your home's holiday lighting designs, Austin Micklem, Director of Operations for the North Charlotte store (it's a franchise), has some insight.
"We are seeing a lot of clients looking to the frame out their roof," he says. "This is something that is hard for a home owner to accomplish without hiring a professional service with the right equipment to install, but the roof line framed out with our C-9 (Christmas light) bulb is a very elegant look that our clients are looking to achieve."
"The roof framed out with supplemented greenery such as garland or a wreath is a design you can never go wrong with," he continues.
Of course, as with most decor trends, there comes a time that certain styles become less popular. This year, "blown-up yard decorations," as Micklem refers to them, are becoming a thing of the past. Now, homeowners are looking for warmth and elegance. While incandescent lighting was once a hit for providing that warm, inviting glow that people love, Christmas Decor now has a more energy-efficient option: LED lights that replicate the same cozy glimmer.
Lastly, it's all about levels of lighting, which we've learned also works well inside the home.
Micklem says, "If you are able to tie in the roof lighting with some sort of mid-level lighting such as windows, then bring it down to the ground level by lighting some trees or shrubs, your home will be a stand-out, no questions about it."
Christmas Decor provides the lights and everything. The best way to schedule a consultation is either online or by calling (980) 495-5799.