Top 10 Moments in Charlotte Arts: 2016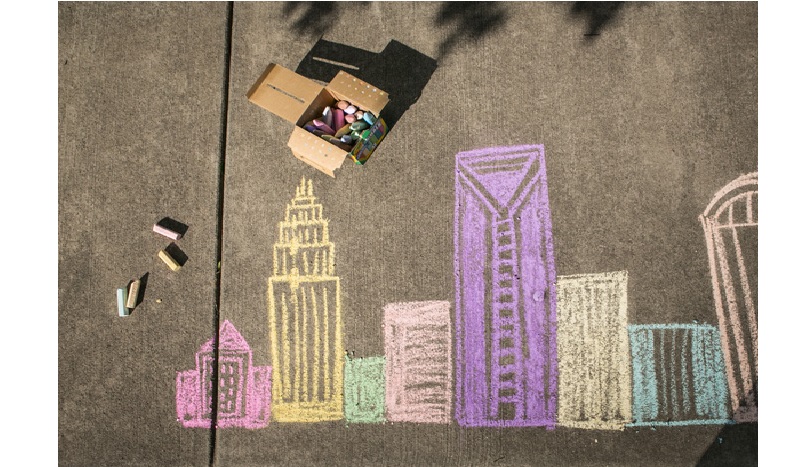 IT'S BEEN A SPECIAL YEAR for Charlotte arts. Theater fans rejoiced upon the news that Hamilton is coming. Anthony Hamilton, unrelated, went viral when he and pals serenaded a goat. And Charlotte artists at Pecha Kucha Night were some of the first to respond to the protests in September (and for the first time, the event went bilingual.
There's still plenty to figure out. Our first #DiscussCLT panel on the city's cultural sector proved both popular and contentious, packing the Charlotte Ballet with citizens and opinions.
In its announcement of new funding for the arts in Charlotte, the Knight Foundation declared 2017 "the year of the individual artists in Charlotte." The foundation has been a pivotal source of funding here in the city, but I would say this year was much more about collaboration than individualism. We can see that in the highlights from this year, which I've compiled in a list of 10 below. For me, these 10 moments embody our complicated and growing cultural scene.
1. Battle Trance at McColl Center's New Frequencies
My favorite live music experience of 2016 didn't happen in one of the city's music venues (which we should note, continue to dwindle). In the first-floor gallery space of the McColl Center, a collective of four saxophone players performed its latest record, Blade of Love. The New York ensemble Battle Trance embodies the charge of the center's New Frequencies series: cutting-edge art that becomes wholly immersive and staggering, once you submit yourself to it. It was a stand-out in a stacked season of literature readings, dance, music, and film for New Frequencies. It was marked by masterful curation by the likes of Jeff Jackson, Brent Bagwell, Amy Bagwell, and others. Unfortunately, this group is no longer curating New Frequencies. Yet, a spring slate of Lonnie Holley, Noveller, Mac McCaughan, the jazz duo of Ken Vandermark and Nate Wooley, and author John Darnielle is promising.
Two other notable McColl moves in 2016: Ivan Toth Depeña's state-of-the-art Remember, an exhibit that used an augmented reality mobile app to create hidden, digital art within the physical works and Open Occupancy, an exhibit from McColl alumni artists that used the public bathrooms in the center to react to HB2.
---
2. The Bechtler Collection: Relaunched and Rediscovered
Curator Jennifer Edwards is a force of change for the Bechtler Museum of Modern Art, where the quality of exhibitions hasn't always matched its ever-astonishing backdrop, concocted by architect Mario Botta. An earlier show from Edwards centered on Sam Francis hinted at Edwards's gifts in staging and providing context for art buffs and newcomers alike. In The Bechtler Collection: Relaunched and Rediscovered, Edwards, staffers, and a merry band of students from esteemed colleges took the museum's permanent collection and made something entirely new. The exhibition offers insight into one of Charlotte's most fascinating families, for which the arts institution is named. In 2017, Edwards and her team can continue their charge toward making mid-20th-century modern art and related movements relevant in this city.
---
3. Refresh Records Ramps Up Releases
At just little more than a year old, Refresh Records is a prominent presence in the local music scene, aligning itself with trusted names, such as Junior Astronomers, Ancient Cities, and Scowl Brow. And its release of the new self-titled Deep 6 Division LP, one of the best records to come out of Charlotte this year, puts it squarely inside Charlotte's thriving hip-hop scene. "With every band, we tell them, 'Listen, we don't want to hold you down. But if we can grow together and help each other, we should keep working together and help raise this city's profile,'" label founder Josh Higgins told me.
---
4. Mint Museum's Two Exhibits Year of the Woman
To mark its 80th birthday, the Mint Museum declared 2016 the "Year of the Woman." Women of Abstract Expressionism and Fired Up: Women in Glass gave us insight into pivotal female figures from two mediums. The individual power of each exhibition is undeniable. I wish there would have been a way to tether the abstract expressionist exhibit into the neighboring Bechtler's collection (or even artists represented by Jerald Melberg Gallery). With the continued collaboration between institutions under the Levine Center for the Arts banner, I hope the museums and galleries continue to find ways to collaborate and highlight each other's strengths.
Now would be the time. The uptown arts crawl is in its infancy. This year's protests severely hampered the momentum of the Uptown Crawl, but there's still an opportunity to make this section of town the cultural hotspot it has the potential to be. Otherwise, right now, it continues to be a collection of disparate destinations.
---
5. Actor's Theatre Finds New Home
Actor's Theatre of Charlotte moved into a permanent home on Charlotte's West Side. The group had trouble clearing city and county regulations to be able to host audiences, but neighbors helped out. Center City Church, located in the next-door Movement Center, hosted the fall run of Toxic Avenger, while Charlotte Ballet hosted Actor's Theatre's annual holiday production, The Great American Trailer Park Christmas Musical. Now that's some Christmas spirit.
Also in theater: On Q Performing Arts marked its 10th season. Expect more stories on that as we move into the spring of 2017.
---
6. Melberg Branches Out
Cotswold's Jerald Melberg Gallery made an unprecedented move for up-and-coming, local artists this year by featuring painter Nick Napoletano and sculptor Matthew Steele in Two to Watch, which was really two shows in one. Now, here's the frank part of this discussion: When I spoke to owner Jerald Melberg, he admitted that he wanted to have more than two young artists in the show, but after scouring the local scene, he (subjectively) decided only two met his standards. That may raise eyebrows, but the confession could motivate young artists to produce new work that Melberg decides he wants to host. Regardless, Two To Watch was fascinating to witness, as a growing, grassroots-level arts scene collided with Melberg's family of collectors, accumulated over more than 30 years as a gallery.
A show later this fall from Felicia van Bork and Kim Keever offered another highlight, with the former being one of the city's premier, established artists.
---
7. BOOM Festival Debuts
The first BOOM Festival, hosted in several spots across Plaza Midwood, had a solid start in April. Organizers describe it as an "artist-led annual showcase of experimental/contemporary performance and visual art." XOXO and OnQ Productions garnered praise for performances at Snug Harbor and Petra's. BOOM is one of the efforts that Knight Foundation is helping to fund, and let's hope people continue to attend.
---
8. C3 Lab Grows
C3 Lab is the only co-working space in the city with a focus on artists (or "creatives," if you're still using that term). This year, the venue ramped up its exhibition slate and took several commendable chances. It became the official host for the Charlotte Arts Chat meet-ups and hosted massive shows like DaDa Soiree: An Absurd Art Show. Its most ambitious project was No Vacancy. The mock-motel constructed inside the multi-purpose space, a resident project through the summer, was a collaboration between the performance ensemble TAPROOT and Jeff Barninger of Union Shop Studio. Each of the four rooms constructed for the project had a different artist at the helm, and a new group of artists came in each week to "activate" the space in a new way. The TAPROOT performances in August built narratives around economic and housing opportunities in Charlotte. The result was both entertaining and sobering.
---
9. Ken Van Sickle's Artist Talk at SOCO Gallery
Of all the artist talks I attended this year, Ken Van Sickle's Saturday morning event at SOCO Gallery in Myers Park stands out. The New York-based photographer presented his images of the bohemian life in the 1950s and 1960s. It was surprising to find that some of his best stories didn't involve his photos of Andy Warhol or famed jazz player Chet Baker—instead they involved those more mysterious subjects and scenes that Van Sickle gorgeously rendered in black and white.
---
10. Goodyear Arts Continues to Evolve
Instead of maintaining the same format from its original location, GYA pivoted at its current 516 North College Street space. Open gallery hours took the work of its residents from the blink-and-you-miss-it moment to an open-ended dialogue. And the bimonthly showcases were just components of a massive event schedule, which included both GYA events and those from other organizations. The most notable, for this critic, was the September show Unibrow (a clever moniker for a mix of high- and low-brow art). Rebecca Henderson, of Weird Empire and The Crock, collaborated with artist Grace Stott, who previously helped create the feminist show Cherry Pie at Union Shop Studio. (Rumor is that a sequel show is in the works.) Unibrow highlighted several artists, both local and national, and offered a raunchy and humorous slate, considering its host city. Other notable events at Goodyear Arts this year: Jeff Jackson Meets Jeff Jackson, in which the local award-winning writer interviewed the state senator, and our own #DiscussCLT panel. (Sorry. Had to.)