Top Doctors 2012
Once again, it's our peer-selected list of the best physicians in Charlotte. Plus, meet six top docs who look out for the body's most important organs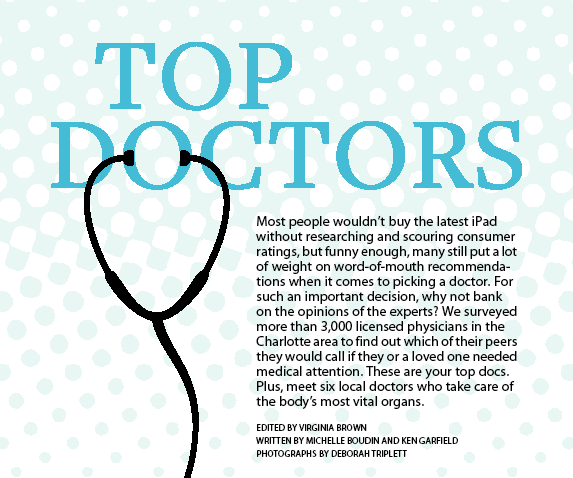 Presenting the 2012 Top Doctors:
Everything you'd ever need to know about Charlotte magazine's Top Doctors list:
How did you pick the doctors?
We didn't. Area physicians did. We mailed a link to an online survey to almost all of the physicians with active medical licenses in Cabarrus, Gaston, Mecklenburg, and Union counties according to a list from the North Carolina Medical Board. The survey asked: what doctor would you call if you or a loved one needed medical care? Physicians had to input their license numbers to take the survey.
So is this just a big popularity contest, then?
In some ways, yes. Physicians were asked not to vote for themselves and to make their selections without regard to hospital, clinic, or health plan affiliations. The number of responses helps eliminate favoritism or bias.
If doctors buy ads, do they get on the list?
No. The survey and its tallying were conducted completely independent from advertising, and results were not released prior to the magazine being printed.
What if my doctor isn't on the list?
If you feel comfortable with your physician, by all means stick with him or her. This list represents only the top 7 to 10 percent or so of area doctors in the selected specialties—plenty of great doctors aren't on it.
I'm a physician, and I never received a survey. Why not?
We diligently try to maintain our database, but we may not have your correct mailing information. You can visit www.charlottemagazine.com to update your practice contact information. Also, the survey postcard may have never reached your inbox for a number of other reasons beyond our control.
Are these doctors accepting new patients?
Some are; some aren't. Because that status can change from month to month, we didn't include that information.
How do I know if a doctor on the list is board certified?
The NC Medical Board (ncmedboard.org) has a list of all board-certified medical doctors practicing in North Carolina (and some in South Carolina).
What does it mean to be board certified?
According to the American Board of Medical Specialties, certification by an ABMS Member Board involves a rigorous process of testing and peer evaluation designed and administered by specialists in the specific area of medicine. For more information about board certification, visit ncmedboard.org.
Click here for the profiles of 6 doctors and their takes on health.