Top Moments in Charlotte Arts: 2015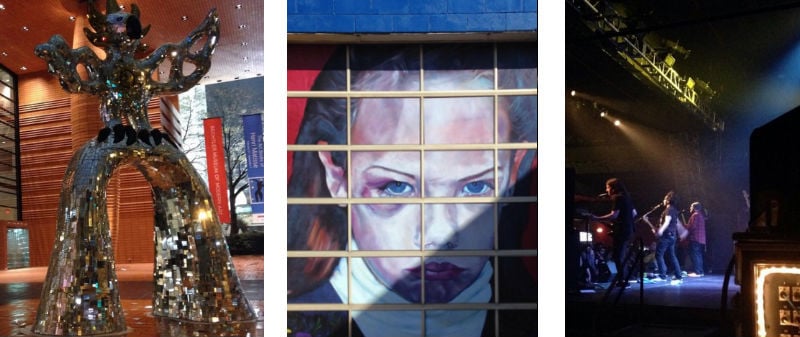 A CITY THAT'S growing as rapidly as Charlotte doesn't make small changes in a year. In 2015, the cultural sector saw yet another tectonic shift. Everything changed, again. And when you break it down by category, the checks and balances of the arts scene become more obvious. With every successful music festival comes another venue closure or more funding headaches for established programming. One band releases a great record; another disbands. In every medium represented in Charlotte, hundreds of narratives remind us how difficult it is to make art.
Art in a Tire Shop
In June, it would have been hard to believe that the biggest arts story of the year was contained within an old Goodyear in uptown. But here we are. There have been sculptures, paintings, big band jazz, theatrical performances, avant-garde dancers, and more. The Skyline Artists in Residence project garnered a 2015 Charlotteans of the Year award, and it's probably the freshest cultural story in the minds of many. (It's not every project that provides a new template for transitional spaces in a city with hundreds of them.)
But 2015 brought more than just that project. Much more. Here, we take a look at a few of the highlights in music, galleries, museums, and theatre.
---
MUSIC
#GoodbyeTremont
On Saturday, Dec. 19, Tremont Music Hall hosts its last show. Sadly, it's just one of a few music venues that announced closures in 2015 (with NoDa's The Chop Shop being another.) Dylan Gilbert, frontman of Charlotte rock act Hectorina, told me about his relationship with the venue, one that's lasted since he was in high school. "As an aspiring musician, performing at Tremont Music Hall was considered a serious accomplishment, a goal to aspire to," Gilbert says. "At least that's the way it felt to me and my 16-year-old music-nerd friends. In a lot of ways, [Tremont] showed me how awesome rock and roll music venues could be and inspired me to continue performing."
The issue of beloved buildings sold for development isn't exclusive to the arts. (Just take a look at Common Market South End and the Food Truck Friday situation.) Residents keep asking that same question: Why can't we have progress and culture?
Our Favorite Concerts of 2015
Despite all that, 2015 was also a year of great concerts. I asked a few Charlotte magazine folks to tell me their favorite shows of 2015. It wasn't easy for anyone to name just one. Michael Graff, executive editor, cited Ryan Bingham/Lucero/Twin Forks at Visulite (Feb. 19) as his favorite. Publisher Richard Thurmond mentioned that one too, along with the April edition of The Jazz Room, in which Delfeayo Marsalis paid tribute to Duke Ellington. Lisa Rab, articles editor, named Audra McDonald at Knight Theater (Feb. 8); senior editor Kristen Wile loved Taylor Swift's Time Warner Cable Arena show (June 8). (And I mean really loved it. Check out her piece about it.) Art director Jane Fields picked St. Vincent's show at the Fillmore (June 2) as her No. 1. Finally, Katie Gates has only lived here a few months, but she saw Darius Rucker at PNC Music Pavilion (Aug. 9), and said he was "pretty good."
Oh, me? Well, the free Jason Isbell show at U.S. National Whitewater Center's Tuckfest (April 17) was up there. But seeing local jazz act Ghost Trees perform in the Goodyear building was really something.
(Want to listen to something local? In April, we counted down our 10 must-own Charlotte albums.)
---
GALLERIES
I've had countless conversations with gallery owners this year, and the most optimistic take-away has been that Charlotteans are increasingly purchasing fine art. There was even a community meeting in South End titled "How to Buy Art." (And in this piece in Charlotte Home + Garden, we get tips on framing the art once you've acquired it.)
Motherwell at Melberg
Another lesson from the year was that new galleries have role models in spots that have long served the community. Take the Jerald Melberg Gallery, which opened in 1983. Melberg's shows are known for museum-quality staging, but on a national level, Robert Motherwell: A Centenary Exhibition was an extraordinary accomplishment. The amount of work representing the famed abstract expressionist would have been staggering in any major city gallery. In the hands of this Charlotte gallery, a new standard was set for the region.
SOCO Finds a Home
Meanwhile, in Myers Park, SOCO Gallery graduated from occasional pop-up to permanent art space in May, complete with a book store and frequent artist talks. The gallery, with Chandra Johnson at the helm, opened with the accessible and seasonal A Fluid Journey. They followed it up with the jewel-toned works of Liz Nielsen's Night Garden, and then, Xavier Guardans' Traveling Lights. One of the few commonalities between those exhibitions: all 2015 stand-outs.
Other notable gallery exhibitions:
* Pease Gallery's New Geographic One at CPCC, the city's first animated GIF show.
* The Dwelling, a series of pop-ups that have occupied two homes and The Spoke Easy.
---
MUSEUMS
Happy Retirement
In 2015, Levine Museum of the New South saw the retirement of two of its leaders, Emily Zimmern and Tom Hanchett (who really only "semi-retired," he says). We outlined several of the major leadership changes at Charlotte museums here. Yet, the Levine had one of its best years in recent memory with the debut of NUEVOlution! Latinos and the New South. Created over a span of three years, the exhibition explores the ties between Latinos and the South with multimedia, traditional art, dialogue, and interactive stations.
A New Face at the Bechtler
Down the street, the Bechtler Museum of Modern Art took an enormous step forward with the hiring of new curator Jennifer Edwards. Months later, the exhibit Sam Francis: Rapid Fluid Indivisible Vision followed. The vibrant show ushered in a new era for the Bechtler, and in turn, galvanized the museum scene in uptown.
The Bodies Are Back
The previous Body Worlds in Charlotte was the highest-attended exhibition ever at Discovery Place. This time around, the bodies placed in the process of plastination for Body Worlds & The Cycle of Life reflect the varying human stages and the fragility of our internal systems.
But each of Charlotte's museums do more than just exhibitions. Here are some programming highlights from the year:
* The Harvey B. Gantt Center for African- American Arts + Culture's annual symposium featured Dr. Cornel West as a speaker.
* Mint Museum partnered with the new Le Meridien, a hotel that opened with an arts and culture focus.
* Discovery Place's "Science on the Rocks" get-togethers, which snagged a BOB Award this year.
---
THEATRE
Broadway Lights Continues
"Big Theatre" was strong in 2015, as it always has been. February's The Phantom of the Opera, one of the touring Broadway Lights shows, was the year's biggest stage blockbuster. (And frequent sell-out show The Sound of Music helped finish out the year.)
Out in the Woods, Into a Gallery
Meanwhile, tucked away in the corners of the city, Charlotte artists are creating small-audience experiences fueled by word-of-mouth. XOXO's Bohemian Grove, back for another year, took a bus-full of attendees into the South Carolina woods for an immersive and surreal experience that's hard to describe, though I did try. In South End, Donna Scott Productions offered theater in the Charlotte Art League's space, like the Amy and David Sedaris play The Book of Liz.
The need for space continues to be an issue for Charlotte theater; it was announced this summer that Actor's Theatre of Charlotte will have to find a new home next year, when apartments take its place. Yet, some of the year's best was produced off-stage.
Other highlights, in the form of short Twitter reviews:
---
GATHERINGS
Charlotte still acts as Convention City. Here are a few events that attracted attendees from all over this year:
* HeroesCon, which saw the return of Stan Lee.
* Charlotte Contemporary, filling the void left by the now-defunct American Craft Council showcase in Charlotte.
* Breakin' Festival, which had everyone dancing in uptown.
* Sensoria Festival, emerging as the only festival of its kind here.
---
What were highlights for your #CLTArts experiences this year? Let us know.