Tough Growing: Alternatives to Grass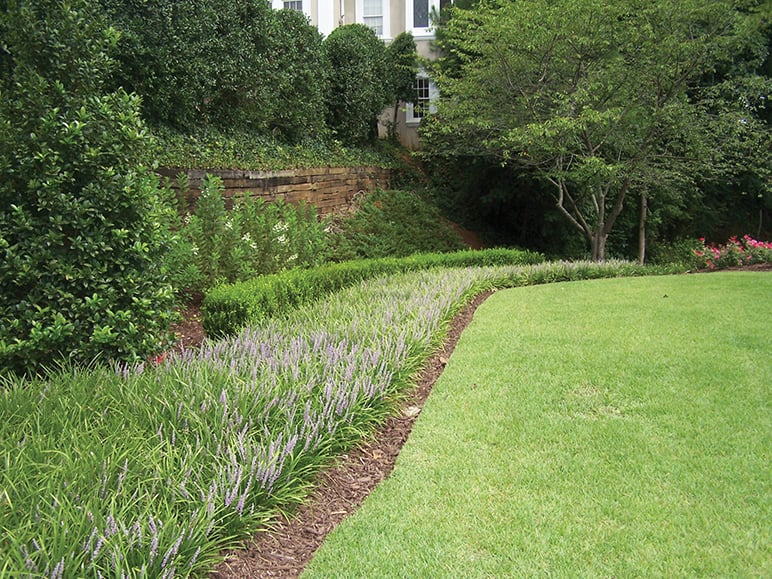 KEEPING GRASS green can be a challenge in any yard for any reason: hills, too much sun, not enough sun. Here, Tracy Black, a sales associate at Pike's Nursery, recommends five plants that can easily replace grass as ground cover in these tough spots— with minimal maintenance.
VINCA MINOR: Drainage issues can make it tough to grow grass on a hill. Black suggests vinca minor, which flowers in the spring, instead. Small root systems allow the plant to spread across a space. But it's not too aggressive—just take a Weedwacker to the edges when the plant has crawled too far.
MONDO GRASS OR LIRIOPE: If you're not quite ready to give up on grass, mondo grass or liriope are grass-like plants that give you the same feel with less effort. "They have that nice, grass-like look," Black says. "Mowed, you won't really tell the difference."
AJUGA: Ajuga grows in sun to partial shade. Though it doesn't flower, its leaves have a purple hue. "This complements shrubs or trees in a small area well," Black says. It also does well as a border plant.
PACHYSANDRA: For a more vertical look, try pachysandra. This lowmaintenance plant grows six to eight inches tall and produces violet flowers in the spring. A hardy plant, it does well in shade or on hills, and will spread across an area.
MAZUS: This plant needs to be in a well-drained area and will spread quickly. If you're looking for something green as an alternative to pine needles or mulch, Black says this is the plant. Keep it contained with a Weedwacker, and mazus will fill in a space with its white or purple crawling vines.