Tough Love
Why Charlotte should stop emptying its wallet for the Panthers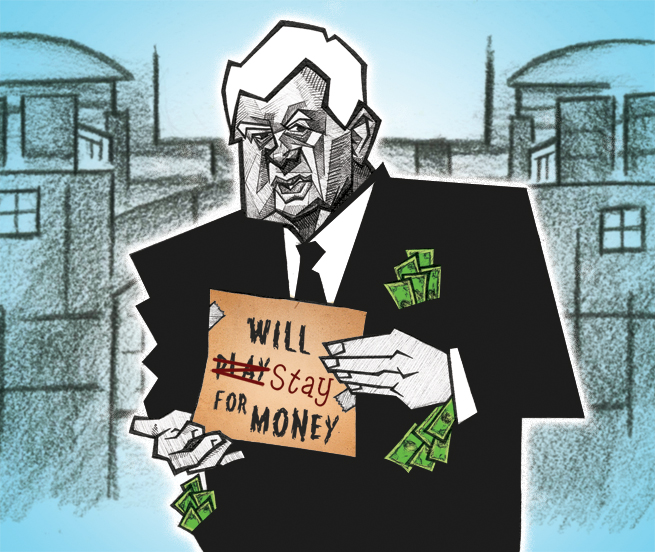 In April, Charlotte missed a chance to tell the Carolina Panthers—a franchise that turns 20 this year—to grow up and pay its own bills.
I've argued differently on my blog: Yeah, it sucks, but NFL teams call the shots, that's just how it is, and we can't lose the Panthers, heaven forbid.
Well, actually, we can. We might anyway. The deal the city and team worked out in April for improvements, maintenance, and traffic control at Bank of America Stadium was weighted heavily in the Panthers' favor—the city pays $87.5 million, the team $37.5 million. Moreover, the city's contribution buys the additions (video scoreboards, escalators), which taxpayers will lease to the team, thereby letting the Panthers skate on a chunk of their property tax bill.
All that in exchange for a six-year "hard tether" that guarantees we'll be going through the same charade in 2019. Yeah, it sucks. I no longer see the need to append a "but." What changed? I realized that extortion isn't something you should take like a schnook. By and large, pro sports teams force cities to peel grapes for them simply because they can. There's abundant evidence that those teams' financial benefits to their communities are wildly inflated at best.
The Charlotte Sports Commission, a nonprofit booster organization which has since folded into the Charlotte Sports Foundation, commissioned a study from UNCC in 2012 that estimated a $2.2 billion economic impact for the Charlotte area from "sports and sports-related activity." A University of South Carolina study commissioned by the Panthers last year calculated $636 million in economic impact from the team.
But spending on tickets, parking, and concessions, economists argue, largely ends up in the pockets of a relative few rich out-of-towners. And most in-house studies of economic impact compare a population's sports-related spending against no spending at all, rather than spending on other entertainment options—which Charlotte has far more of now than in 1993, when the NFL granted the Panthers franchise. (The Charlotte Sports Commission's study makes no mention of consumer spending on things like concerts and museums.)
It doesn't have to be this way. Take Seattle, which lost the NBA's SuperSonics to Oklahoma City in 2008 after the city declined to subsidize upgrades to aging KeyArena. A few years later, hedge fund manager and Seattle native Chris Hansen offered to build a new arena for $490 million and lure an NBA team back to Seattle. It seemed like a hell of a deal too, as these things go: Hansen and his team of investors would be responsible for $290 million, and the rest would come from construction bonds repaid via taxes generated by the new arena. There was no additional tax burden on Seattle residents, in other words.
City Council members easily could have welcomed Hansen home with a hug and started injecting helium into green and gold balloons. Instead, they actually negotiated, hard—extracting from Hansen additional financial promises that include $40 million for infrastructure improvements and annual audits of Hansen's finances to make sure his net worth remains at least $300 million. The Seattle Times asked a City Council member if the city had wanted anything Hansen didn't agree to. "Nothing," he replied. "We got it all."
Sure, resistance on Charlotte's part might have meant Cam Newton would be throwing touchdown passes for the relocated Los Angeles Pumas in 2020. But the April deal gives us no assurance that won't happen anyway. Charlotte had an opportunity to bend back the thumb that NFL franchises keep their host cities under. Instead, City Council told the Panthers they were welcome to press a little harder.
This article contains a clarification from the version that appeared in the June issue. The original economic impact study was conducted by the Charlotte Sports Commission.