Transportation: How to Avoid Becoming Atlanta
The plans, and some suggestions, for Charlotte's ever-growing webwork of transportation options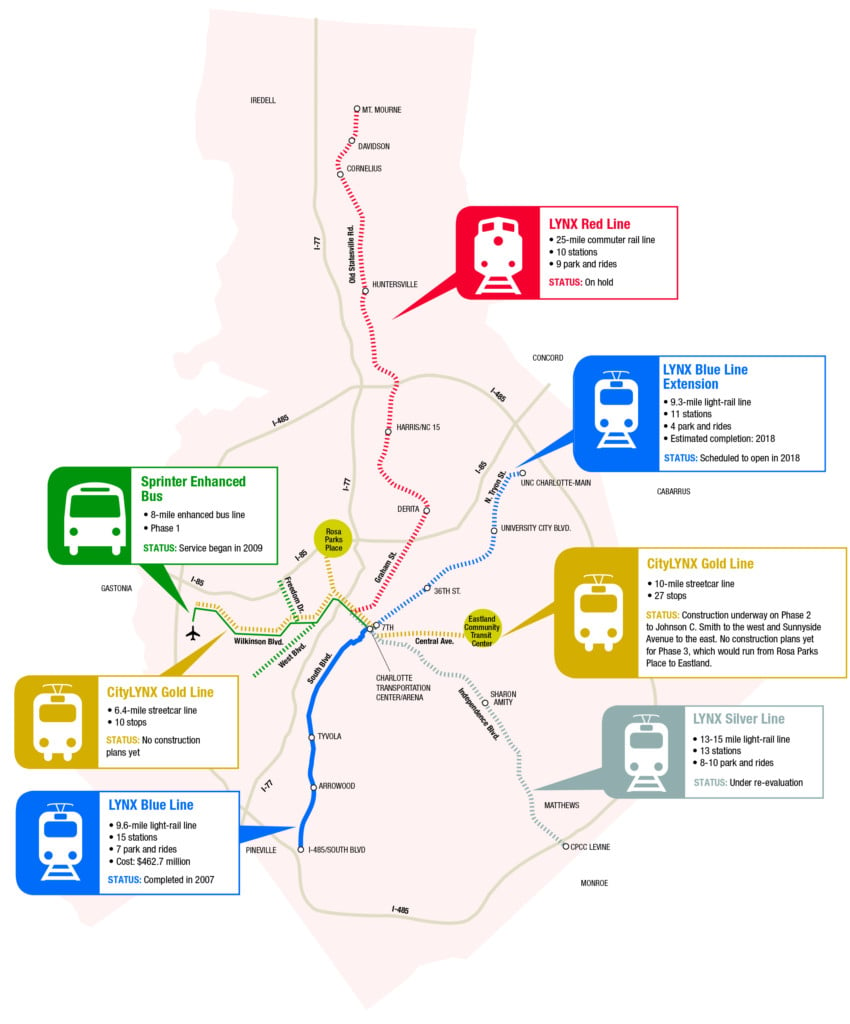 TWENTY-FIVE YEARS from now, you might be able to board a train in Mooresville and disembark in Matthews, or at the airport. You might be able to get off a plane and ride to east Charlotte without having to pile yourself and your bags into the back seat of a car. At the very least, you'll be able to take a train from near Carolina Place Mall in Pineville to the UNC Charlotte campus.
That last option we can predict with some assurance. Charlotte Area Transit System has been constructing the LYNX Blue Line Extension from uptown to UNCC since 2013; it's the completion of the light-rail line down South Boulevard that opened in 2007. Despite the inevitable cost and time overruns—those are features of large transportation infrastructure projects, not bugs—the BLE is expected to open for riders in spring 2018. That would complete two of the five corridors identified in the region's 2030 Transit Plan, originally adopted in 2006.
Everything else in the plan is caught in that twilight area between conception and reality. And it's not just rail we're talking about. Charlotte planners envision a webwork of roads, rail, bus lines, paths for bicycles and pedestrians, all sprouting from a hub in uptown. But no one knows exactly what the finished product will look like, or how to pay for the full system from a combination of local, state, federal, or other sources.
Of course, you can't outline the plans without noting the contingencies. They include: a state legislature and federal administration that have demonstrated little enthusiasm for large transit projects, and the time-tested truth that any transit system is only as strong as its weakest link. Partially realized transit systems defeat the purpose of such systems—to provide an inexpensive way for the public to travel virtually anywhere in an urban area. And the pressure on Charlotte's current system—ranked one of the nation's worst last year by the online resource AllTransit—continues to grow along with the population.
Mecklenburg County voters approved a local half-cent sales tax in 1998 to pay for transit projects, at a time when the county's population was expected to reach 965,000 by 2025. It surpassed one million in 2014. Without a transit plan that incorporates multiple modes of transportation—car, rail, bicycle, pedestrian—planners fear Charlotte will end up as another Atlanta, a city that prioritized regional highway construction starting in the 1950s and suffers from near-constant gridlock in a metropolitan area of six million people. That's a particular fear for the fast-growing areas outside a completed Interstate 485, such as Lake Norman, Pineville-Matthews, and far western Mecklenburg County, where the planned River District is expected to draw a fresh new wave of development.
So local officials are trying to update their plans, which unfortunately takes time and money as well. In June, the Charlotte City Council voted to spend $3.2 million for a transit consultant to determine where and how the city should construct rail lines to Lake Norman and the airport, how all the transit lines will come together uptown, and how much it might cost to build out the five-corridor system outlined in the 2030 plan. The consultant, WSP USA, is expected to finish its work in late 2018. Here's a brief overview of the various modes, and a few things we'd like to see emerge from the revised plan.
---
RAIL
The plan: The Blue Line extension, which will connect uptown and UNC Charlotte, is expected to open in March 2018. Construction has begun on Phase 2 of the CityLYNX Gold Line, which will extend the streetcar to four miles, from Sunnyside Avenue near Plaza Midwood to French Street near Johnson C. Smith University on the west side.
Everything else is still stuck in blueprints. Phase 3 of the Gold Line, which would extend from the Rosa Parks Place Community Transit Center off Beatties Ford Road on the west side to the Eastland Community Transit Center on Central Avenue on the east side, doesn't have a cost estimate or construction date. The city views Phase 3 as the key to rebirth of long-neglected parts of town that desperately need a launch pad for revitalization.
The proposed 25-mile Red Line commuter rail line to Mooresville and Silver Line—15 miles of light rail along Independence Boulevard and Monroe Road to Central Piedmont Community College's Levine Campus in Matthews—are on hold for now. CATS officials have only recently begun studying a light-rail or streetcar line between uptown and the airport. CATS CEO John Lewis has floated a tentative proposal to ditch the Red Line plan and construct one massive line from the CLT airport to the Lake Norman area, at a potential cost of $6 billion.
Our thoughts: With the full understanding that rail projects are exorbitant and take forever to plan and build, we can't believe it's taken this long to propose what seems obvious—a rail line that would simultaneously relieve traffic on I-77 to and from Lake Norman, and provide another option for business travelers to and from the world's sixth-busiest airport. CLT, after all, plans to open a fourth runway by 2022 to accommodate expected traffic. Seems to us that such a project wouldn't interfere with the needed Gold Line, and that the Silver Line can wait.
BUSES
The plan: For now, a refinement of the existing system, continuing the limited-stop Sprinter bus service to and from the airport but reworking CATS' 72 routes so that riders won't have to change buses as often at the uptown Transit Center—which can add a half-hour or more to trips.
Our thoughts: The reworking of routes is a great idea, and the airport Sprinter will do as a stopgap measure until trains start running. In the meantime, might Bus Rapid Transit—which already has buses running in a dedicated lane on Independence—serve the purposes of the proposed Silver Line? That was the original plan in the late 1990s. While permanent light rail tracks might attract development along Independence and Monroe Road, any economic development would be limited along the expressway stretch of Independence—and the southeast isn't expected to grow as quickly as other parts of the metro area.
STREETS, BICYCLES, PEDESTRIAN
The plan: We're combining these for a reason. Over the next 25 years, the city wants to construct 100 miles of roadway, at an estimated cost of $2.5 billion, that include sidewalks and bike lanes. Charlotte has 90 miles of bike lanes already, and the city wants to add an additional 50 miles by 2020 and 200 more by 2040. That's in addition to 250 miles of new sidewalks and Mecklenburg County's continued expansion of its greenway system.
Our thoughts: Sounds good to us.