Travails of Travel
Seeing pretty places isn't enough. When it comes to traveling, pushing the boundaries of your comfort zone makes the trip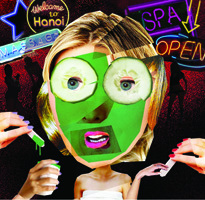 While I love the types of luxurious getaways featured in this issue, I tend to prefer edgier locales for my travels. The State Department warns of a serious risk of kidnapping in your city? I'm there. Can't drink the water in your country? Count me in. Need to get vaccines for diseases whose names I can't even pronounce? Perfect. When I had the chance a few years ago to go backpacking in Asia with my brother and my friend Laura, I jumped on it. I read a few copies of Lonely Planet, decided I was pretty much fully educated in the ways of the world, and caught a plane to show off my excellent skills with chopsticks.
About halfway through the trip my brother split for a night from Laura and me, leaving us to travel to Hanoi, Vietnam, alone. We arrived at a cheap hotel in the old French Quarter in the evening after a long day of traveling and noticed a flashing neon light in the window reading "Spa." (First sign you should be suspicious of a spa: it's advertised in pink neon.) As we checked in, Laura asked about the spa and was told that it stayed open until midnight. (Second sign: it stays open after normal business hours.) However, since it was already late, this worked perfectly with our plans and we scheduled 10 p.m. appointments.
Which is how I ended up getting a massage from a hooker.
We headed to the spa around 10, excited about the cheap prices and ready to relax. Two menacing men at the door directed us into a room with three faux leather chairs and sparkly Christmas decorations on the walls (it was April). Laura settled into one of the chairs and I was directed to stretch across a small table for a massage. I did. I was also directed to remove my clothing. I didn't. Seven or eight women wandered in and out of the room, wearing short satin nighties in a light lavender color. By this point, it was clear this wasn't a real spa, but a fear of confrontation with the guys at the door led us to stay where we were—that and a curiosity as to how they were actually going to create a spalike experience in what was clearly a brothel. Eventually, one woman brought in an old pink Caboodle cosmetic case and some red nail polish. Another brought in a small bottle of baby oil. And so began our "spa treatments."
It was a pretty typical party, really—just with Vietnamese prostitutes.
Within half an hour I'd had my stomach massaged with baby oil by a woman who had clearly never given a legitimate massage in her life, and Laura was laughing so hard tears streamed down her face as she watched. Almost a dozen women were in the room and they snapped photos with their cellphones, talked excitedly, and climbed over the chairs we were in, tugging on our hair and laughing about our relative modesty (we weren't wearing satin nighties). Occasionally, one of their phones would ring and they would hand it to us to speak to the man on the other end, who inevitably didn't speak English, and we'd all share a good laugh over making fun of their "boyfriends." At some point during the chaos I wore a traditional conical straw hat they'd thrown on my head for the photos. It was a pretty typical party, really—just with Vietnamese prostitutes.
It was my first and last experience in a brothel (Your Honor) and I'd recommend against it if for no other reason than it was the worst massage of my life. Well, that and a few moral issues regarding prostitution. But for me, that's what traveling is about: seeing new (and often illegal) things, meeting new (and often criminal) people, and, of course, surviving to write about it on the back page of a city magazine.