TRAVEL: A Getaway to Curaçao
An adults-only, pre-holiday visit to the Caribbean island less traveled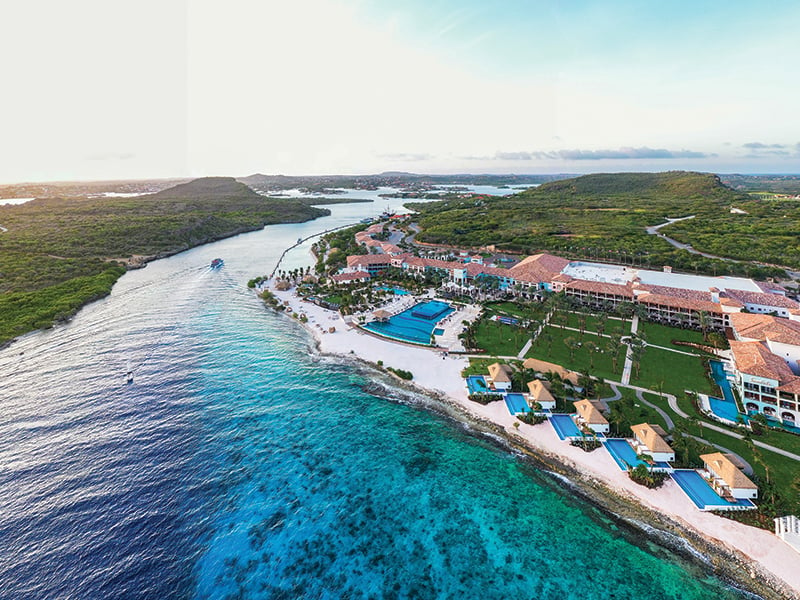 MILES FROM CHARLOTTE: 1,756
FLYING TIME: 4 hours, 25 minutes
NONSTOP SERVICE ON: American Airlines
---
In 1634, the Dutch attacked the Spaniards and seized control of Curaçao, an idyllic island 40 miles north of Venezuela. Today, Curaçao remains part of the Netherlands Antilles and a blend of Caribbean, Dutch, and Latin American cultures. Curaçao boasts some of the most striking beaches, limestone caves, and diving sites in the Caribbean, but it's the least visited of the three "ABC islands." (Aruba and Bonaire are the other two.) It's also home to Willemstad, a capital city filled with shopping, restaurants, nightlife, and candy-colored Dutch colonial buildings.
Thanks to American Airlines' direct flight from Charlotte, your toes can be in the sand in less than five hours. Leave the kids at home, escape to an all-inclusive resort, and recharge on a white sand beach before peak holiday chaos.
STAY
Check into the Sandals Royal Curaçao, an adults-only resort that opened in June 2022. The hotel is 15 miles from Curaçao International Airport and sits on the southernmost part of the island, on 44 sprawling acres of the Santa Barbara estate. The drive to the resort is Arizona-meets-Cabo, with rugged hills and dramatic sea views.
Any room is spectacular, but you're on vacation, so live it up in a private Kurason Island Poolside Butler Bungalow, arranged around a heart-shaped pool and mini-island. Or book an ocean-facing Awa Seaside Butler Bungalow with a private infinity pool. Both give you access to Island Exclusive dining (when a taxi whisks you away to Willemstad for dinner at one of several local restaurants), a MINI Cooper convertible to explore the island, and round-the-clock butler service. Need a different pillow? No problem.
The hardest part is deciding where to post up for the day. The bi-level Dos Awa Infinity Pool has sweeping ocean views, a daytime DJ, and a swim-up bar where you can linger with a Dirty Banana in hand (see sidebar on pg. 23 for recipe). If you prefer something more secluded, relax on a plush beach lounger along the private stretch of white sand beach. The beach faces west, so you'll catch some of the most picturesque sunsets on the island.
EAT
The resort has eight restaurants that range from European-inspired café to classic steakhouse, three food trucks, and 13 bars. If you're not staying in one of the bungalows, make a reservation at Kome in Willemstad. Feast on local cured fish, caviar, and "Funchi Fries"—thick-cut, seasoned cornmeal slices fried to be crispy on the outside and gooey inside—and add a Queen's Park Swizzle, the restaurant's take on a Rum Swizzle. If you have an adventurous palate, try the West Indies-spiced fish of the day with risotto and local farm veggies. Then wind down with a nightcap at Ochenta Cocktail Bar in the trendy Pietermaai district.
For some local flavor, get a keshi yena, a salty, melted Edam cheese stuffed with spiced ground meat, or order some tutu (polenta with beans) and bakijou (salt fish) at Restaurant Komedor Krioyo. Bitterballen, a salty Dutch dish (like a fried meatball served with mustard sauce), is a solid snack to pair with a day drink; find it at Café Old Dutch Curaçao in Willemstad, or at Strand, a resort seafood joint steps from
the beach.
PLAY
This can go one of two ways: Let the resort book your excursions for you and enjoy snorkeling, a sunset catamaran sail with rum cocktails, an e-bike tour through Willemstad, or a Jeep safari through Christoffel National Park. Certified divers can explore some of the best dive spots in the Caribbean. You can also tour the Curaçao Liqueur Distillery, where they'll demystify what blue Curaçao actually is. (Hint: There's only one authentic Curaçao brand, and the trademarked bottle is shaped like a laraha orange so you can spot it in the wild.)
Or … hire a car service for the day or hop in your MINI and plug Kleine Knip, Cas Abao, Playa Porto Mari, Playa Forti, and Playa Jeremi into Google Maps. See why Curaçao's beaches are more stunning (and secluded) than those of its neighbors. All you need is some SPF, a few Montana blonde beers for the beach, snorkel gear, and a sarong.
---
The Dirty Banana

A tropical cocktail that might go down a little too easily
The Dirty Banana, a signature frozen cocktail at Sandals, is made with rum, bananas, and dark crème de cacao, and you'll be dreaming about it long after you return home. To get a taste of island life in the dead of winter, pop these ingredients into the blender—and sip with caution.
Ingredients:
1 ounce dark rum
1 ounce dark crème de cacao
3 ounces milk
1/2 ounce simple syrup
1 banana
1 cup ice
Pineapple wedge (for garnish)
Directions:
Place ingredients in a blender. Blend until smooth (around 30 seconds). Pour into a cocktail glass and garnish with the pineapple wedge.