TRAVEL: A (Socially Distanced) Trip to the Great Smoky Mountains
In the shadow of COVID, western North Carolina dons masks and keeps distances (or doesn't)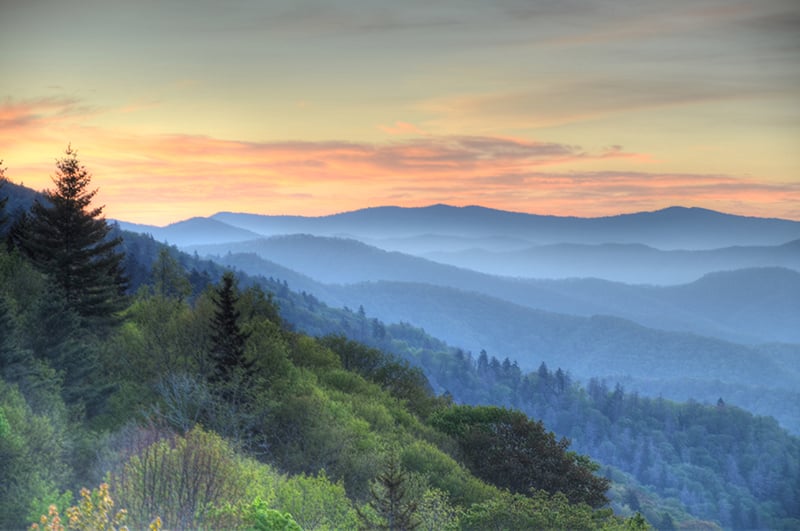 Read more on visiting the mountains during COVID-19 in the November 2020 issue of Charlotte magazine. Find "5 Mountain Escapes Near Charlotte" here.
---
The tents look like oversized toadstools. It's as if they sprouted overnight after a heavy rain on the campus of Western Carolina University in the town of Cullowhee, about an hour's drive southwest of Asheville. They're the kind of white, peaked tents commonly used for outdoor gatherings, and the university has scattered six of them throughout the 589-acre campus, with plastic folding chairs spaced 6 feet apart beneath them.
They've been open for study, shelter, and relaxation since the first day of classes a week ago as a way to keep too many students from congregating indoors. Now, in late August, it's about 10:30 on a Monday morning that threatens rain, and it doesn't appear that anyone's using them. It's quiet on what normally is a campus alive with new-academic-year energy and preparation for football season. But Whitmire Stadium is silent, too. Across Catamount Road in the intramural fields rests a makeshift arrangement of free weights and exercise equipment on the wet grass, overseen by campus trainers.
A few people go through their paces. I walk by on the track that surrounds the fields. I introduce myself and ask one of the trainers about the setup. His supervisor advises me, adamantly, to consult university public affairs. I thank them and walk on.
This is the time of year when the western mountains usually fill with tourists, who occupy resorts and Airbnbs and ply the Blue Ridge Parkway to marvel at the autumn foliage. As I write this, at the beginning of the season, it appears that some of those visitors will still make day and weekend treks from the Charlotte area; if you're going to leave the house and minimize the risk of contracting COVID, you could do worse than hike mountain trails and take in multihued landscapes from your car.
But of course, the virus has cut into the number of visitors and the money that businesses and employees depend on. North Carolina tourism spending dropped 58 percent from March to the beginning of August, a reduction of $6.8 billion in spending and $871 million in related tax revenue, according to the U.S. Travel Association. (Visit North Carolina, the state's travel and tourism agency, does not track those numbers by region.)
The timing could hardly have been worse in the mountains, where spring tourism season arrived with the virus. Jeff and Paula Fuller, who own BoxCar Café & Cones in Bryson City, barely hung on with takeout orders from mid-March to early May, says their daughter Kristiana, 20; she works as a server at BoxCar and at the front desk of the Swain County Heritage Museum downtown. "Right when it should have picked up," Kristiana says, "is when everything had to shut down."
The museum, housed in a former courthouse built in 1908, is closed under Phase 2 of the state's COVID response plan, although the visitor center remains open. Kristiana speaks to me, masked, from behind clear plastic. She was born and bred in Bryson City, describing herself as "ninth-generation Swain County." Once the statewide shelter-in-place order lifted in May, she says, business picked up, and most people in the visitor center and the restaurant observe the indoor mask requirement—though not everyone.
That matches my experience. On a gray Sunday afternoon, I pull up to the Oconaluftee Visitor Center at Great Smoky Mountains National Park, where I'm mildly surprised to see the parking lot nearly full—not overflowing, as it'd ordinarily be, but close. Some visitors wear masks as they emerge from the main building and detached restroom structure. Some don't. A few wear them as chin straps. I estimate about 60 percent of the people I see bother to wear masks.
It starts to drizzle—these are the Smokies—and, under a small shelter that displays a trail map, I encounter Kelly and Michelle vanDellen, a 40-year-old husband-wife team fresh off a monthlong trek in their Subaru Forester to hike in an assortment of national parks out west: Badlands in South Dakota, Grand Teton in Wyoming, Black Canyon of the Gunnison in Colorado. Adherence to health restrictions and recommendations varied from state to state, park to park, and sometimes person to person, they tell me.
"In Grand Teton, people were paying more attention and wearing masks more often, like covering their faces when they were on trails," says Michelle vanDellen, a psychology professor at the University of Georgia; she and Kelly drove up from Athens. "But what I saw was, the bigger the group people were in, the less seriously they took anything. You could tell, if it was a small family, people were being careful and respectful of other people's space. But the more people weren't with their families or in small groups, they would crowd us or not wear face coverings."
A few minutes later, as if to drive home the point, two men separately walk ahead of me into the men's room. Neither wears a mask.
Compliance seems more consistent, or more enforceable, at Western Carolina. I walk farther up the on-campus walking track, which runs parallel to Cullowhee Creek toward the main administrative building, and hear something I don't expect, especially having just passed the open-air weight "room." Is that … a tuba?
It's not, says the student playing it at the edge of one of the multipurpose tents. It's a euphonium. "It's basically a tenor tuba," he explains. It's obviously impossible to play a brass instrument while masked, but his music teacher wears a covering and sits a safe distance away—at least 8 feet, by my mark.
I don't want to cut into their tent time, so I head on. "Thanks for coming by," the teacher says through his mask, as the moan of the tenor tuba drifts over the violets and black-eyed Susans that line the creek here in the Smokies.
GREG LACOUR is the senior editor for this magazine.