Travel: A Weekend in Chattanooga
Railroads, electric bikes, and Jazz Age opulence in 'Chatt Town'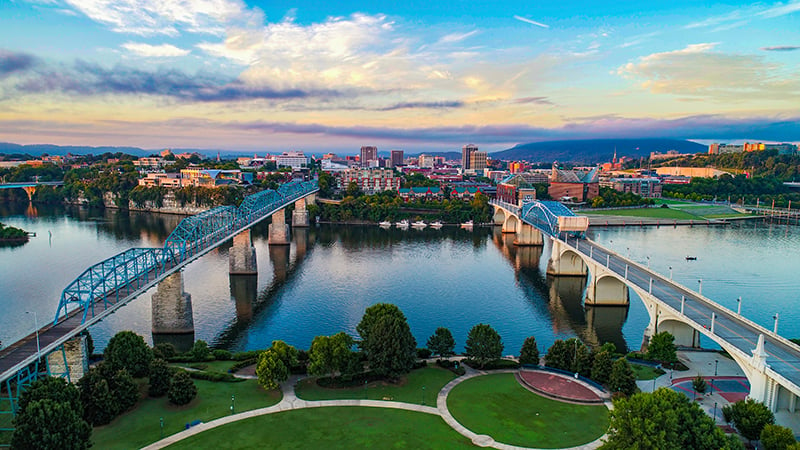 In the late 19th century, Chattanooga earned the nickname "Dynamo of Dixie" thanks to its extensive railroads and booming manufacturing industry. In 1941, Glenn Miller immortalized the city with his hit "Chattanooga Choo-Choo." But what built the city eventually hurt it: In 1969, the forerunner of the U.S. Environmental Protection Agency declared the air in Chattanooga the most polluted in the country due to unregulated emissions from railroads and coal plants.
In the early 1990s, the city began to revitalize with the restoration of the historic Walnut Street Bridge. Now one of the world's longest pedestrian bridges, it connects downtown to the northern part of the city, which brims with restaurants, condos, and beer gardens. The revival of downtown continued into the 2000s with an expanded riverfront, aquarium complex, and live-work-play districts.
"Chatt Town" remains a transportation and distribution hub—aided by the three interstates (24, 59, and 75) that run through the city—and new restaurants, shops, and speakeasies continue to spring up along its pedestrian-friendly streets. From Charlotte, it's a six-hour drive or a one-hour flight on American Airlines. Take a long weekend, breathe in the fresh air, and see how this Southern city continues to reinvent itself.
STAY
The Read House is a Great Gatsby-inspired hotel on the edge of downtown with art deco furniture, glittering ballrooms, and bellhops dressed in gold paisley vests and bowler hats. It's also the site of infamous Room 311, where Al Capone stayed during his federal trial in the 1930s. The Edwin Hotel puts you across the street from the Tennessee Riverwalk, and the lobby is a revolving art gallery that displays works from 75 local artists. The hotel has a coffee house, spa, and rooftop bar that serves more than 100 Tennessee whiskeys. If you're traveling with kids, stay at The Chattanooga Choo-Choo Hotel. The historic downtown inn, built in 1908, was once the terminal station for the Southern Railway line; today it has an indoor pool, comedy club, and escape room that simulates a runaway train.
EAT
Visit The Frothy Monkey, an all-day café and coffeehouse that serves pastries, sandwiches, and cheese boards, plus beer, wine, and cocktails. For a casual lunch or dinner, check out Pickle Barrel, a Chattanooga institution since 1982, where sticky, misshapen wood tables are covered in Sharpie scribbles and servers wield baskets of burgers, wings, and enormous fried pickles. On a hot day, pull over for a scoop of butter pecan or mint chocolate chunk at one of Clumpies Ice Cream Co.'s three locations. If you love bagels and local beer (why wouldn't you?), head to Market South, a food hall that houses Five Wits Brewing Company, Eggman Bagelry, and a dog-friendly patio with cornhole. If you came to splurge or celebrate a special occasion, book a table at Bridgeman's Chophouse, inside The Read House, and feast on steaks, seafood towers, and their famous Black Forest Bomb dessert.
PLAY
Put on some comfortable walking shoes or hop on a bicycle at one of Bike Chattanooga's 42 docking stations across the city, and pedal through downtown on a standard or electric bike. The first 60 minutes are free; day passes are $8 and allow unlimited rides for 24 hours. The 2,376-foot Walnut Street Bridge is a brisk 25-minute walk—or a five-minute bike ride if you're at the top half of the Peloton leaderboard—and takes you over the Tennessee River to Coolidge Park. The 7-acre plot along the Northshore's waterfront has a restored 100-year-old carousel, splash pad, and 13-mile greenway. Back on the Southside, visit the Tennessee Aquarium to see sharks, otters, and penguins, or catch a movie at the IMAX 3D Theater. When you need some retail therapy, stop by Warehouse Row, a Civil War-era factory full of shops and restaurants.
GHOSTLY ENCOUNTERS AT THE READ HOUSE
Chattanooga is one of the most haunted cities in the U.S., due in part to its Civil War past. The city was the site of one of the deadliest battles, second only to Gettysburg, and The Read House (known then as the Crutchfield House, which burned to the ground in 1867) served as a Civil War hospital in 1863. According to front desk clerk John Spalding, guests have seen ghosts of Union soldiers roam the hallways and lurk in the mirrors of the hotel's ballroom.
When notorious Prohibition Era gangster Al Capone stayed in Room 311, the guest suite already harbored the spirit of a woman named Annalisa Netherly. "Annalisa's husband caught her with another man and slashed her throat," Spalding says. "Her body was found in the bathtub a few days later."
Guests can still book Room 311, but Spalding says most don't make it past midnight. He's gotten reports of shadows in mirrors, flickering lights, and spirits moving around the suite. "Annalisa has been known to photobomb on occasion," he says. "Smokers who stay in this room get spooked and say they get chills—Annalisa hated men who smoked cigarettes." Capone, who loved cigars, never reported an encounter with a ghost.
If you're brave enough to book a night in Room 311, it's available only in October. The room looks exactly as it did in the 1920s, complete with antique furniture, a clawfoot tub, and a rotary phone. You won't find a television, coffee maker, or hair dryer—and you probably shouldn't count on an uninterrupted night of sleep, either.
DINE BACK IN TIME
To mark its 150th anniversary, The Read House is hosting a series of era-inspired dinners throughout 2022. On Saturday, Aug. 20, don your beaded evening dresses and waistcoats and gather in the hotel's historic Green Room for a four-course dinner that takes you back to the turn of the century. The menu draws from historic cookbooks and features dishes The Read House served during that era. The evening includes a cocktail reception with champagne and an original J.W. Kelly Whiskey signature cocktail. The Read House's historian, Tyler Logue, kicks off the night with a short historical introduction, and after the meal, he'll take you on a tour of Room 311.
TAYLOR BOWLER is the lifestyle editor.