Travel: Food, Wine, and Rejuvenation Found in Croatia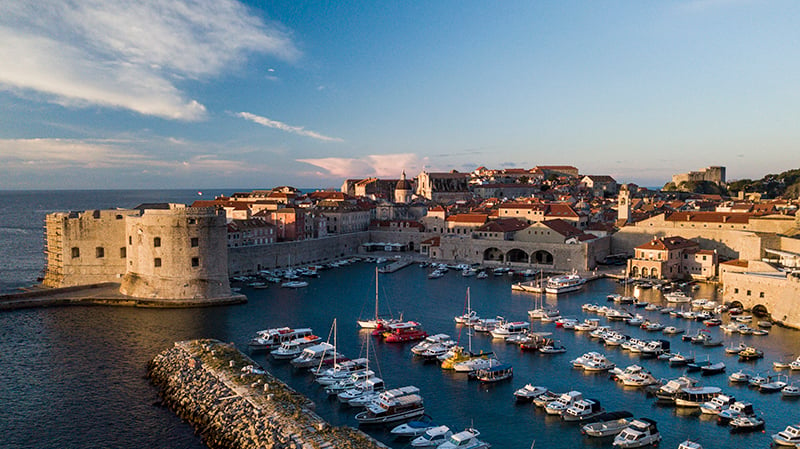 IT'S ALMOST 10 A.M. in Zagreb, Croatia, when my husband Jon and I step off the plane. The thought of what we'd be doing in our native time zone, an eight-hour difference, makes our eyes droop. But soon our bleary eyes meet the wide eyes of Richard Gruica, a Croatian-Charlottean who will be our guide over the next week for a culinary tour of the country. Gruica has limitless energy, enough to propel us from our jet-lagged stupor into his world of excitement for this place, one he hopes to call home one day.
We grab a coffee while waiting for our travel companions, Jay, a chef from Fort Lauderdale, and Ida, his girlfriend, then pile into a van toward a dose of sugar to further jolt us to Gruica's level of excitement. About 20 minutes later, we have our first bite of this place, and we begin to understand what, exactly, our bellies are in for.
Gruica leads us to a café known for its desserts, specifically a cake called kremšnita, a custard whipped with egg whites sandwiched between thin layers of pastry. Gruica orders for the table: eight different cakes and pastries, and a kremšnita for each couple. Around us, Croatians are smoking and lingering over their coffees.
The lightness of the kremšnita's filling contradicts its unctuous texture, and it takes little time for our group to clean the plates. We order two more before exploring this small town of Samobar, then heading to Croatia's biggest city, Zagreb, to check into our hotel. A quick nap, and we're ready to eat again.
It's a 45-minute drive to the vineyard-covered hilltops where we'll eat dinner, but the time passes quickly with Gruica sharing Croatian history and trivia, often intertwined with stories of his own family—his grandparents, for example, separated because his grandmother dared to aid in the fight against the Nazis. My mind tries to commit the views to memory, mental evidence that this place knows no color but shades of green—trees and grass hide roads from view—and blue—the sky, the Adriatic Sea.
Gruica navigates the van expertly up one-lane roads to a restaurant overlooking the hills. We order a charcuterie plate and a local cheese, runny and tart, like a mix between feta and fresh mozzarella, with a few bottles of wine, while Gruica translates the menu, handwritten and photocopied for each of the diners. There are seven of us—including Gruica's daughter, Gabriela, and Gruica's childhood friend who is stationed in Germany—and eight entrées, so we order one of each except for the chicken. We pass around bites of local boar, steak, liver, potatoes, and something like a hush puppy, hand-rolled and best eaten with a slathering of a roasted red pepper dip. As we look out from the balcony, a man who disappeared inside his home across the valley, presumably for dinner, is back on his tractor, passing up and down the steep hills of his vineyard. We remain at the table for another hour, the last ones here, before photographing the sunset, saying our farewells to the restaurant's owner, and driving back down the hills.
We unpack our food-heavy selves and the souvenirs we picked up along the way, including a magnet to join the collection we've gathered to mark our travels on the side of our refrigerator at home. On it is a picture of kremšnita.
Gruica was born in Jamaica, raised in Florida, and spent summers in Croatia. A former chef, he began working with Sysco in Charlotte for a healthier work/life balance and to spend more time with Gabriela, who's now a teenager. A serial ideas guy, he launched Good Eats and Meets in 2007 as a way to gather local foodlovers online and for real-life events. The group swelled to more than 65,000 people, and spread to more cities: Asheville, Atlanta, D.C., and Miami, to name a few.
Along the way, his outgoing, fun personality has built him a network of foodies and food professionals, which he's parlayed into photography gigs for food festivals throughout the Southeast. He rents out his Charlotte home nearly half of the year as he travels to cities, events, and across the ocean to Croatia, where he recently earned dual citizenship.
In conversations, he's quick to share his Croatian heritage, and even quicker to tell you how fantastic the food and wine is there. Who better to help Americans explore that than him, a bilingual tour guide who knows food? So he started his own tour company, Captivating Croatia. And, ever the ideas guy, why not take advantage of that network of chefs to bring one along as a guest?
***
WHAT TIME IS IT? It doesn't seem to matter, and after a weekend of traveling from Charlotte to Madrid to Barcelona to Zagreb on planes and trains and automobiles, that's a relief. Gruica takes care of everything; each morning, we get an itinerary with details on what we're doing and where we're staying.
Our digestive systems go right to work this morning at a tour of the Zagreb farmers' market, but so do our eyes, ears, and noses. Wandering through the fish market, we admire a woman's knife work as she cleans a squid, black ink spattering, breathing in a fishy smell that is more reminiscent of the ocean than a supermarket seafood counter. We sample figs and mandarins so juicy, citrus runs down our hands as we peel them. Our arms are heavy with bags of treats as we stop at a cheese counter, where Gruica has organized a tasting with Sirana Gilgora. Croatia's Pag cheese comes from sheep and goats that live on the island the cheese is named for, munching on herbs such as rosemary and lavender throughout their lifetime and producing a tart flavor that you can't recreate anywhere else.
Snacks in hand, we head to Istria—truffle country—and a small, family-owned truffle operation called Prodan Tarfuti, eating our figs and listening to Gruica as he introduces us to the area and its truffle history.
"So, to give you an example," is the way Gruica starts many of his sentences, telling us how the Italians tricked Croatians into selling them their truffles for cheap, or what daily life looks like for a local. The narration makes the car rides fly by, and before long, we're here, greeted by Višnja Prodan, who will lead us on our truffle hunt with dogs Mel and Pico. That familiar green surrounds us as we look down into the woods where we're headed to watch Mel and Pico sniff for black truffles, a fungus that grows near the root of specific trees and adds an earthy, umami flavor to a dish.
Truffle hunters or not, the terrier mixes are still dogs, and they play as they work, sprinting after one another and marking their territory before Višnja leads them to an oak tree capable of producing truffles to sniff. As soon as they start to dig, Višnja hands treats to the able-nosed dogs she's trained since they were puppies, and feels through the dirt for the truffle. They find a small one, about the size of a marble, then a much larger truffle, like a head of garlic, which would sell for more than $20.
As we hunt with the pack, Višnja's mom, Vonda, is busy preparing a truffle-laden meal for us. We return and pour some grappa, then some wine, and dig into our feast: bruschetta with various truffle spreads, truffle-infused olive oil, scrambled eggs with truffles, pasta with truffles, ice cream with truffles.
We watch the sun set behind the hills, purchase some truffles in olive oil and cutting boards made of olive wood, and head to the villa we're staying at for the next two days, fat and happy, as Jon and I like to say. So far, there's no better way to describe this trip.
Each day, we learn Gruica hasn't been exaggerating all this place has to offer. The quality of the food starts from the ground, and the ground here is unmarred by chemicals. Tonight, I can estimate only that it's midweek. Gruica has kept us so well on track that I've lost all sense of what day it is and don't bother following the time. After a food and history tour of Pula, home to one of the most intact facades of a Roman amphitheater, we head back up the hills to Chiavalon olive oil tasting room. What we taste here is not what we know from supermarkets. The olive oil has flavor; it nearly bites you with its tartness. More than 80 percent of the world's olive oil is mislabeled and misleading, the staff at Chiavalon says, partially olive oil but mostly diluted by vegetable oil. Here, you taste the real thing. Several bottles come home with us, as well as a more useful piece of information: A tablespoon of olive oil helps prevent hangovers. I remind myself to try that back in the States on our way to dinner at Kumparička, a goat cheese farm. A table is set for us with a stunning spread of cheeses, but first, we meet the goats and the white Alsatian shepherds that help protect them. It may seem odd that when we sit down to eat, we're dining on goat slow-cooked over coals, but when I ask the owner, Ales, how often they slaughter a goat, he tells me not often.
"It would be bad karma, no?" he says, eyes wandering to admire the sunset.
***
THE BOUNTY of Croatia seems endless. The views, the waterfalls at Krka National Park, the fresh mussels and oysters we eat on a private island, pulled straight from the water. The oysters are fresh enough to shrink away from the lemon juice we squeeze on top of them. And the wine. We walk in to Bibich Winery, one of Croatia's most well-known, accompanied by our white-gloved server. Vesna Bibich, whose husband Alen is the winemaker, cooks us a multicourse late lunch that could be on the menu at any of New York's most expensive establishments. The courses are nuanced yet highly conceptual, such as the dish "black is black"—blackened fish on top of potatoes made black with cuttlefish ink, served on a black plate—and "white is white," chicken with a local cheese sauce, butter powder, and milk caviar.
Each course is paired with a wine; then we sample some house-made liqueurs with our dessert. It's not until we're unpacking back home that I remember everything we bought there, but the olive oil seems to have worked as promised. At Kriz, an organic, sustainable winery where Gruica has set up a tasting and home-cooked dinner, I learn that it might not just be the olive oil. As we sip one of the most delicious rosés I've ever tasted, Denis—who owns the winery with his dad, Miles—explains how more industrialized countries fill their wines with additives. You can see the disdain for these modern practices on his face, but you can taste the reason in his wines. They are pure terroir, flavored by nature and not by man or machine. That purity is the intangible ingredient that makes everything here taste so unusual.
Our last day, as it always does, arrives quickly, unwelcome. We're in Dubrovnik, the setting for Game of Thrones' King's Landing. Jon and I assess the practicality of moving here as we walk over centuries-old sidewalks made of stone. There aren't any direct flights yet, so seeing family would be difficult. And could we get the dogs here? We came across a home in Istria, in northern Croatia, atop a mountain village with its own vineyards. It is selling for about $35,000. We could make dinner from our garden accented by local truffles, drink wine we made from the grapes in our vineyard, and learn to slow down and enjoy life a bit more.
Of course, moving to Croatia would be far from practical for us, so, sadly, there is no mountain vineyard in our future. Yet sitting on our patio drinking coffee, back home in the cool quiet of a Plaza Midwood dawn, or a glass of wine under the night sky's relief from heat, we can remember those days of forgetting about time, and remind ourselves that we can slow our lives down at home, too, by picturing endless green and revisiting that Croatian mindset. And when we've drank all the wines, toasted with the liqueurs, and can no longer recall the taste of the kremšnita on the magnet on our fridge, we know who to call.
---
IF YOU GO
Upcoming Captivating Croatia tours include chef-led tours with Scott Crawford and Asha Gomez, and are scheduled for September and December. Learn more about these tours or custom ones at captivatingcroatia.com.