TRAVEL: Provincetown, Massachusetts
A heavily costumed week at the tip of Cape Cod.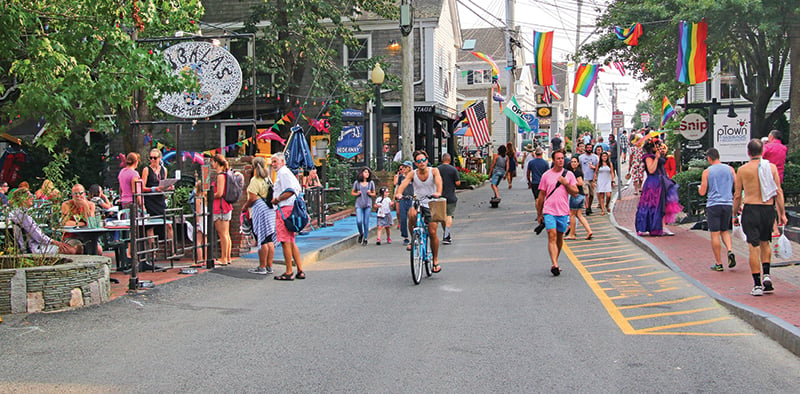 I'm at a themed Sunday evening dance party called "Miss Swamp Thang" at Crown & Anchor, a nightclub on Provincetown's main street. It's the first of many parties and events I'll attend during the 2022 edition of Carnival Week. This year's theme: "Monsters, Myths, and Legends." (Thus the Swamp Thang.) I've come up from Charlotte with a group of 20-odd gay men. I stretch my arms toward the ceiling as I move with the music, and to my left, one of my companions pulls down a fabric "swamp vine" affixed to the ceiling and uses it as a microphone.
The intensity and preparation required for this weeklong party will increase with each passing day. But when it ends, I'm more sad than exhausted. Provincetown, it turns out, is a difficult place to leave.
"Ptown," as the locals call it, is a seaside retreat at the northernmost point of Cape Cod. It's where the Mayflower first landed in 1620, even before Plymouth. More recently, but for nearly a century, it's been a haven for LGBTQ visitors and residents drawn by a vibrant cultural scene that includes experimental theatre, numerous art schools, and a tolerant atmosphere. Of course, heterosexual couples and families live and vacation in this picket-fenced, clapboard-cottage town, too. But this week, gay men are the vast majority, and it's almost otherworldly to feel so safe. Carnival Week, which the Provincetown Business Guild created in 1978, is like gay camp, complete with Google Doc itineraries, multiple outfit changes, and a lingo all our own.
This year, the theme is "Land of Toys," and Carnival Week runs from Aug. 12 to 19. Getting there from Charlotte isn't as hard as you might think: a 2-hour, 15-minute flight to Boston, then a 90-minute ferry ride or a 2-hour drive.
Stay
The Boatslip Resort & Beach Club is an adults-only hotel that overlooks Cape Cod Bay. If you snag a room here, prepare to make lots of friends and enjoy an event-packed schedule that includes a Tea Dance attended by thousands of people (mostly gay men) every day from 4 to 7 p.m. The resort's Buoy Bar and Patio is a great spot to grab an espresso martini to caffeinate for the evening ahead. The 102-room Provincetown Inn, at the very tip of Cape Cod, has views straight from a postcard. (Even if you don't stay here, the pool is open to the public and worth a visit.) The town also offers a slew of guest homes. The Tower House, a narrow four-story "treehouse for adults" with a spiral staircase snaking up each floor and onto the roof, puts you steps away from popular bar and nightclub The Atlantic House.
Eat
It's impossible to walk the length of Commercial Street and miss The Lobster Pot. Its red neon signs wrap around the corner clapboard-white building, and you can smell the lobster from blocks away. Some might call it touristy, but isn't that what you're here for? The Canteen is a buoy-laden beach bar that serves local seafood, sandwiches, a boozy weekend brunch, and plenty of vegetarian and vegan options. The Vegan Grilled Cheese comes with a double dose of melty vegan cheeses, fried onions, chives, and everything seasoning, sandwiched between slices of sourdough. Order it with an ice-cold can of Narragansett. For a late-night snack, head to Spiritus Pizza, where the 2 a.m. crowd stretches deep into the street with grease-stained paper plates.
Play
On the Thursday of Carnival Week, beginning around 8 a.m., people stake out spaces along Commercial Street for the Carnival Parade. It doesn't start until 3 p.m., but the people-watching and runway-strutting goes on all day. Carve out another day to visit Boy Beach, a secluded, clothing-optional slice of shore. Just be aware it can be tricky to access; you'll walk through calf-deep marsh and along the dunes for an hour or so before your feet hit the sand. Head to Commercial Street to check out the shops and stock up at the Provincetown Fudge Factory before you leave.
Let's go for a ride.
Between the lack of parking downtown and the might-as-well-put-your-car-in-neutral slog as you wait for vacationers to cross Commercial Street, you're much better off on a bike. Here are a few places around Ptown to reserve your two wheels:
Ptown Bikes (42 Bradford St., weekly rentals start at $115)
Provincetown Bike Rentals (136 Bradford St., weekly rentals start at $114)
Gale Force Bikes (144 Bradford St. Ext., weekly rentals start at $84)
If you'd rather let someone else do the biking, Commercial Street Pedicab and Ptown Pedicabs are easy to hail anywhere downtown (rates vary).
---
Jared Misner is a writer in Charlotte. His work has appeared in The New York Times, The Chronicle of Higher Education, and Our State, among others.