Travel: Washington, D.C
Get away to D.C. for the cherry blossoms and more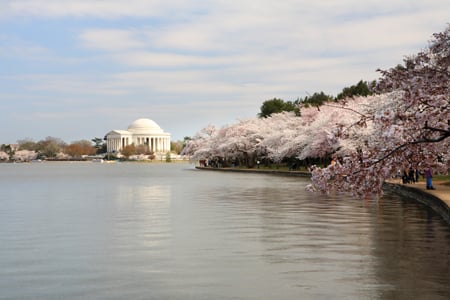 While the capital city's weather can be extreme (why did the Founding Fathers chose to build Washington on a swamp, again?), spring in D.C. promises warm breezes off the Potomac, lively sidewalk cafes, and thousands of gorgeous pink-and-white cherry blossoms. This year marks one hundred years since the Japanese gave 3,000 of the flowering trees to the city and in celebration the annual national festival, which typically lasts two weeks, it has been expanded to five. Whether you're interested in feting the blossoms or simply craving a taste of D.C.'s culture, there's no better time than this spring for a visit.
STAY
Driving—and parking—in D.C. can be a hassle, so you'll want to pick a spot close to the action. At the modern Hotel Palomar (pictured, hotelpalomar-dc.com), just off Dupont Circle, guests are within walking distance of both the Dupont and Georgetown neighborhoods, which means easy access to some of the city's top shops, restaurants, and nightlife. For the full cherry blossom experience, make a reservation at The Willard Intercontinental (washington.intercontinental.com), which decorates its opulent historic lobby in live blossoms and offers a themed afternoon tea featuring cherry desserts, teas, and cocktails
EAT
Just a few blocks from the White House, The Federalist (thefederalistdc.com), a new restaurant serving up regional fare, pays homage to the city's forefathers, specifically Thomas Jefferson, who was known to enjoy his drinking and dining. Here you can indulge in dishes such as cider-braised pork belly, lump crab cake, and tender diver scallops in a colonial-meets-contemporary setting. On a sunny day, request a spot on the twenty-seat patio and sip one of the menu's retro cocktails. Just a few blocks south, another historic politician gets a nod at the new Hamilton (pictured, thehamiltondc.com), a two-story restaurant and music venue offering classic American fare and a sushi bar, as well as live acts in a 400-seat amphitheater, where you can eat, drink, and catch tunes twenty-four hours a day.
US Airways offers direct forty-minute flights daily to Reagan National Airport.
SEE
Home to numerous galleries and national museums, D.C. is a national treasure when it comes to art. In honor of the centennial celebration of the cherry blossoms, the city has chosen five curators to select five artists each to create a total of twenty-five public art installations throughout the District. The project, called 5×5, promises creative art around every corner after its March 20 opening.
EXPLORE
There's no better time than when the trees are blooming to check out the Tidal Basin, where you can walk between the Jefferson, Roosevelt, and Lincoln monuments beneath the shade of the rosy flowers. If you're trying to avoid crowds, plan an early evening trip and catch the sunset over the Potomac. Prefer to hang out with the locals? Skip the monuments and catch the metro to U Street, a bustling neighborhood that has seen a remarkable revival in the last decade. Filled with shops, galleries, and cafes, these streets are filled with the city's most stylish on sunny days. If you're looking for live jazz or the next "It" band, there's no better place to be after dark than U Street's historic clubs and theaters.