Treehouse Whiskey & Fork
Break out the smoked meat, pour a whiskey drink, and dream a little bit at this whimsical new restaurant in SouthPark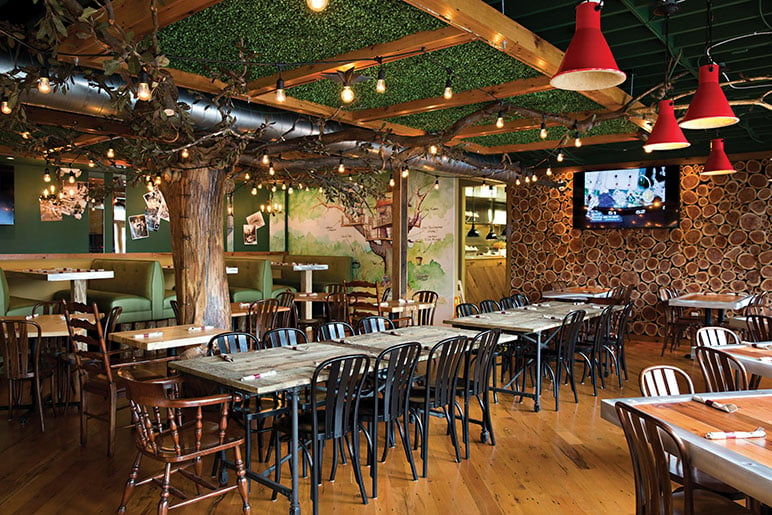 NEAR THE ROBATA-STYLE GRILL BAKU sits its new sister restaurant, an eccentric place with a fake tree in the middle of it. Around that tree, Treehouse Whiskey & Fork feels like a journey into a child's imagination, complete with a "No Girlz Allowed!" sign on a men's restroom door and a "Her Majesty's Powder Room" sign on the women's restroom door. It's different from Baku, which is different from most other places in the SouthPark neighborhood, making this one of the more interesting sibling restaurant combinations in the city.
At Treehouse, the dishes are meaty and the whiskey-based drinks are plentiful. The menu is all New American cuisine, with special attention to our region's familiar barbecue fare. Executive chef Alek Goncharov, who's from Ukraine, has worked in Charlotte restaurants BLT Steak Charlotte, Enso Asian Bistro & Sushi Bar, and McCormick & Schmick's Seafood & Steaks, and he hopes to give diners his own take on American food here.
All of the meat used for the barbecue dishes is smoked in house. A small barbecue plate ($18) seems to be a misnomer; with a choice of four meats and two sides, it could likely feed two. Burgers are thick and juicy—a standout is the turkey burger ($10.95), topped with fresh guacamole and goat cheese.
A popular cocktail, the Little Red Riding Hood ($13), is a sweet mixture of strawberry-hinted dragon berry rum, cranberry, and St. Germain liquor, which offers a nice complement to the smokier dishes.
Treehouse definitely feels like a child's fantasy world, although the female wait staff's tiny overalls give it a bit of an adult vibe. But with a hearty dinner, a wide range of drinks, and several televisions blaring different games, this treehouse gives SouthPark a new kind of place to hang out.