Trend on Trial: Leather Jackets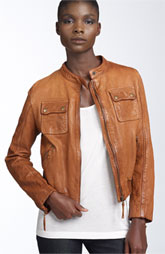 The Bomber
.
The Motorcycle.
The Scuba.
Short, fitted leather outerwear is the hottness this season, and I just can´t quite decide if I am ready to zip one on or not. Work through this with me, won´t you ST´s?
Pros: It never hurts to add a pinch of badass to your wardrobe. Pairing a tough leather jacket over a soft tee and jeans = instant girl power. Layering one over a flowy dress and leggings is a great way to add edge to an everyday look. Plus, leather jackets last for-eva! They age well, and if you invest wisely, the right one can be with you for a lifetime.
Cons: How do you know what kind to buy? There are so many out right now, it´s hard to know which one is going to stand the test of time and which one is going to be a trend that flames out. Also, sometimes leather smells weird and it makes other stuff in your closet smell weird. How do you avoid looking boxy? Should the leather have a sheen, because that seems a bit flashy, no? I know Lucky magazine had extolled to me the virtues of wearing tough girl jackets year round, even over flowy sundresses, but isn´t that just a smidge insane? If I wear it with jeans and boots are people going to think I´m waiting for my potbellied boyfriend to pull up on his Harley? So many questions.
Verdict:
While tempting, I´d suggest staying away from anything brightly hued, or trendtastic (like the cute one with a ruffled neckline,
here
or the hoodie-inspired one
here
) unless you can find one faux and cheap, because you just don't know how that is going to translate from one season to the next.
Instead, invest in one that is a neutral color (black or dark whiskey brown, maybe even a good grey) with excellent details (does the hardwear and riveting look chintzy?). You want it to age well, and depending on how often you plan on wearing it, you might want it to look a little bit aged already (a shiny, squeaky leather coat is like the outwear equivalent of perfectly white Keds… you look like a nerd.). It should be soft, flexible, but scructured and fitted enough to make it obvious that you are all woman, and that this isn´t your boyfriend's jacket. (Speaking of boyfriend jackets, that's another trend this blog will have to take on).
If you can find one that fits that description, go for it girl. Unleash your inner badass.