Trend on Trial: Shorts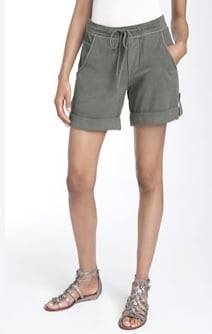 For the record, I am a skirts and dresses kind of girl. Mostly because skirts and dresses draw minimal attention to the meeting of one's thighs and drape nicely when you cross your legs. These are things that, in my opinion, shorts do not do. So, I've hung back over the last three or four summers, waiting to see if shorts are a passing fad or a pressing need in my closet. It looks as though it might be the latter. Several seasons later, shorts are still showing up on all the trend reports and runways, though blessedly it seems as though Dear Ol' Bermuda has finally got some company.
This year's Short of the Moment is a shorter, more relaxed short, one that is often seen rolled up or cuffed with a cargo tab. It's a close cousin to the baggy "formal shorts" or "city shorts" that were The Hotteness in 2007-08 (which I'll admit – I wore. With tights.) I think this might be a short I could get behind, but as usual, I come to you, dear, trusted Shop Talk readers to tell me what you think.
Are you pro shorts? Do you like baggy or berumuda? Short or knee length? How are we feeling about all the jean shorts? Can we all agree that these are not shorts at all and should be sold as a bikini bottom instead? And that no one should be paying $150 for this? What do you wear with your shorts? Flats? Sandals? The ever popular wedge?
I want answers – plus anything else you've got to share about styling your short-tastic outfit! Leave it in the comments or share with me on twitter (@jenntgrab) and I'll share the best of the best comments here on the blog!
The shorts pictured are by James Perse. Available at Nordstrom for $165.