Trends on Trial: Neiman Marcus Fall Fashion Report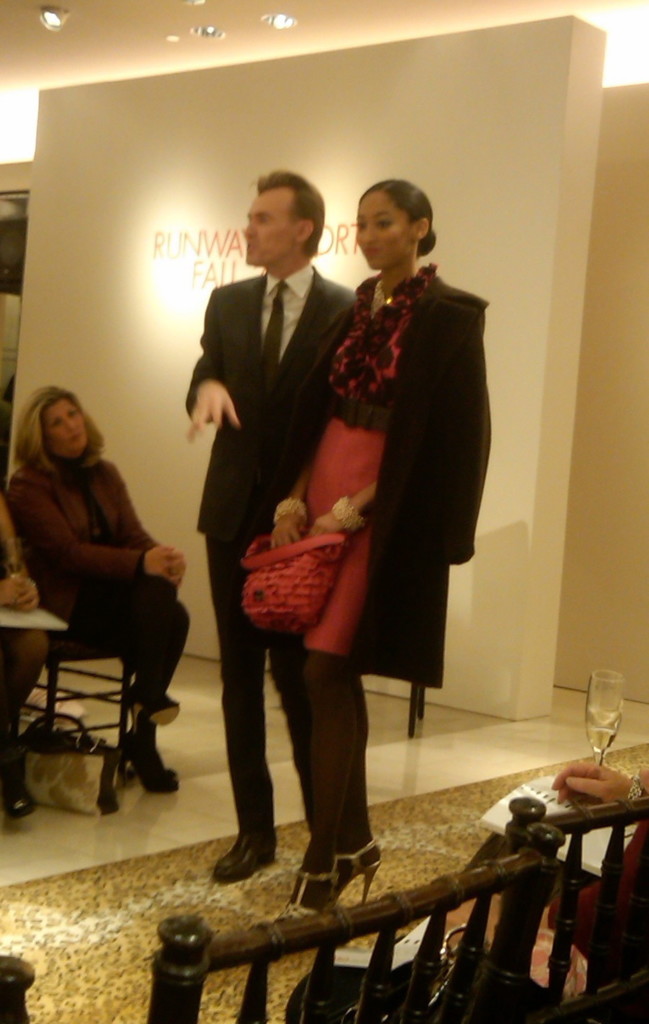 Last night, former Shop Talk cohort, Sarah Crosland, and I had the pleasure of attending a runway show hosted by Ken Downing, the Senior Vice President and Fashion Director for Neiman Marcus. Ken was flirtatiously charming, teasing the models as they strutted, and wearing what was, by far, the skinniest men's suit I have ever laid eyes on. He gave us his expert take on the looks we should be coveting this fall, and gave us a warm and sunny preview of what to expect in the resort collections in spring of 2010.
"Sequins for day" As Downing so rightly pointed out, we all have a little magpie inside us that gravitates toward pretty shiny things, and according to him, it is now officially okay to wear sequins in the day time. I am totally on board with the concept, but I am hoping I can get Mr. Downing to do PSA of sorts that could air nationwide letting anyone I might come into contact with know that sequins are okay for day, so that I don't get any confused stares when I let my inner glitter girl come out to play in the sunshine.
"Outwear is the new shawl" One of the most striking statements made on last night's runway was that nearly every single outfit that he featured had a piece of outerwear (including long cardigans, trenches, furs, sweater jackets, and even one that kind of looked like a London Fog anorak, though it was actually silk Ralph Lauren) perched on the model's shoulders. Once my brain managed to stop focusing on the un-used arms of each coat dangling limply, I had to agree, it did look quite chic. So chic in fact, that I decided to try it this morning with my most stylish black coat. It worked fine while I was peering at myself in the mirror, but quickly proved impractical as I tried to gather up my purse, lunch bag, coffee carafe and car keys and head for the door. It ended up sliding off my shoulders hitting the garage floor in the grimest spot possible. I think I'll stick to putting my arms through my coat from now on.
"If you aren't going to make a statement with your jewelry, don't even take the car out of the garage." This was my favorite quote of the night, and it was said in reference to the BAM! POW! statement making necklaces that were draped around the graceful, giraffe-like necks of the models. I ADORE a statement necklace, and I am loving this season's bib necklaces, as well as the current trend of layering chains with pearls and costume pieces. Downing took those ideas to a whole new level last night, mixing and matching multiple designers baubles into a layered look with lots of impact. J'adore! When we start to move beyond necklaces though, my fervor for "more more more!" starts to wain. Matching cuff bracelets on each arm, stacked bangles, enormous earrings and a statement necklace? A wee bit too much.
"Every woman should own a pair of YSL Tributes" From your lips to my husbands ears, Ken. Sigh. If only.
And here are a few more trends that were touted last night that didn't strike my fancy:
The persistence of leopard – and its unholy alliance with tiger and other animal prints.
The return of the "strong shoulder" – also known as 80's-tastic shoulder pads
One word: shorts. Downing said that skinny berumudas will be worn "in place of skirts" in a lot of collections this spring. God help us all.
Also worth noting:
Sarah and I did a fall trends presentation a few months ago at Neiman's. We were pleased to see that Mr. Downing himself chose a few of the very same items that we had featured in our presentation! Our egos are still slightly this afternoon.
So what do you think, Shop Talkers. Do you agree with Ken Downing's assessment of what's hot this fall?