Trends: The Perfect Palette
Choosing wedding colors can be a challenge. Here are four trendy—and beautiful—ideas for your big day.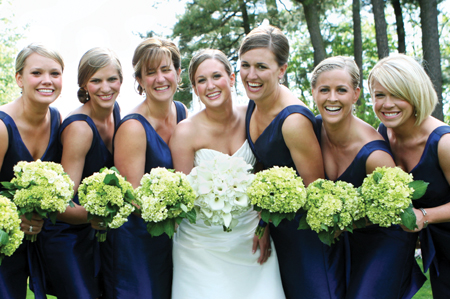 Midnight Blue and Fuchsia
Bold and dynamic, midnight blue and fuchsia set the mood for a festive wedding party. Midnight blue looks classic on bridesmaids and provides an alternative to black ink on wedding invitations. Incorporate fuchsia into bouquets, your wedding day lipstick, or even bow ties for the groomsmen.
Mint and Grey
Looking for a color scheme that's classic like black and white but less austere? Grey provides a modern, neutral stand-in for black and, paired with breezy mint, the combo reads bright and youthful. Try charcoal suits for your groomsmen and succulent plants to adorn the scene of your newly minted marriage.
Blush and Ivory
Pale pink is the most requested color by brides this year, says Shanika Butts of SJB Weddings and Events of the Carolinas. Inspired by vintage weddings, Butts likes ivory lace and pearl details on the wedding gown, cake, or party favors, as well as sophisticated bouquets of blush peonies and cabbage roses.
Tangerine and Honey
This season, weddings are awash in shades of spicy citrus and warm peach. "Even though they're popular right now, these are colors that never go out of style and are very energizing," says Anne Markey of Favor Me Events. Pair bridesmaid dresses in universally flattering shades such as champagne or light gold with tangerine florals and nail polish.