Tricks of the Trade: How to Get Awesome Curls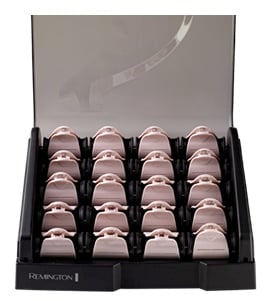 Last week I was working on a story for the June issue of Charlotte Magazine in which we asked local notable beauty professionals for their expert advice on how to summer-ize your beauty routine. I am not an expert on many things. I know way more than anyone should about the fictional worlds of "The West Wing" and "How I Met Your Mother," and I have a decent knack for helping people figure out how to dress appropriately for social occasions. But that's about it really. When it comes to beauty advice, I really don't have anything to offer.
Except this.
Take a look at my picture to the right. What do you notice about it (other than the fact that some kind graphic designer has obviously photo-shopped out my ever-present dark under eye circles)? You are probably noticing my hair. Yeah, it's pretty awesome. The day that photo was taken was sort of an epic hair day for me. I've had my fair share of epic hair days, and I'm not ashamed of it (I am, however, still exceedingly bitter that I didn't win "Best Hair" in high school. I slept in Velcro rollers for crying out loud). Genetics plays a part (thanks Mom!), as does avoiding the blow dryer when possible to minimize heat damage, but the real secret to my success is this set of hot rollers. Yes, hot rollers. My bathroom is like a time warp back to 1987. But these aren't the hot rollers that kinked your hair and scalded your fingers way back then, I swear. In fact, I swear on my hair.
What makes them different from the kind that turned you off to rollers a few decades ago? Well, the heated ceramic clips heat hair from the outside in, while the heated core of the velvety roller heats it from the inside out, which means your hair curls in just minutes. Usually I stick them in before I do my make up, and by the time I'm done, they're ready to come out. The curler diameters are just wide enough to give you the big bouncy curls that you thought only a curling iron could achieve. I bought my set in 2008 and use them roughly 5 times a week and have yet to be disappointed.
I don't use any miracle products (though I'm a devotee of $5 cans of TRESseme hairspray), I do shell out for good cuts (though I do go way too long in between them), and I am foolish enough to own a Bump-It, so I may not be the ideal expert. But, you have to admit, that photo speaks for itself. Hot rollers, my friends. That's what it's all about.
Got any unexpected beauty tips to share with your fellow Shop Talk readers? Bring 'em on in the comments, or tweet them at me.