Trinette & Jason
November 21, 2009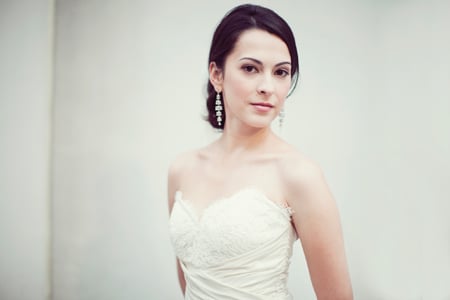 Charlotte City Club
After dating for a year, Jason proposed to Trinette in traditional fashion — on bended knee beside the Christmas tree. But that's where the tradition ends. Instead of a church or city hall, the two SouthPark residents chose the swanky Charlotte City Club for their candlelit ceremony, and in lieu of Canon in D, the bride made her entrance to Jason Mraz's acoustic "I'm Yours."
"We wanted a neutral place because our families practice varied religions," explains Trinette, whose vision was to keep things simple and modern.
The bride, thirty, walked down the aisle in a Mikaella gown purchased from J. Major's; the groom, twenty-nine, looked dash- ing in a Calvin Klein tux from Men's Wearhouse.
Afterward, a cocktail hour in the club's foyer offered another twist: showcasing the mother of the bride's Vietnamese spring rolls and the groom's family's Persian kabobs. "We gave family recipes to the chef, and he created his version," says Trinette.
The pair bucked tradition yet again by enjoying a private dinner before joining the rest of their 155 guests, who tucked into wedge salads, stuffed chicken, and haricots verts. Then the Charlotte DJ Company got the party started. Dessert was a chic white and chocolate cake by Penny Cunningham, plus a candy bar overflowing with Twizzlers, taffy, chocolate-covered popcorn, and more.
But the best treat of all? "My grandmother lovingly baked dozens and dozens of cookies as favors," says Trinette. "They were my favorite cookies growing up and helped make everyone feel like part of our family." —E. H.