Triple C celebrating 2 years with 2 days of great beer this weekend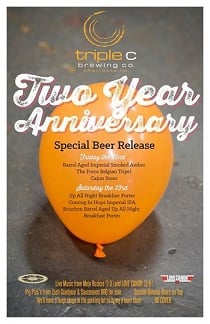 Triple C Brewing Co. is pulling out all the stops in celebrating its second anniversary, with a two-day celebration featuring a number of special releases, food and live music.
The party gets started this Friday (Aug. 22), as Triple C will be tapping barrel-aged Imperial Smoked Amber, The Force Belgian Tripel and Cajun Stout. On Saturday, there's a trio of some of my favorites being featured: Up All Night Breakfast Porter, Bourbon Barrel-Aged Up All Night and Coming in Hops, an Imperial IPA aged in bourbon barrels (and also my current pick of best new local beer of 2014, for whatever that's worth).
Along with the beer, Triple C's anniversary party will also have live music on Saturday from Mojo Ruckus (1 p.m. to 3 p.m.) and Love Canon (3 p.m. to 6 p.m.). If you recall, Love Canon played at Brawley's Black & Blue V, with their unique (and awesome) take on 80s covers, bluegrass style. Barbecue from Sauceman's will be for sale and in anticipation of a huge crowd, the music will be on an outside stage, so you're encouraged to bring a lawn chair.
In other Triple C news, the brewery is also set for its next two releases, starting with Urban Hop Project. You can't get much more local than this beer, which uses hops harvested on site (the harvest was doubled from last year to a total of nine pounds) and also featured 100 percent North Carolina grown malt. Look for Urban Hop Project to be available in the taproom the first week of September.
Also back this year is Space Cadet Black IPA, which will be Triple C's next bottle release. This dark ale, which comes in at 6 percent ABV, is next up to be brewed with a planned rollout during the third week of September.