Triple C releasing "The Dude Imbibes" this Saturday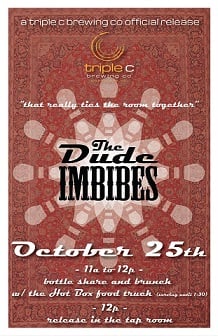 Get your robes and best bowling shirts ready, because Triple C is releasing its latest bottle, "The Dude Imbibes," this Saturday at noon.
The Dude Imbibes is an imperial milk stout that originally was released last year as a smaller batch. The feedback was so great, head brewer Scott Kimball decided to kick it up a notch this year for the bottle run, aging the beer for several months in rum barrels and then on coffee beans.
This beer, if you didn't know, is a tribute to the cult classic "The Big Lebowski," and Triple C's take on The Dude's favorite beverage, a White Russian. Click here to see the scene where the name of the beer comes from, featuring the legendary Sam Elliott as "The Stranger."
Before Triple C's latest bottle is released, the brewery is also inviting everyone to come an hour early at 11 a.m. for a bottle share. Hot Box food truck will be on site from 11 a.m. to 1:30 p.m. serving brunch, and Mark Schimick is playing live bluegrass at the brewery as well.
Bottles of The Dude Imbibes will be $13 at the brewery this weekend, and they'll then begin rolling out to local bottle shops and other accounts beginning next week.