Triple C to add cans, expand by January 2015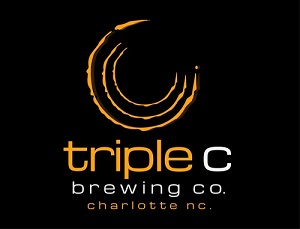 The way Charlotte breweries are exploding, it's wise to plan for what you'll look like two years from now, instead of the present. Some would call this a risky move, but all you have to do is witness the recent growth in the Queen City, with Birdsong, NoDa and Olde Mecklenburg all having either moved or planning to relocate
Add Triple C Brewing to that list, as the SouthEnd brewery recently announced expansion plans to its Griffith Street location. Among the new equipment are new fermenting and brite tanks, a chiller and whirlpool, along with the installation of a silo outside.
Once all of that is complete, look for Triple C to bring a canning line in, with 3C IPA and Golden Boy Blonde Ale as the first two beers to be canned. Those will be sold in 16-ounce 4-packs.
A look at Triple C's new can designs for Golden Boy Blonde Ale and 3C IPA. Look for these cans to hit Charlotte in January
"We're currently maxed out on our capacity, brewing as much as we can," Triple C co-owner Chris Harker says. "But when you only have six fermenters, you're limited in what you can do. We want to get into canning but also want to keep our commitment to all of our draft accounts. The only way to do that is to have more beer on hand."
In the future, look for additional beers to be canned, including what Harker hints at "not necessarily beers in our lineup right now."
"We definitely haven't finished experimenting," he says.
The good news for Triple C's expansion is it will all happen on-site, thanks to some forward-thinking prior to the brewery's opening a little more than two years ago.
"We had our fingers crossed (for success) and paid a little more rent than we needed to for the first year or so but it always leveled out because we were able to have events and parties and put the extra space to use," Harker says. "The large space is actually what attracted me to the building when we first started looking. And now, it's time to grow."
Demand for Triple C beers has increased from local accounts, and this expansion will give the brewery a higher production capacity, along with the ability to brew new beers.
"I'd love to do more seasonals and one-offs," Harker says, adding Triple C is about to roll out a new year-round beer made exclusively for VBGB and the brewery's taproom.
Plans also include more distribution outside of Charlotte. Right now Triple C has a solid presence in the Triangle area but Harker says he's like to see that expand into other parts of the state while adding a "pretty immediate goal in 2015" is to start selling beer in South Carolina.
As for the brewery's current status, Triple C has a couple bottle releases in the coming months. On the heels of the recent release of Space Cadet Black IPA and The Force, a Belgian tripel aged in rum barrels, next up will be The Dude Imbibes, an imperial milk stout aged in rum barrels and coffee beans. Look for that to be released later this month, along with a possible bottle share as part of the festivities.
In November, Triple C will once again release bottles of its Up All Night breakfast porter and the bourbon barrel-aged version as well. In early 2015, look for a smoked porter aged in bourbon barrels, and Harker says they're kicking around the idea of Up All Night variants, including rum barrel and brandy barrel versions. (Side note: Sign me up for all the above).
Triple C's construction for the expansion will start in mid-October and plans are to have everything completed by January, which is the target date for the cans to be released.
"We're excited for it all; this has definitely exceeded expectations (since the brewery's opening)," Harker says. "I'm just really appreciative; the Charlotte craft community is why we're here. I'm just really happy with the team we've assembled. Everyone works hard but we still have fun, do some good for charity and make good beer in the process. We're having fun with what we're doing."