Triple C's Chocolate Covered Pretzel Stout returns this year with even more flavor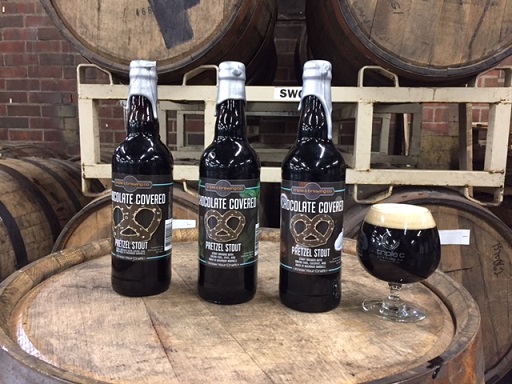 Scott Kimball admittedly has a sweet tooth.
So when the idea was brought up to create variants of Triple C's Chocolate Covered Pretzel Stout, the head brewer already had a couple options in mind.
"It's really my personal favorite flavor pairings – coconut and chocolate and mint and chocolate," he adds. "One of my favorite things is beer and chocolate cake, so that served as a lot of motivation when picking the two flavors."
All three beers – regular Chocolate Covered Pretzel Stout, along with the Coconut and Mint CCPS variants – will be released this Saturday at noon.
"We are really happy how these turned out," Triple C owner Chris Harker says. "I really like how different they all are and think all three will be a big hit."
The original Chocolate Covered Pretzel Stout was introduced in 2015 and to get the pretzel flavor, Kimball used German Pilsner, Special B, Chocolate Wheat and White Wheat for the grain bill and also added cacao nibs and salt at various times of the brew process. The beer was then aged in Heaven Hill bourbon barrels. The initial release was well received – so much that the brewery sold out of its allotted taproom cases in a single day.
"We'd had busy days before where you could still buy bottles a few weeks later, but I don't think anyone realized what would happen (at the CCPS release)," Harker says.
A second run followed last year before the brewery decided to introduce the variants for 2017. Kimball says he used 3.5 pounds of mint ("mostly spearmint but a little bit of peppermint") and 60 pounds of toasted coconut for the two new beers.
"I've always loved brewing with coconut," he says. "I've done a few pilot batches with it so I was excited to use it on a larger scale with the pretzel stout. And the biggest thing for the mint is that you'll get it on the nose, which was the goal with this beer – really to not be a ton of flavor with the mint but more of the aroma. So you get the good chocolate, salt and a little bit of bourbon with a subtle mint flavor throughout the body."
In anticipation of a large crowd, Triple C will be selling CCPS bottles out of the brewhouse area beginning at noon on Saturday to make the process run smoother and provide faster service. Cash and credit cards will be accepted, with each bottle costing $14. There will be a limit of six regular Chocolate Covered Pretzel Stout bottles and three of each variant. You'll also be able to try all of the beers at the taproom, either individually or in flights.
If you can't make it or get shut out Saturday at the brewery, a limited amount of bottles will then local distribution the following week.