True Relaxation Found on Bald Head Island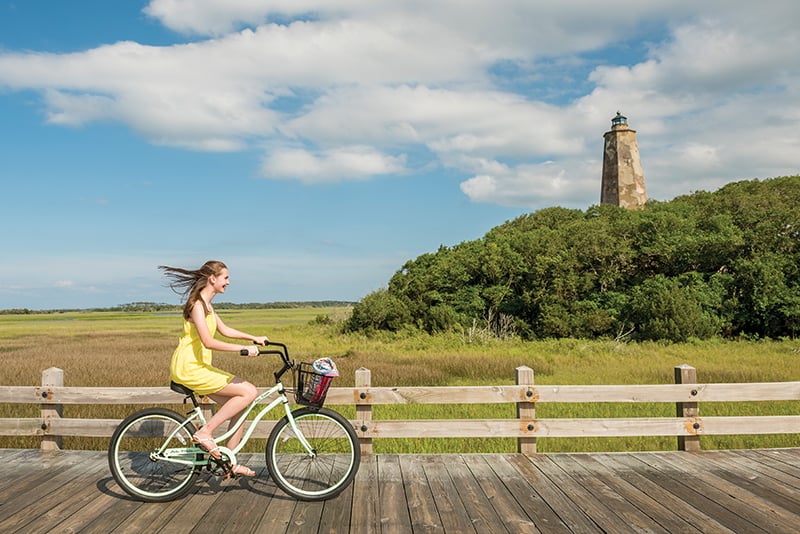 AT NIGHT on Bald Head Island, all the people in homes along the beach keep their porch lights off. It's not that the homeowners aren't welcoming. The residents know that they share this island with other creatures.
Hatching sea turtles are born with the instinct to travel toward light, or, as nature provides it, the reflection of moonlight on the waves. Population booms among beach towns have brought with them well-lit shorelines, with bright boardwalks, restaurants, and homes. The turtles get confused by the electric light, which outshines the moon, and travel toward their deaths instead of the waves.
On Bald Head Island, however, the wildlife who live here are as respected as homeowners.
The path circumnavigating the island—about four hours and a short ferry ride east of Charlotte—takes about an hour to circle by bike, or thirty minutes in a golf cart. Cars aren't allowed here. At times on the path, you'll feel as though you're traveling through rainforest; the rest runs past rustling sand dunes. There are no hotels, only homes and a few bed-and-breakfasts. You'll see deer and lizards and turtles, which thrive here, unthreatened by cars and porch lights and too many humans.
There's something calming about breathing in this shared air, which smells of moss and ocean salt and humidity. Away from the trucks and factories and tar of the city, it's a good reminder of what we're meant to pull into our lungs.
Public beach access points are at various places around the island, some on the Cape Fear River, others on the rougher Atlantic Ocean. None is too crowded. Nearly all of the rental homes have a golf cart in the garage and beach chairs and towels ready for your use.
With so much wild around you, it's easy to revert to letting nature dictate your schedule. Eat when you're hungry at a restaurant or at home; go to the beach or play golf or just relax on your deck. The island has everything you need to be comfortable—a handful of restaurants (all with beautiful views), a market, a few gift shops, a post office, and a hardware store among them. The market is stocked with good wine, and the coffee at Sandpiper Coffee & Ice Cream is strong. I have everything I need, nothing else.
Giving in to the island, I go to bed early and don't set my alarm for the next morning, expecting to wake up as the sunlight hits my windows. The tangle of trees around my home for the evening, named appropriately Live Oak Hollow, keep my room dark. I finally wake up at 10 a.m., just as I'm supposed to be meeting Christi Golder, who has done marketing for Bald Head Island for more than 20 years. I hop in my golf cart and drive as quickly as I can—maybe 15 miles per hour—until I meet her for a cup of coffee, 15 minutes late. I apologize for my tardiness.
"It's totally fine," she tells me. "You're on island time now." Here, the island dictates everything. Let go, and live like your wild self.
Kristen Wile is senior editor of this magazine. Reach her at kristen.wile@charlottemagazine.com or on Twitter: @kristenwile.
---
There are no hotels on the island, only a few small B&Bs. Rent a home for a week or weekend, and make yourself comfortable.
EAT
Mojo's on the Harbor has outdoor seating that overlooks the wharf. Enjoy beachy cocktails and a wide range of dishes, from seafood to bar classics. The kitchen closes earlier than you might expect, though, to allow the staff to catch the ferry back home. 10 Marina Wynd, 910-457-7217.
DO
Be outside. Rent bikes from Riverside Adventure Company or Coastal Urge; take a kayak tour of the Bald Head Island Conservancy; or play golf at the Bald Head Island Club, which winds through much of the island. Schedule a massage or facial at the Island Retreat Spa and Salon. Orange and vanilla essential oils make the rooms smell like Creamsicles. Just be sure to schedule the massage before you get sunburned. Island Retreat Spa, 6 Maritime Way, 910-454-0333.