{Trunk} Showstoppers
Blush by JLM & Modern Trousseau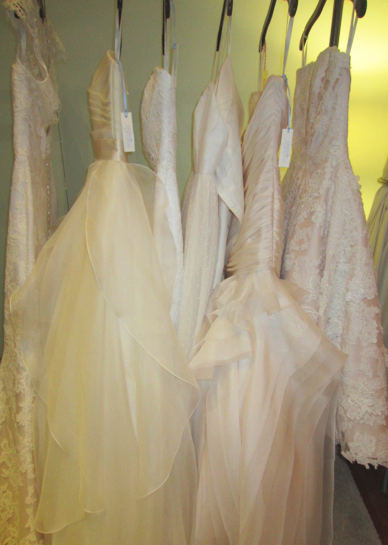 Having already fallen head over heels for Callie Tein's crop of ultra-girlie confections from her new collection, you can imagine my delight upon getting a second sneak peek at the trunk show Hayden Olivia hosted Friday. And since the Jim Hjelm lines opted out of showing in New York last month, I was doubly excited to see what the Blush collection had in store. Modern Trousseau's "Laurel" gown I have loved since first sight at Charleston Fashion Week looks simply stunning in plain white. Ethereal and clean, this number has all the unfussy frill a princess gown should possess. And for my lovely brides to-be who were unable to attend, don't fret. I snapped shots of my favorite standout gowns and accessories.
Lace Winners
Who wouldn't be in love with this playful ("Lucy") gown boasting delicate floral appliqué? It begs to be donned for spring/summer nuptials. Plus this pretty-in-pink blush ("Finnley") confection is both sultry and sweet. (Both Modern Trousseau)
Baby, You're A Firework
These stunning sashes add the perfect dash of sparkle to even the simplest gown. (All Modern Trousseau)
Jaw-dropping Drop Waists
These Blush by JLM gowns look distinctly regal for the most elegant of affairs. Gown on left shown with Modern Trousseau "Brooklyn" sash.