Try This: Fried Chicken Skin
You only live once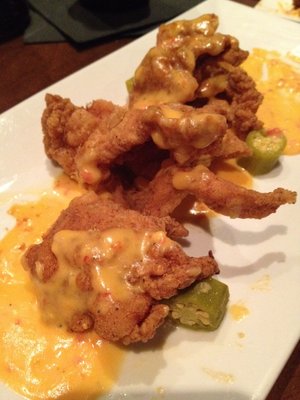 Always (probably) reviled by the health-conscious, sometimes feared by the food-timid, and consistently delicious, fried chicken skin is one of those items that you probably shouldn't eat constantly, but every time you do, it's sure to be reminiscent of the meatiest and most decadent potato chip you've ever had the pleasure of eating.
I recently had to convince some dining companions that fried chicken skin was not as redneck or scary as it sounded. Interestingly, this dish as an appetizer is not terribly uncommon in the Queen City. There are several restaurants dishing up the savory goodness that are all worth a visit:
Soul Gastrolounge: Judging by the number of people who have named this a top appetizer of Charlotte, Soul's Dirty South Nachos featuring fried chicken skin "chips" and pimento cheese are probably the best bet for chicken skin beginners.
Stagioni: Although not currently on the summer menu, a small plate of crispy fried chicken skins were a star on the fall and winter snack menu. Hopefully, this version will make it's way back as the months turn cooler.
Peculiar Rabbit: The fried chicken skin at Peculiar Rabbit is straightforward, flanked by bright and crisp radishes to cut the richness. Served in a "cone" with a dipping sauce of bacon aioli on the side, this rendition is great for passing around the table and sharing with friends.
Cantina 1511: Get ready for the Mexican rendition of fried chicken skin. Although Cantina uses duck and not chicken skin, the flavor is similar if not slightly richer. Called "pato chicarones," the fried duck skin is served as part of the daily rotating selection of Antojitos, or Mexican street food. The braised duck skin is flash fried until super crisp then tossed in Adobo seasoning and served alongside Mexican crema for dipping.