Try This: Mac n' Cheese at Jack Beagle's
Fall off the detox-after-turkey-day bandwagon...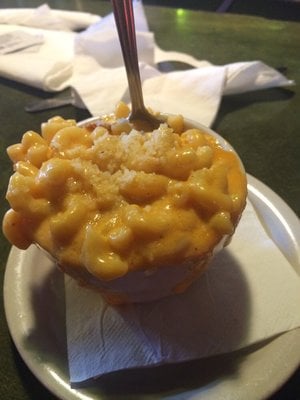 It's been about a week since Thanksgiving and I'm sure we've all been on our very best behavior to eat healthy after indulging in what was the equivalent of 3-4 days worth of calories. I bet you could use a break.
Lucky for you, Jack Beagle's in NoDa has that break — in the form of six versions of mac n' cheese. Yes, six different versions, all of which are offered as either a cup or a bowl.
Usually, you can go to a place and get a great bowl of chili mac or maybe an excellent classic rendition. It seems to be a rarity that you can pick and choose or get several flavors all in one spot.
If you're in the mood for zesty or slightly different: Jack Beagle's "signature" mac is the Jack-Mac; a wonderful concoction of zesty jack cheese, garlic, and classic elbow noodles. There's also a Mexi-Mac which comes with jalapeno, roasted tomatillo, and jack cheese.
If you'd rather have a bit of bite: The Blue-Black Mac features zingy blue cheese, bacon, and cracked black pepper along with the classic elbow noodles.
If you're starving: The Chili Mac features the house chili – meaty and filling – heaped atop the Classic Mac. All of that is smothered with melted cheddar cheese.
If you're a purist: You'll need to opt for either the Mac-N-Cheese or the Classic Mac. The only difference is that the Classic comes topped with fresh bacon bits. Both are buttery, creamy, and feature cheddar cheese as the main component in the sauce.
I should also mention that I attempted to eat a mere cup of the Classic Mac along with the giant Pulled Pork "salad" (less a salad and more of a plate of meat with a spring mix garnish). I thought I was starving and I barely made a dent — although both the salad and the mac were delicious.