Tupelo Honey: Old South and New
Tupelo Honey fills a void in South End left by a beloved establishment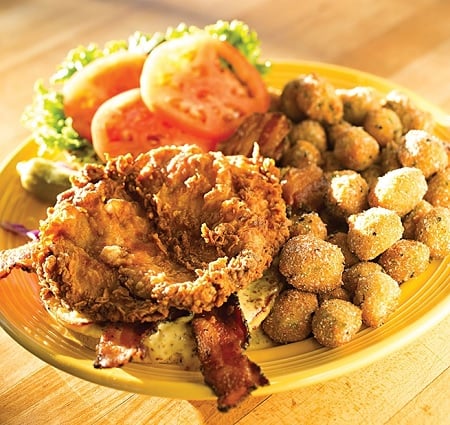 Loyal customers from all over the South already know about Tupelo Honey, one of the leaders in the farm-to-table movement for more than a decade. From the name to the food, the Asheville-based eatery is known for being warm, welcoming, and rolling out excellent New South cuisine. So it's fitting that when it expanded to Charlotte, it took over a space where one of our most beloved restaurants, The Pewter Rose, once sat.
Working in the same South Boulevard space now is executive chef Brian Sonoskus, one of the most well-known chefs in the region, and the original chef at Tupelo Honey's flagship. "The food is his; the menu is his," says Elizabeth Sims, vice president of marketing for Tupelo Honey. "He is driving the quality of these dishes." Sonoskus is one of the biggest proponents of North Carolina's local foods movement, highlighting seasonal ingredients in his menus.
After you polish off a complimentary, flaky biscuit (flanked by blueberry jam and honey), the Appalachian popcorn with Carolina white sauce ($7.95), fried okra to be exact, is salty, crunchy, and addictive. Additionally, the fried green tomatoes ($6.95) are perfectly paired with slivers of basil, staying firm and tangy under crunchy coating. For more substantial fare, the Southern fried chicken saltimbocca with country ham and mushroom marsala ($15.95) is rich but not overpowering, offering a juxtaposition between salty ham and earthy marsala sauce.
For side items ($3.45 a la carte or included with entrée), the New South greens—mostly kale—are briny and bright. Cheesy cauliflower is decadent but not too sharp. Goat cheese grits are creamy with just a kiss of tang—different, but not too far from the traditional Southern staple.
It's easy to fill up early here, but you'll want to save room for dessert. The blueberry hill thrill cream cheese pie ($5.95) combines a graham-cracker crust with a creamy, cheesecake-like filling full of crushed blueberries. Over the top is a sweet, house-made blueberry sauce and fresh whipped cream.
The Pickled Okra, Tupelo's bar, is run by head mixologist Jennifer Gephart, who serves up everything from twists on Southern classics like the bourbon basil sour ($8) to the fruity blueberry fields forever ($9). Beers from local breweries are also on tap.
If you know Tupelo Honey from Asheville, don't look for the same restaurant in South End. Although Southern-style food and warmth are all the same, this is a Charlotte restaurant with an uptown vibe that's sure to command a new band of loyal followers.
And for those who were loyal to the restaurant that once occupied this space, Tupelo Honey is full of little tributes. "We actually bought the old red doors from the Pewter Rose," Sims says. "Anyone who's been in the restaurant business for 30 years deserves recognition." From the crown-shaped chandelier (full of baubles and bees) to the family crest, hints of Charlotte are everywhere—a celebration of old South and new.